Every year we start off Christmas Eve by remembering the real meaning of Christmas. We act out the Nativity – I'm the narrator and the kids play the roles. As important as the Christmas story is to us, I have to admit, the kids have so much fun acting it out. The costumes totally add to the fun.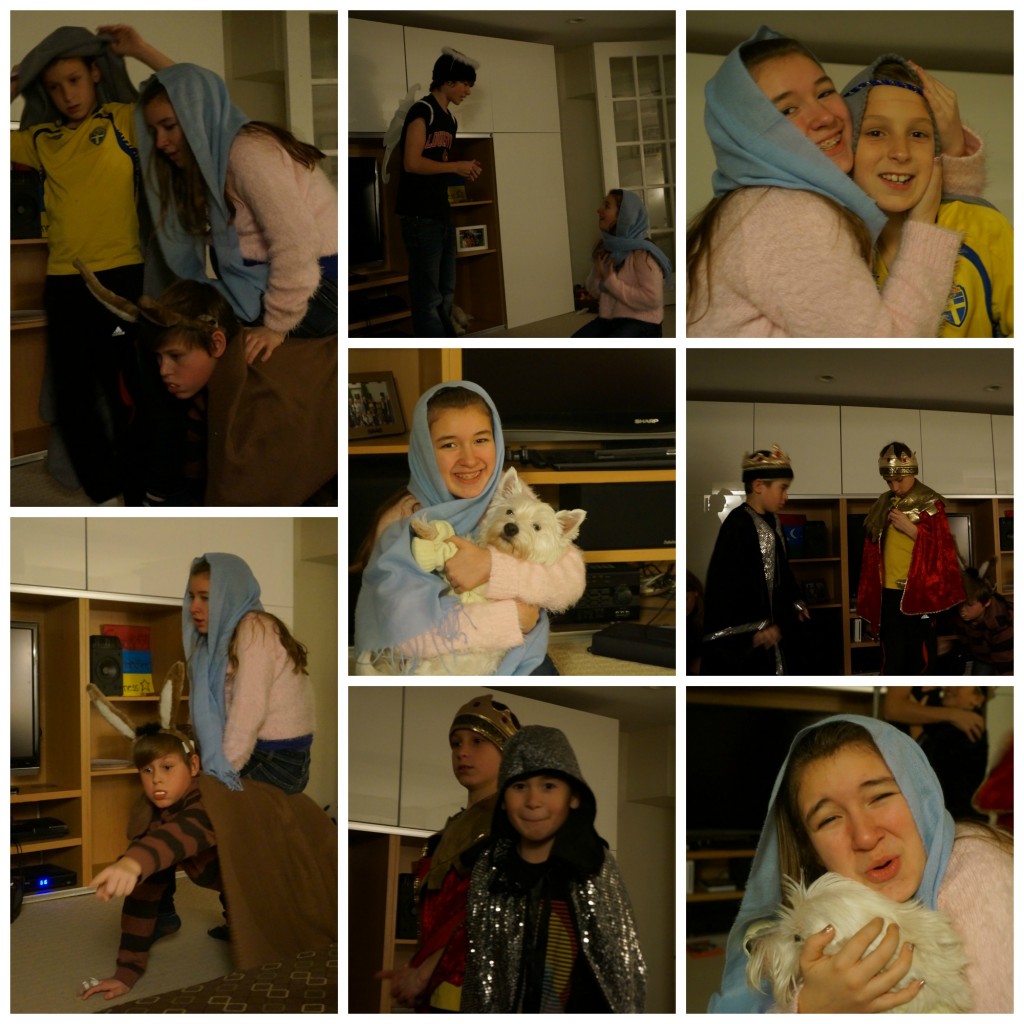 Reggie was baby Jesus this year. We used to use this doll, and the doll had this yellow sweater on for some reason. So, guess what Reggie had to put on to be Baby Jesus? He was thrilled.

Then we sing a few carols, Zach and Zandra do "The Christmas Alphabet", which they created a few years ago, and we read "Teach the Children the True Meaning of Christmas" with props made years ago from the kids. We also then read "The 3 Levels of Christmas"  – which talks about celebrating the Santa level (gift giving, all the seasonal fun), the Baby Jesus level (remembering the true meaning of Christmas to celebrate Christ's birth)  and the adult Christ level (keeping the spirit of Christ and Christmas year round).
Finally, every year Rob makes a poem capturing all our fun moments of the previous year.
This year, he didn't have much time to prep, given our little Christmas adventure. He wrote this in about 15 minutes before we started our traditional Christmas Eve celebration. Isn't he amazing???!!
Rob's Christmas Eve Poem
Another year past… Always seems so fast 
We went down under… Not a single blunder 
Wet feet and floating flops
Fiji, New Zealand and Australia was the tops!!!
Swimming with the family and Josh a lost 
Bats in the air and buns so cheap at least half the cost!
Smelly eggs and geysers too,
The land a green emerald the CDFs to woo
Then on to lighting the Maori ablaze
Napkins aren't fire extinguishers! Panic, a daze!
A hangi, canoes, and glow worms so cool
We soaked in hot tubs and some nice pools
Finally swimming with sharks and the Great Reef 
Brownies and puke, what a relief
But wait that's not it…
We travelled some more and came home to the banks
We found the Pink ball, with great thanks!!
Sunny weather and fun in the sand, 
We flew kites, played soccer and cherished the land
Church camp and fun, tents on high
Learning the gospel amid pranks and girl pride
New schools, same rules and the best kids ever? You bet!
A year well under way without regret
Now Christmas is near and all can't wait 
For pictures and presents and all that's great 
December with cheer and Quiet Elfie a gliding 
A winter surprise that gave us a hiding
We were cold and tired and wandered downtown 
Slept in a hotel and fought off our frown
But just in time, like old Saint Nick,
The lights came on with a loud click
All was saved and now we're all here,
Warm and comfy and ready to cheer.
To all who we love we say Merry Christmas and sing loud and clear
And to Reggie the hound welcome to your first Christmas my dear
After this, the kids all go to their rooms (this was a tradition I had when I was a kid) and wait to hear for a tinkling bell to tell them it is time to come out from their rooms and gather around the tree. The anticipation kills them! Meanwhile, the presents (from family) are all placed under the tree! (There are no presents under the tree before then)  When they are all placed under the tree, we ring the bell, and  the kids come charging down the stairs and the gift giving starts. We try to watch each person open each  gift. The kids exchange their Secret Santa gifts too. I love it when they are more excited about giving their gifts then getting.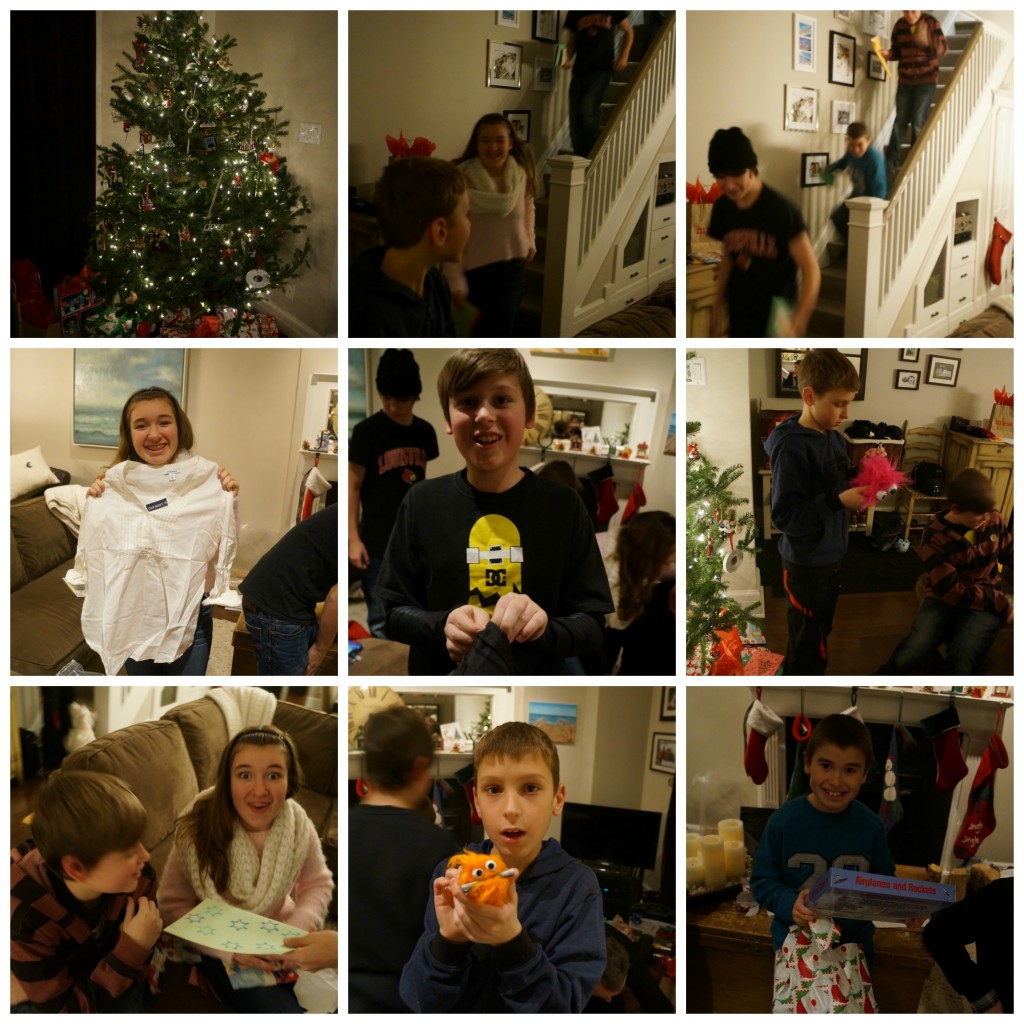 Our Christmas Eve dinner is the favourite dinner of the year. Again, a variation from what I did as a child: we have big buffet. When I was younger, the buffet was filled with meats and cheeses, and herring (German ancestry) – but ours is filled with meats and cheeses, and chips and chicken wings, spring rolls, shrimp etc.
After feeling very full, we spend time playing with gifts and hanging out before it's time to leave the milk, cookies and carrots for Santa and his reindeer. This year we decided to pack all in the truck and drive around our neighbourhoods seeing if we could see some hydro crews working to restore power and give them some hot chocolate. We couldn't find any, but found lots of dark neighbourhoods still:(
Christmas morning is pretty low key for us. The kids spring out of bed and race to the tree where Santa has left a gift and stockings. The kids tear through all that, and are quickly back to playing with gifts. We have a yummy breakfast which always includes cinnamon buns, and then Zach and Josh head off to their Dad's. The rest of us (depending on who is here as we only have Gabe, Zandra and Sam every second year for Christmas  day) just lounge about during the day.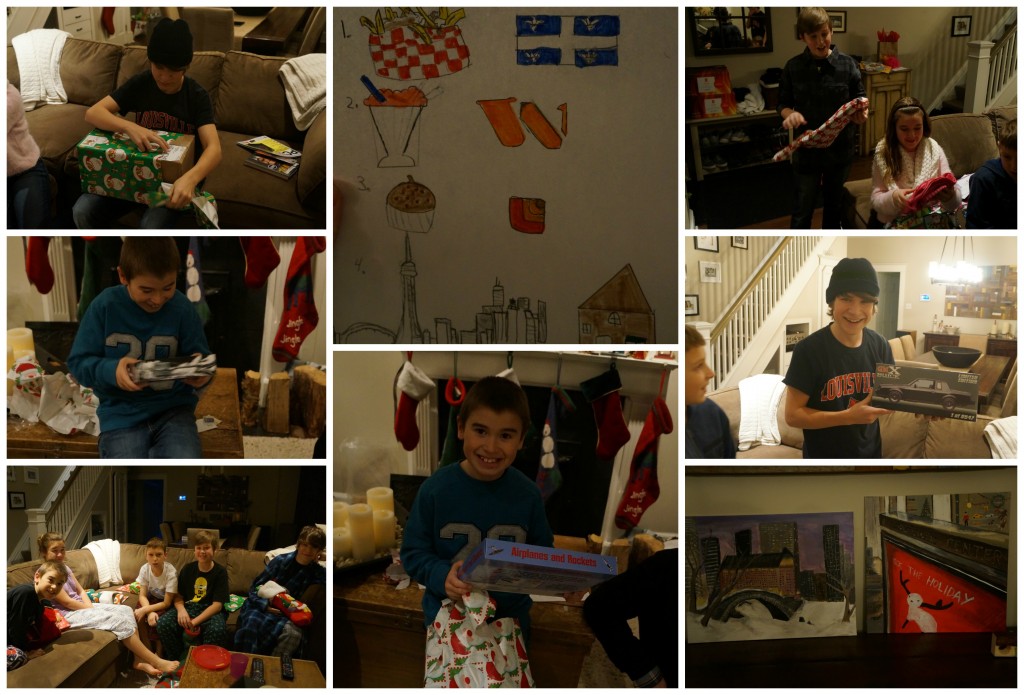 This year Christmas day was a chance to feel very grateful for everything we have been given, and feel very grateful that we were able to celebrate Christmas the way we always do!