On our last day in Munich we headed to the Dachau Concentration Camp Memorial Site.
What a humbling, sobering, memorable visit. There's not really much more to say, except it was a horrific time in history, and it hit me hard how blessed I am that my German Jewish Grandmother and German Grandfather were able to leave Germany when they did….
Later that afternoon, I headed out to do some shopping, while the boys went back to the BMW welt (have I mentioned that they are huge car guys??) We joined up later that afternoon, bought some souvenirs for our kinders back home and went back to Alter Hausen for our last traditional German meal! We had great intentions of heading to bed early because we had to be up at 3:30 for our flight to Venice, but of course we ended up talking and talking…one of the benefits of sharing a room all together!
Getting up so early was not so tough as we were super excited to be heading to Venice, Italy!
While in the airport, you will never believe who we came across? Shaun's mother! We had to get her! We have called her Lieslshaun (in honour of her apparent German heritage!) She also doubles as a hot water bottle cuddler:)
We landed a little before 8 and decided to splurge to take a water taxi from the airport right to the dock of our little hoteL: Hotel Becher. So worth the money! It was amazing to see Venice from the water, and we didn't have to get lost in the alleys and streets finding our hotel! We saved that for later….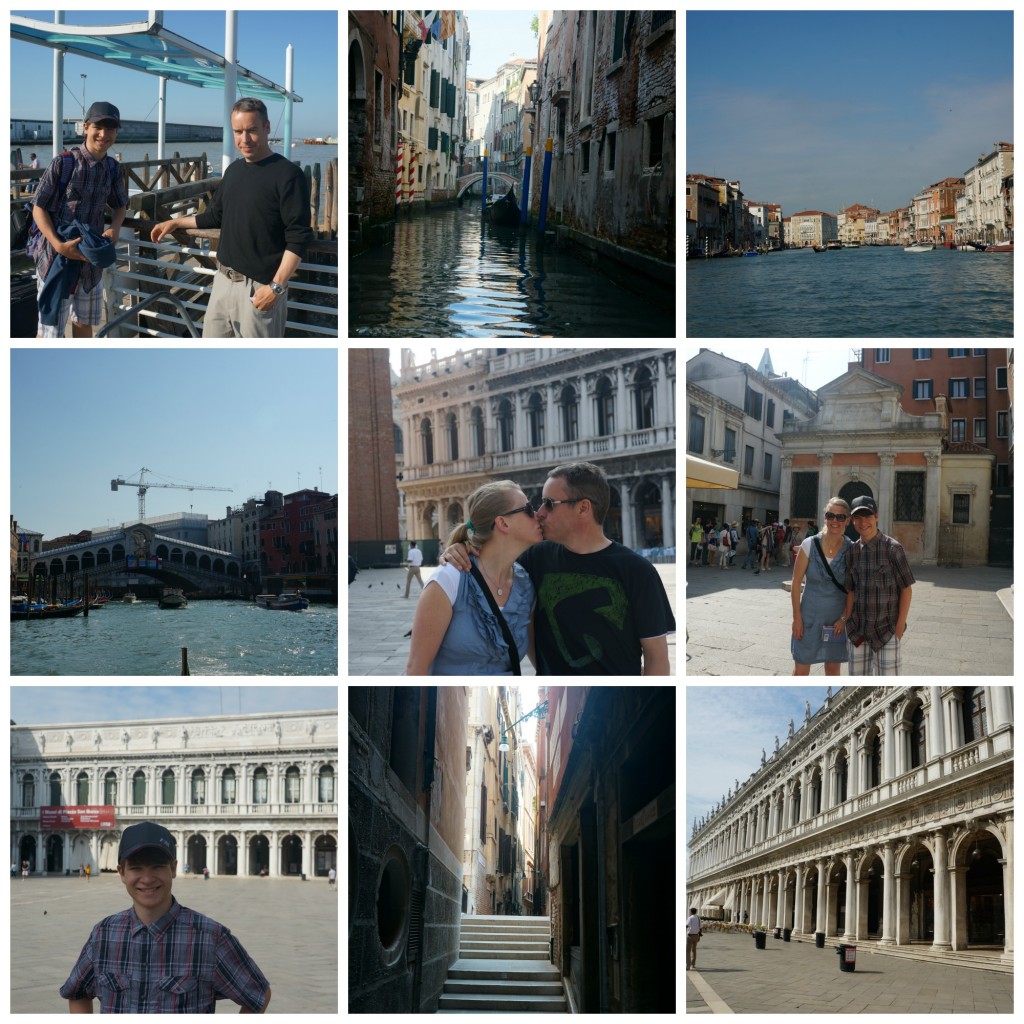 Our hotel is seriously the cutest; very Venetian. It has two little rooms, so Gabe has his own. It was really nice sharing all together because we had a lot of fun, but it's also nice to have some alone time too!
We wandered the streets, as that's what you do in Venice! Walk, wander and get lost! We had gelato, had pizza for lunch, and did a little bit of shopping (got some gifts for kinders back home and a nice little purse for me!)
We took a ton of pictures. Venice is seriously spectacular! Gabe was in awe! We went and visited Basillica St Marco in Piazza San Marco – and it was pretty impressive. We then sat on the side of the square and had a drink and people watched (not at a cafe as they charge 6 euros per person just to sit down!! We were fine on a little step with our own granite and pop.)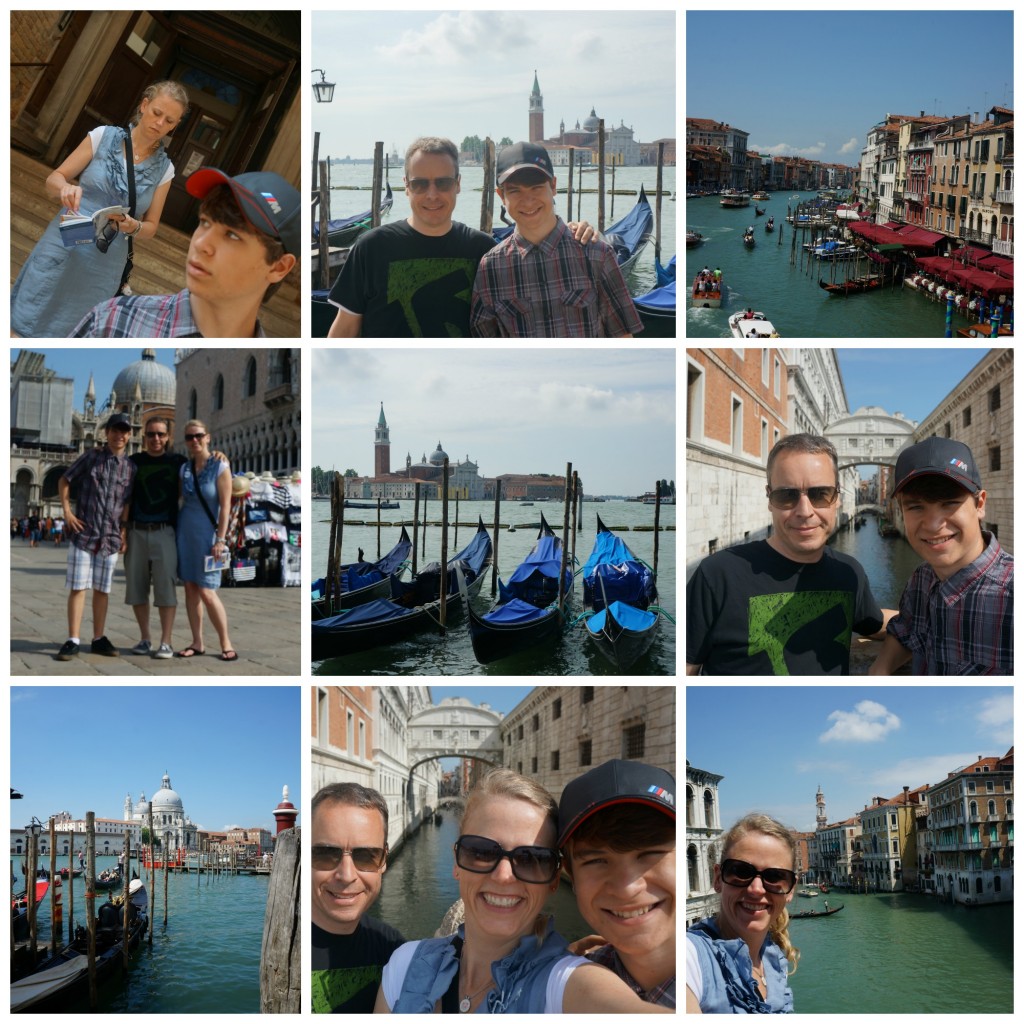 Rob watched an artist paint a beautiful Venetian water colour scene and then purchased it to take home. Pretty cool to see the painting being painted! I got chased down by the illegal purse sellers. The guy saw me eye a purse (I admit, it was a nice purse – I just glanced at it). He offered it to me for 75 euros, which of course I declined because I wasn't really interested (it's a fake Prada). It was near the end of the day and as I walked away, he started lowering the price— and following me (chasing me really!) I kept saying no as I really was not interested; I think he thought I was playing hard ball negotiations! Finally he went down to 20 euros and I felt so bad for the guy to drop the price so low, he must have really needed the sale. So, I purchased a fake Prada for 20 euros down from 75 euros. Good job Leah!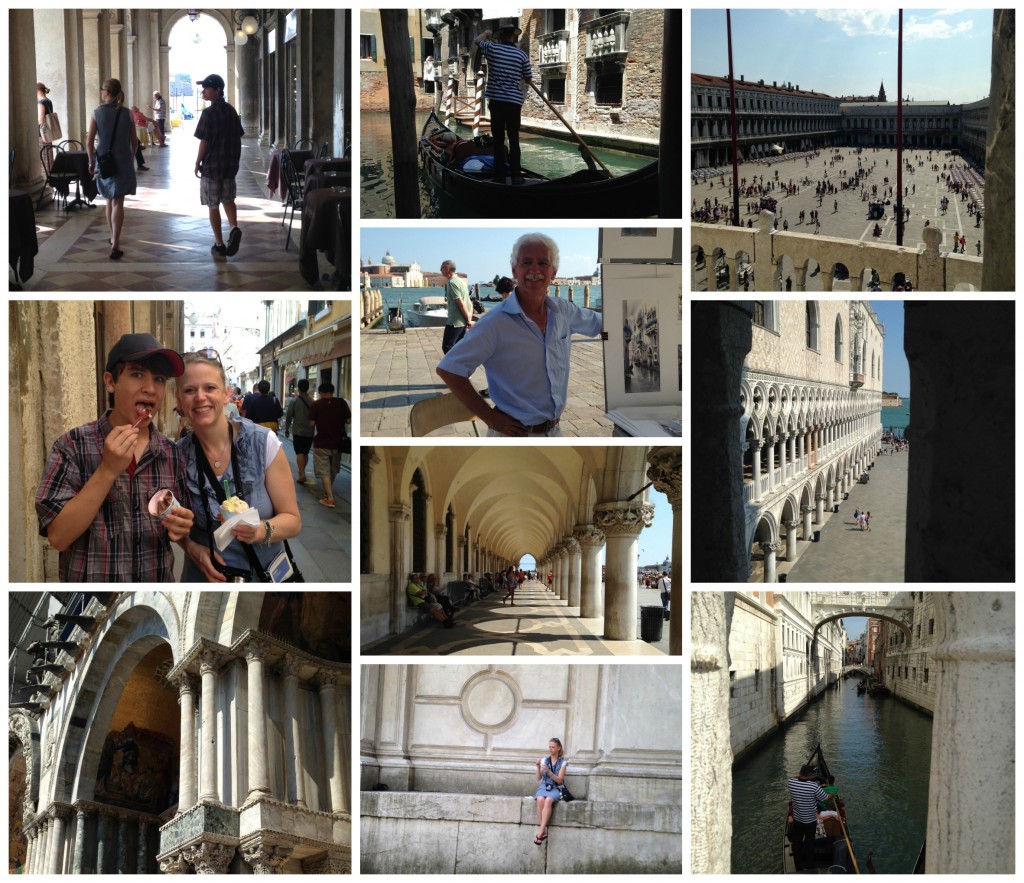 We had a really good dinner – pasta vongole for me, carbonara for Gabe and salmon for Rob. The food in Italy is seriously awesome.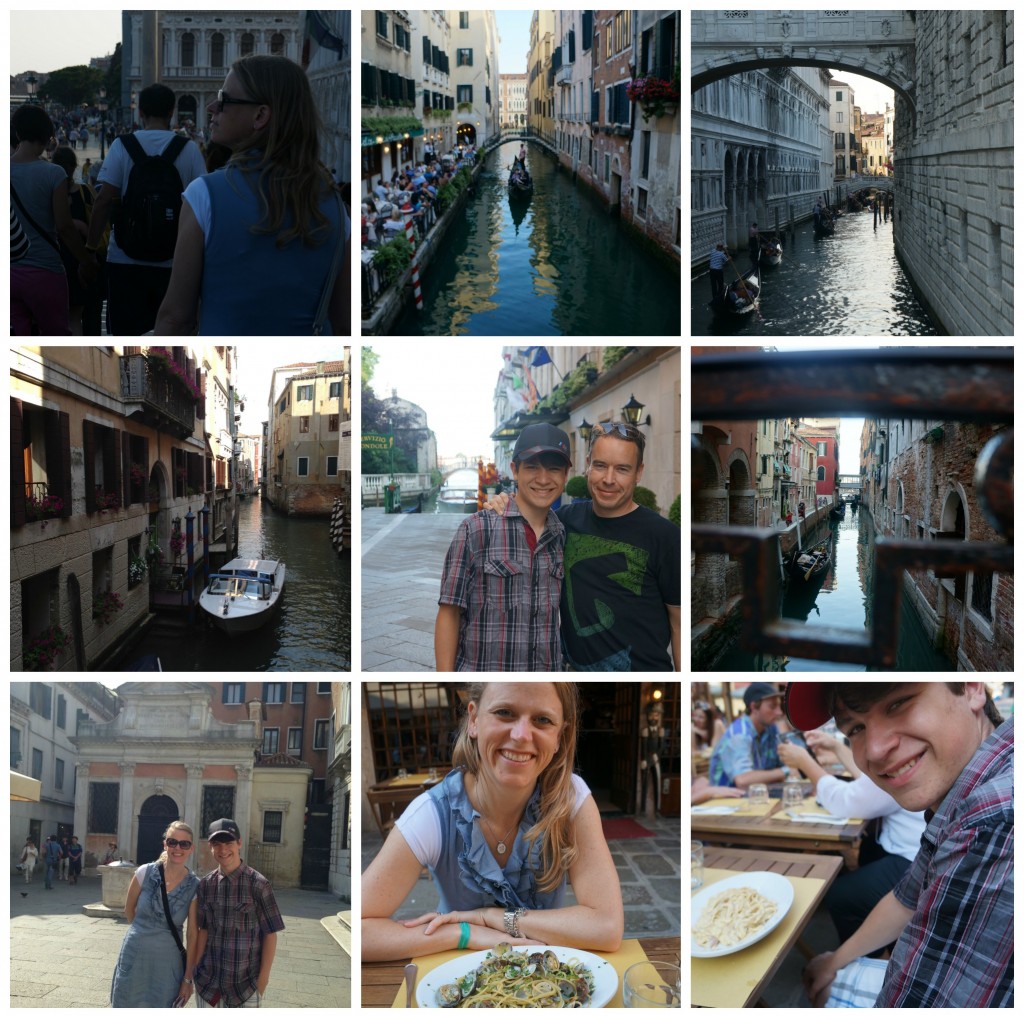 All in all, my feet kill and our pedometer says we walked almost 20 000 steps, and we are having such an awesome trip! It is coming to a close however:( But theses memories? Priceless!!
I think this is one of my favourite videos yet: Venice Day 1
Ciao!