Sadly, our yearly quote wall is quite thin:( I talked about our tradition here.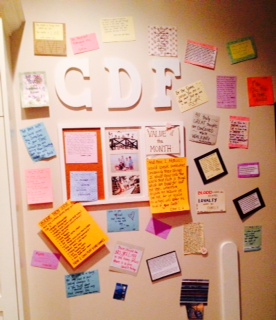 This year has been tough on many levels and keeping all the balls rolling has been hard! Sometimes the quote of the week just slipped:(
However, I'm reminding myself that next year is a new year so the opportunity to get back in track is right around the corner!!
This week's quote was directly related to our theme for Phenomenal Girl's weekend of individual worth.
"Be with someone who knows what they have when they have YOU."
I loved it because I think it reminds us of how valuable we are and how we need to not lose sight of that value. We teach people how to treat us; what we accept, we encourage. I certainly want my kids to know that they deserve to be with someone that will make them the center of their world and be with someone whom they want to make the center of their own world too. To want to out- serve, out – give, and out- love that person and feel those same things back.
Relationships are hard. Marriage is work and effort. But it's the kind of work and effort you want to do; at least I think it should be. There are bumps, and disagreements for sure. But then there is also a deep connection, passion, commitment and desire to serve that is also there. And should be there on both sides. No need to settle, no need to compromise your values and standards (you will, however, have to compromise sometimes in order to put your partner first sometimes), no need to accept less.
Be with someone who truly does value your worth.