We slept in three different rooms – all side by side. The funniest was when we all got together we exchanged stories about this air freshener in our room that freaked each of us out! It's this little spray thing that was perched high on an armoire and sprays every so often letting out this hissing sound. A little intimidating when you are sitting on the edge of the nature reserve with big 5 out there! Rob heard ours and we wondered, "what the heck is that" – but he tracked it down and all was well. Apparently Gabe heard his, but Zach was fast asleep. He was freaked out because he thought is was a warthog in his room! Zandra heard hers and panicked because both Josh and Sam were already asleep and she thought it was a snake (she found a snake in the bathroom of our treehouse lodge – a little too rustic for me!) She woke Sam up – and they finally tracked down the air freshener!
We went on our morning drive and got to bump into a rhino, which completed our big 5 viewings here. We had some excitement as the wild dogs were really hungry and we saw them try to chase down a warthog (he got away and went in a whole). We saw more elephants, baby hyena, and a giraffe. They really took us into the bush to chase those wild dogs. We were literally driving over trees!
We came back to the lodge and spent the rest of the day chilling. The kids played ping pong and pool, they went swimming and played this animal card game that Josh bought. I also convinced them to help put together a scrapbook I had brought along (just a book where we are gluing in things from our trip – ticket stubs, menus, little memories). Rob and I snuck away for a massage too. Everyone took advantage of the cool outdoor showers that each room has to get ready for the evening.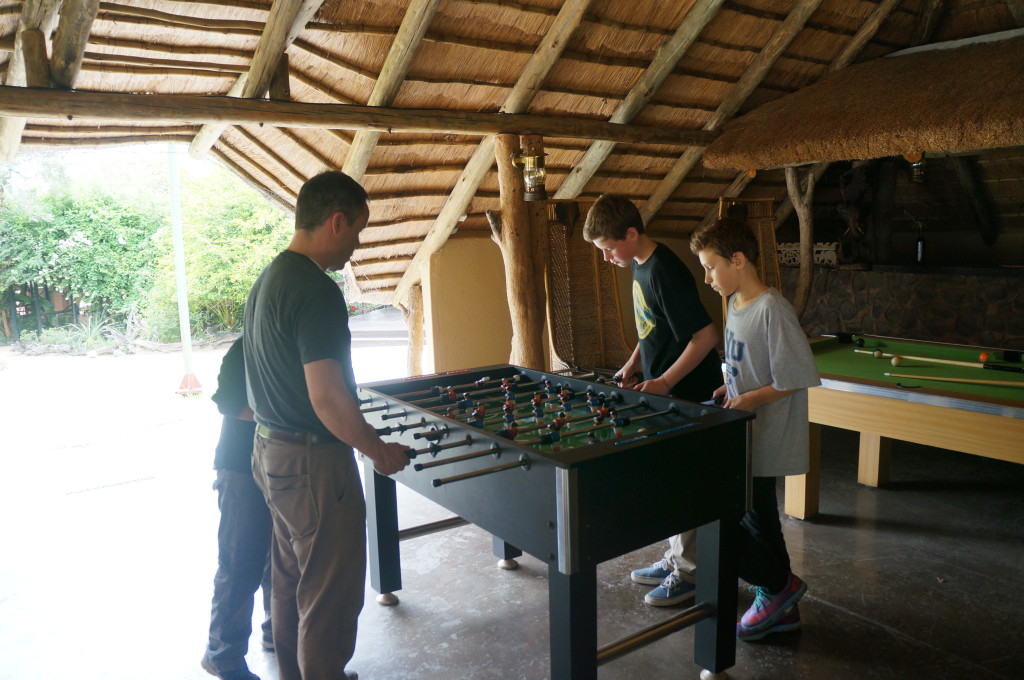 The evening drive was a little slow. We had two other people join our jeep. We had been joking that we always get our own jeep (7/8 times so far , Gabe coining it #bigfamilyperks) – but it was nice to chat with some others. Not too many people talk with us – I guess we can say #annoyedbybigfamily or #scaredoftoomanychildren. Unfortunately, we didn't see too much – although we did get a good view of zebra messing with the baboons, a couple of baboons getting a talking to by their elder, and a cutie 1 month old giraffe. Every time you head out, you see something different.
And the sunset sky was awesome, as usual:)
We went back to our room to rest up for dinner, which is served only at 8pm. Makes for a long day when you are up at 5am. Josh was seriously delirious with fatigue. I tried to wake him to come eat – enticing him with the dinner around the fire (they call it the boma) consisting of his favourites: steak, sausage and chicken. No such luck. His eyes literally rolled back inside his head. I had to force feed him the malaria pill – and I swear he acted as if I was some stranger poisoning him.
Tomorrow is our last safari in the morning, then we head back to Johannesburg. So sad that we are leaving, but feeling so blessed to have had this opportunity to see the majesty of the world in this way.