So… after our long flight, we landed in Johannesburg, got all our luggage (always holding my breath for that), and went to look for the rental car location. Of course, there are many guides and porters that try to grab your bags to help you, and one who decided to lead us to the rental place – in the exact opposite direction….
We finally found it and got our touristy truck (more like a mini bus)!
I reminded the kids, that the first day of any adventure – especially after travelling for 25 hours – is always a little uncomfortable – or even scary. Travel is the best way to get comfortable with sometimes being uncomfortable.
We checked into the cutest guest house that I found (and was not disappointed with) and dumped off our bags.
We then headed out in our rental to do some very deliberate exploring – straight to the Johannesburg temple and the FNB soccer stadium.
We knew the dangers of Johannesburg and since our guide cancelled last minute, we still wanted to do these two things, but not anythings else.
Well within 15 min of our journey, Rob and made a traffic violation (and we know he had), and a police officer had pulled him over. They told us we had to go to the police station to pay equivalent of $100…
The lady asked Rob to come fill some paper work out and while over at her car, they had a conversation about whether he really wanted to to the police station or not… Rob had NO idea at first that she was hinting at him paying her off instead. However, he finally clued in, and came back to get the equivalent of $20 to give her (she had hinted at more, but in talking he mentioned he was on the way to the LDS Johannesburg temple. She then asked him if he was a preacher – and he just went with that, and then $20 seemed fine….)
ANYHOW, quite the start to our little adventure (but we had been warned about this kind of thing, but with the jet lag everything seemed sort of fuzzy and slow so it took Rob a bit to clue in).
We finally made it to the Johannesburg temple and walked through the lovely gardens. A beautiful building, but different than any others we have been to (all brick, much smaller gardens).
We got a little lost as we set out to the FNB stadium and pretty much drove through some interesting areas. Our air-conditioning is not working either, but there was no way we were rolling window. Rob was struggling at times to stay awake:( All the kids were completely wiped.
But, we made our way to the stadium – 1.5 hours before our tour time.
I had contacted the stadium for a tour, and they had told me they don't do them anymore. I begged and pleaded and they found a lovely gentlemen named Ebraham that was willing to tour us around. He saw us arrive and was happy to start the tour early.
We were starving and their cafeteria was sort of open —- they ended up being willing to make us some chicken sandwiches. They were so delish especially since we were starving!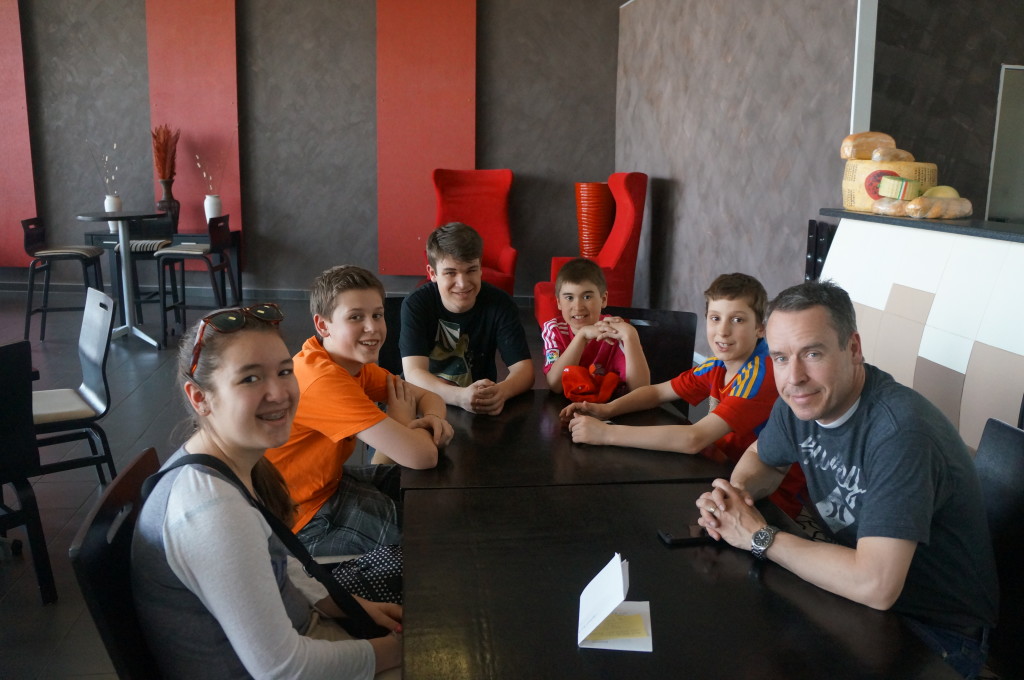 Following lunch, we went on the BEST tour!!! They and told me it would be quick and limited, but Ebraham took us everywhere: president lounge, locker change rooms, the tunnel, the stands and the pitch! He shared history, stories of the world cup, concerts, and sporting events.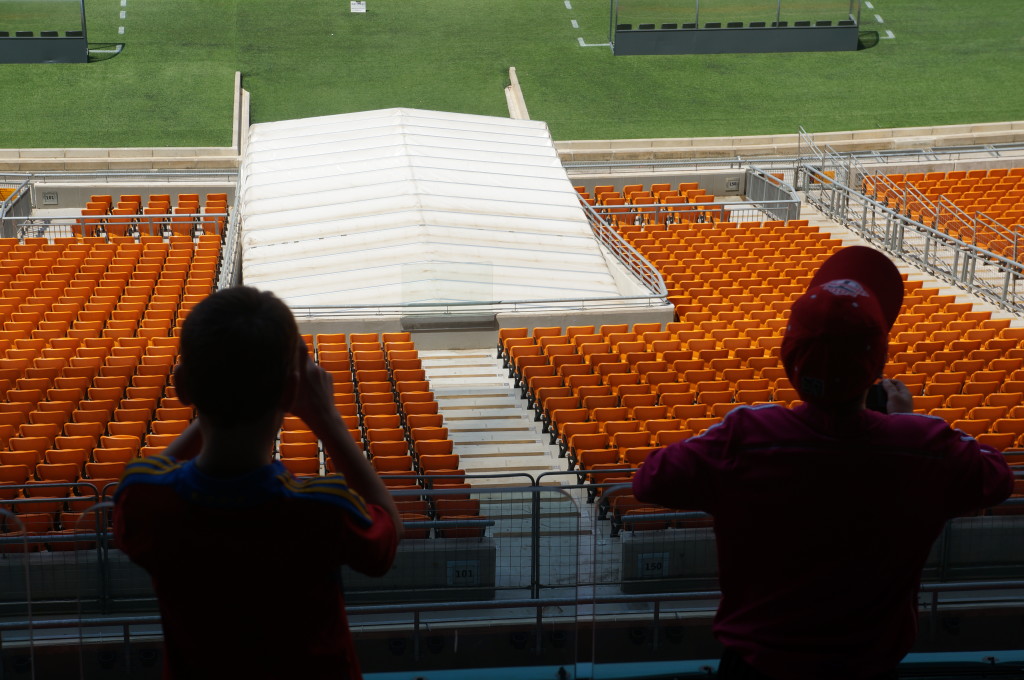 He wanted to take our pictures all the time too (with my camera) – and had us posing all the time!
The boys were in heaven!!! To be on that pitch, in that change room (they even went to the bathroom in the locker room bathrooms!)
We made it back to the guesthouse without any incident, and enjoyed the rest of the day in the amazing game area – pool, trampoline, pool table, ping pong and darts. We all sort of snoozed a bit too:)
They served a delicious home cooked meal of beef stroganoff and we had a great night – playing pool, darts, pingpong and sitting around the outdoor fire they had going.
Bed early and a bed has never felt so good….
Perfect day to start our trip off!