When the alarm went off at 4:30 am, Rob rolled over and asked how much driving he had to do that day. Today, we only had 1 hour drive to our next destination. (He was relieved to hear that because, he said he was beginning to wonder what kind of vacation this was getting up at 4:30 in the morning and driving all day long!!)
Before we moved on however, we went on our first safari! Pezulu doesn' t have a safari from their lodge, but they arrange for you to go to one close by. It started at 6; hence the early morning, again! As we were getting ready to leave our tree house, who should walk by our driveway? Why, a zebra of course! And his friend. Very casually walking by!
We arrived at our meeting point and met our guide Andre. He was super nice; last year university student and a wealth of knowledge.
The safari was just so cool. Can't even describe it. We saw zebra, giraffe, kutu, impala, buffalo, warthog, baboons and lions! We got so close to the lions – 4-6 feet! It was awesome.
We stopped at a watering hole for some muffins and loved learning so much about life in the bush.
After our first game drive, we went back for breakfast and packed up. Sad to see the treehouse go (but it was a little too rustic for me!)….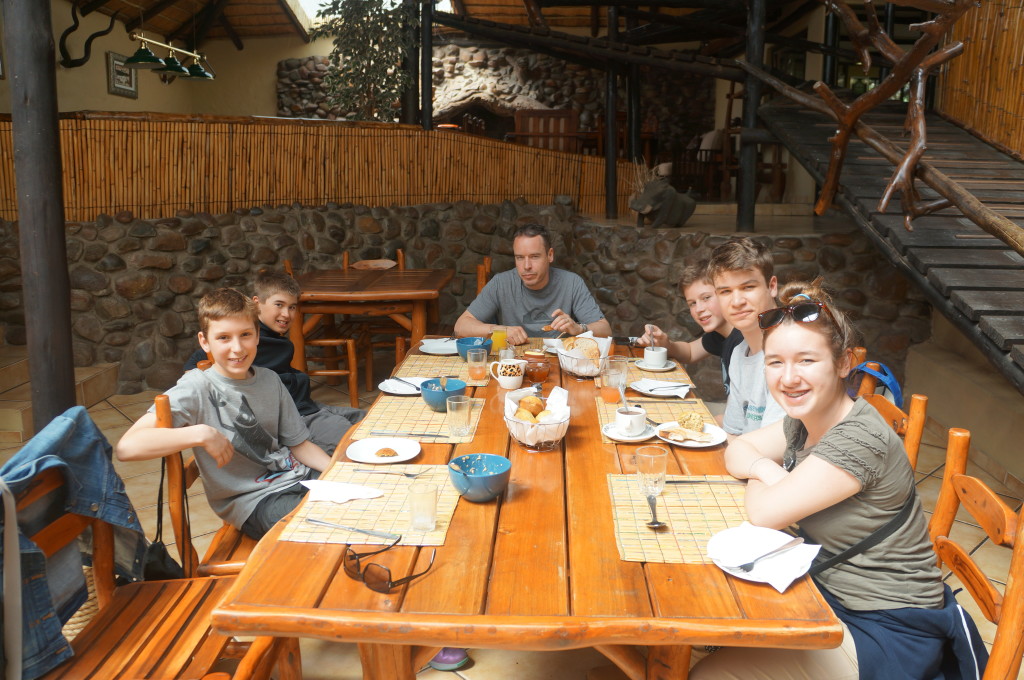 We drove for about 1.5 hours – on the craziest roads (have to drive so slowly) and then entered the private reserve bordering Kruger National Park. It's sort of hard to find places as the GPS isn't so accurate, nor were my printed directions from home.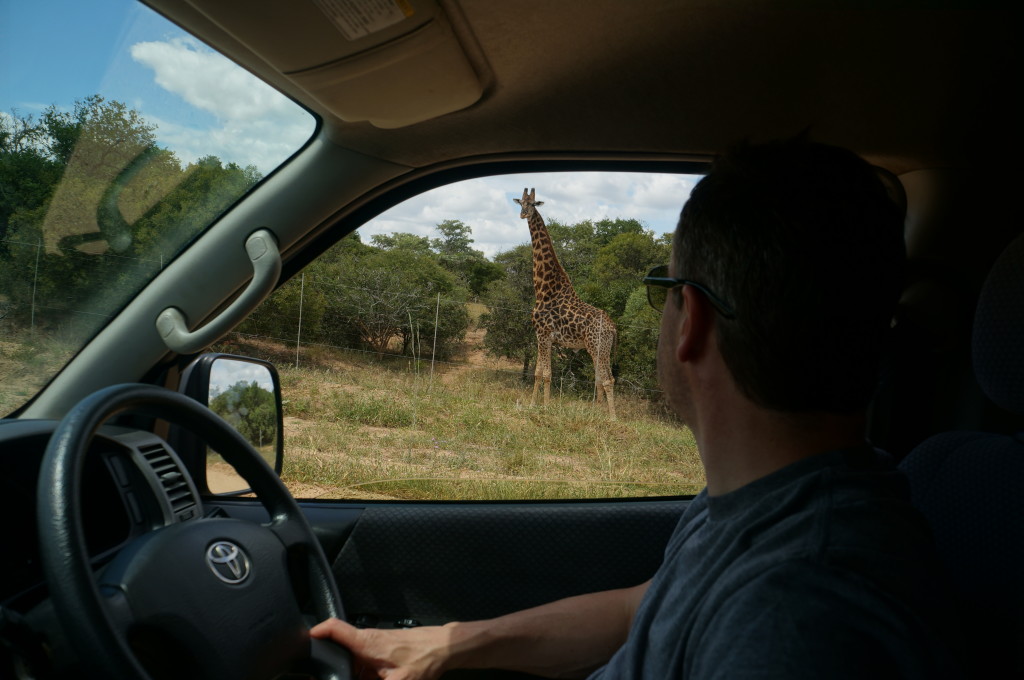 Nonetheless, we arrive at Gomo Gomo Game Lodge (in the Klasserie reserve bordering Kruger National Park).
Wow.
Is all I can say.
You overlook a watering hole!!!
Amazing rooms, great little pool and did I mention you overlook a watering hole?
We got settled, chilled out, and then had some yummy lunch: Ostrich salad. It was quite tasty (tasted like steak to me). After lunch, the kids swam and then we got ready for our evening game drive.
At first it wasn't so impressive. We weren't seeing any animals! And we were all sleepy, and the bumpy road was luring us to sleep! We did end up finding 4 male lions (brothers) sleeping under a tree and giraffe (start to become a dime a dozen if you can believe it!) We were happy with that.
We stopped for drinks and snacks and saw the sky change colours with the sunset – which was pretty amazing.
We climbed back in the jeep as it was getting dark to try to spot some nocturnal animals (the tracker used a flashlight). Except for this little chameleon that loved Sam and Josh's heads:)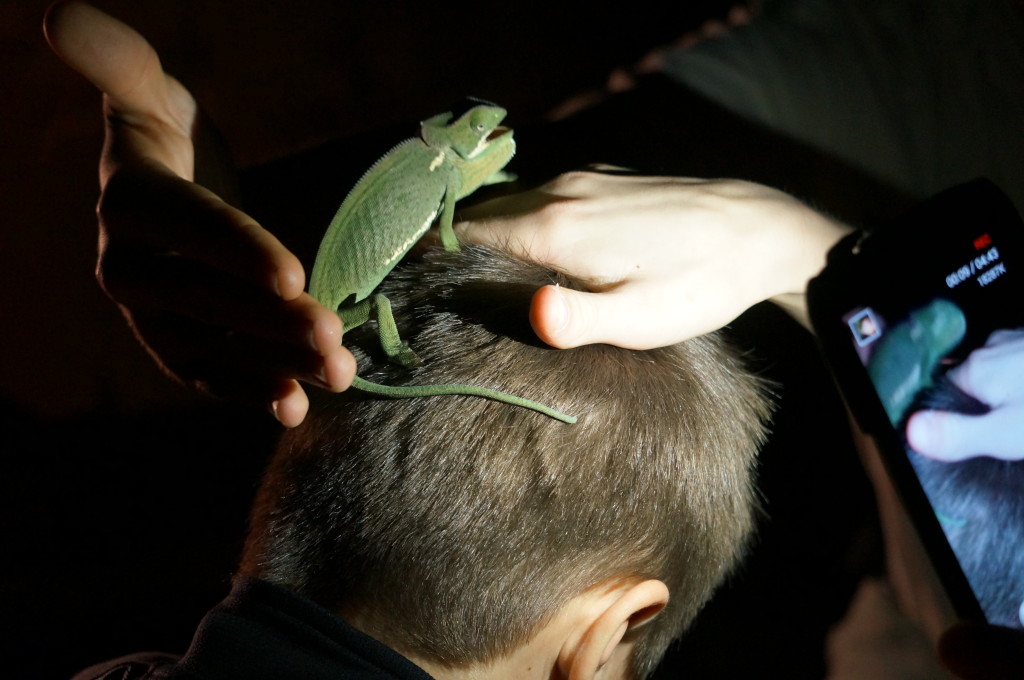 We weren't seeing much, but then our ranger (Harry) got word that a leopard was seen at our lodge's watering hole! Our ranger whipped it into gear and started zooming back to the lodge. The other rangers and trackers were calling each other on the radio telling where she was last spotted. We were on the hunt! The drive was part of the fun – to be racing around on this jeep!
The finally found her and shone the spotlight on her and we followed her around. She was so patient and didn't seem bothered. It was the coolest thing ever!!
We headed back to the lodge for another amazing home cooked meal outside the fire. Love this tradition!
Off to bed — completely exhausted!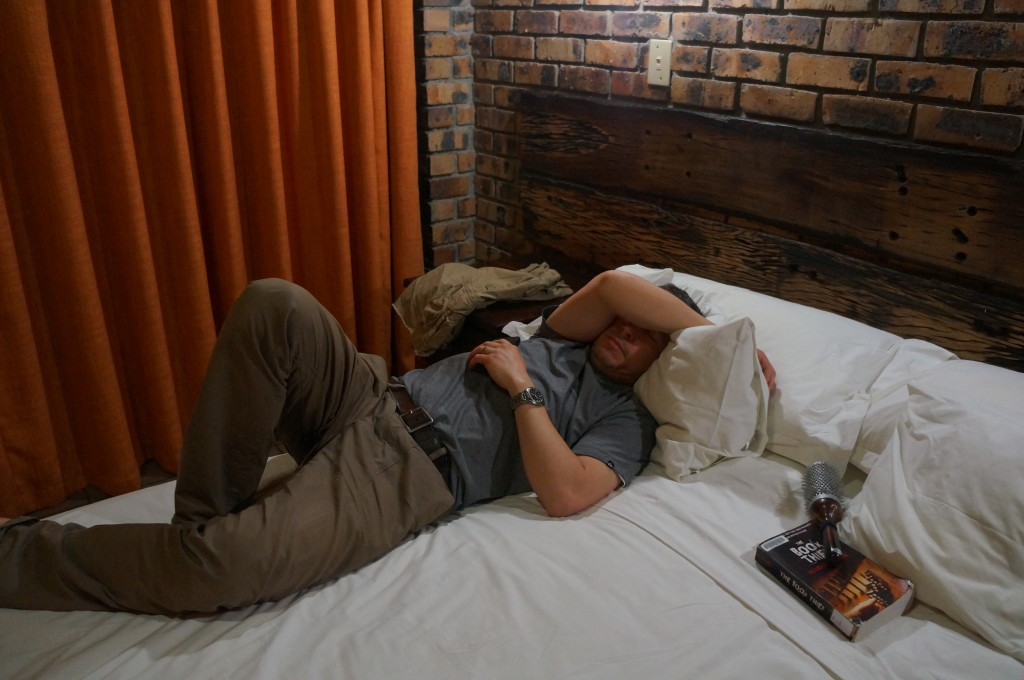 Ready for our next game drive at 6am!