The week of summer that I have been looking forward to all year has finally arrived… our trip to the Outerbanks!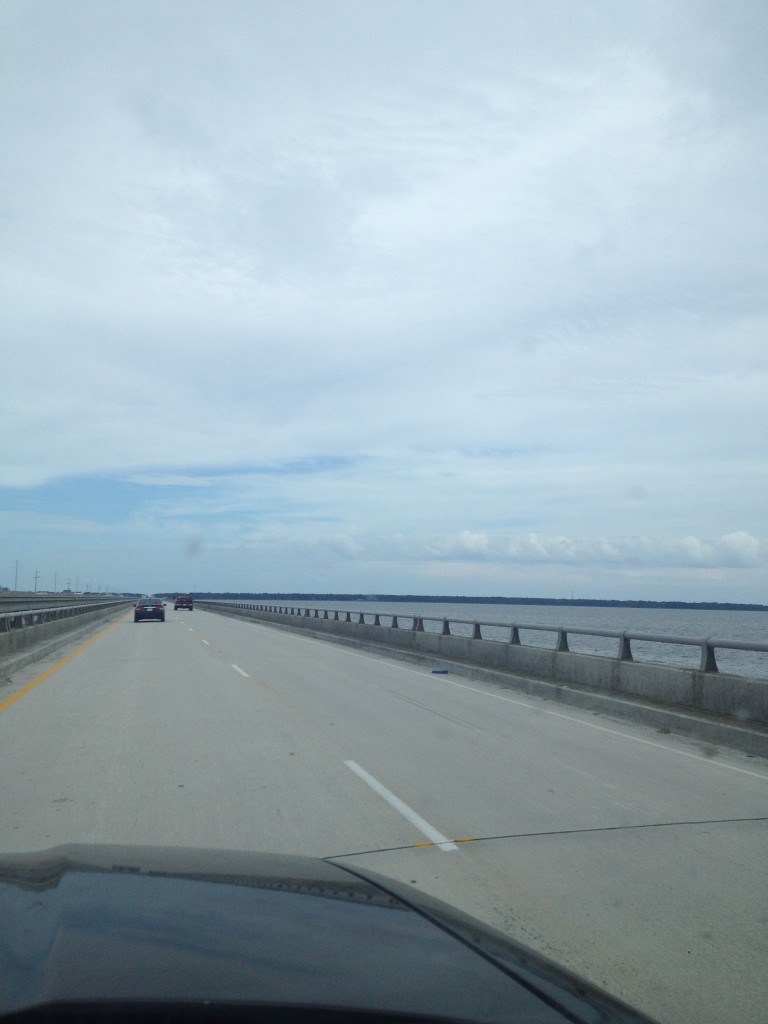 It has been a busy few weeks with YLC and then Nauvoo, so although we were super excited to go, I was pretty exhausted with all the prep and packing.
Which meant I wasn't as organized as I usually am, and we forgot a few things, including MY CAMERA. That I cannot believe. Big miss.
Luckily, Zach brought his, so I still can get some good pics. But, it's just not the same. We did however buy a selfie stick on our way down, so we have been fun with that:)
We also had a very close call at the border when I pulled out our passports and realized one was missing. I quickly remembered I had given Gabe his earlier in the week (he needed it as ID for a flight he took to Montreal for this amazing opportunity he had to tour some Air Canada facilities). I had a "Home Alone – KEVIN" moment when I yelled "GABE!!! Where is your passport?!?!?" Luckily, he had it:)
We had a nice drive, after leaving at 5am and ended up in Williamsburg for the night. Before checking in for the night, we shopped up a storm at the outlets. The Canadian dollar is not doing so well so that is a bit of a downer, but everyone still seemed to shop enough!
The next day we headed to the Outerbanks. Unfortunately the highway in was closed for a bit, so we were stuck in some traffic, but then took a detour so got there a bit later than expected.
We still were able to head up for our traditional lunch at Dockside n Duck and had the yummy crab dip and the crab that Rob was finally able to teach the older boys how to help shell:) The guy at Dockside n Duck remembered us – which the kids loved – since it has been our tradition to go there as soon as we arrive. We also picked up our traditional key lime pie (and Hershey pie) to take back to our home, "Ocean Haven".
We shopped at our favourite Life is good store and the real Zach came out:
Then of course the boys had to fight a bit…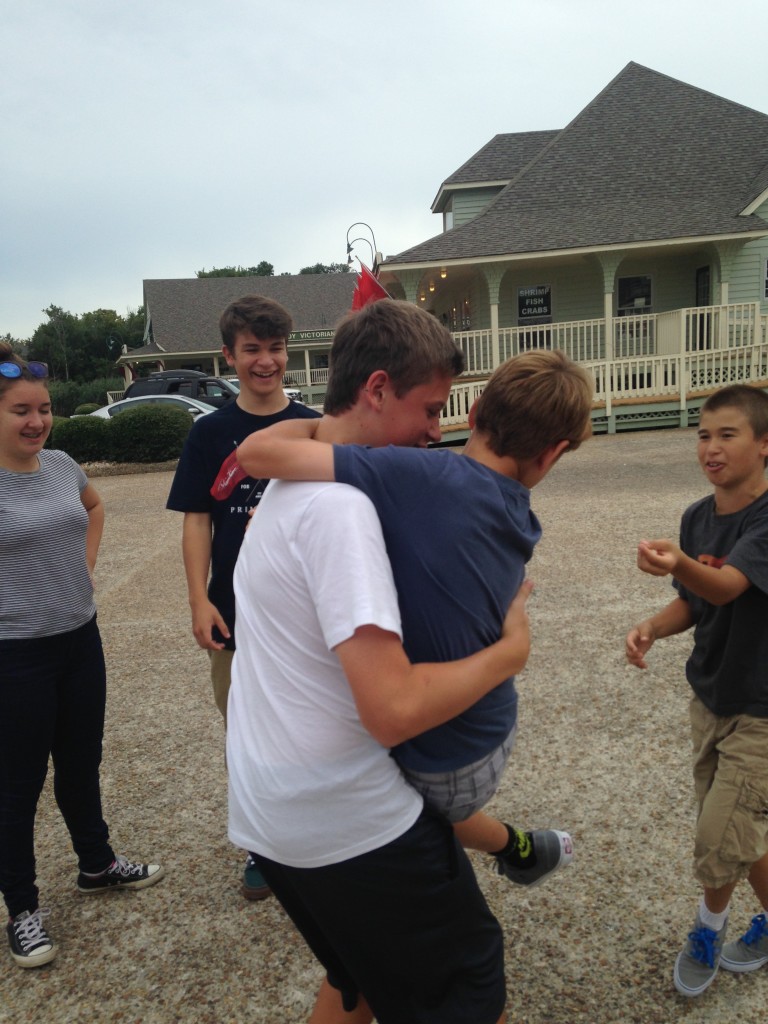 We finally arrived!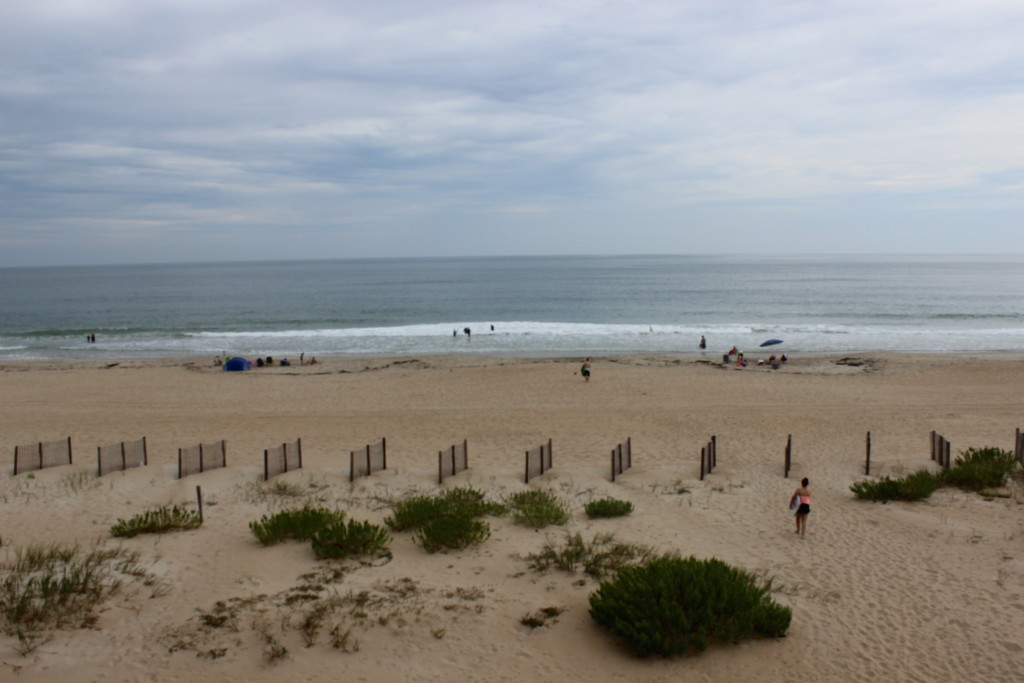 After doing some grocery shopping and settling it, we were able to head out to the beach and play some flashlight tag (the little boys desperately wanted to do this). We then pulled out some Chinese lanterns (that we had tried to a couple of years ago, but it was too windy) and finally after a few tries, we had some success and launched two of them!! Yah! So, you will have to bear with quite a few photos as it was quite ab accomplishment to get them going:
The next day was a chill day. We went for a nice walk with Gabe and Zach, who ended up going in for a swim.
We headed back to get the others, went for a quick shop to get some boogie boards and spent the rest of the morning in the ocean on the boogie boards. The waves were crazy and we all got beaten up a bit!
We fooled around with our selfie stick too:)
It wasn't the sunniest of days, so we were able to hop in the hot tub following our ocean swim and then had lunch. After lunch, it started to rain so we spent the afternoon having goofy conversations, watching a movie and then playing Apples to Apples.
Dinner for the kids was some yummy grilled cheese cooked up by Josh (inspired by the movie "Chef" that we watched earlier) and Rob and I had some fish. The two older boys went for a walk on the beach, and then the three others went on their own later on too and we met up with them. So different that our kids are off having their own adventures!!
The rest of the evening consisted of some pie and some TV watching.
Great start for our vacation!