We had heard that there was not much to see in Phnom Penh, but knew we needed a couple of nights to adjust to the time difference. So, for the day we were there, we wanted to make the most of it and booked a guide. We don't always book guides, as sometimes it's enough to follow a guide book, but I figured this was the kind of place that required one!
We were awake pretty early and headed down to the reception area for our included breakfast. It was a la carte and you could order a western breakfast, or an asian breakfast. We almost all opted on asian – after all, it's part of the adventure. Then we all opted for the most familiar item on the menu: fried rice. Fried rice for breakfast? Yup. And it was absolutely delicious. We enjoyed it with our mini shot glasses of pineapple and mango juice (we have noted that even on the flights when you asked for a drink, you got this tiny glass!)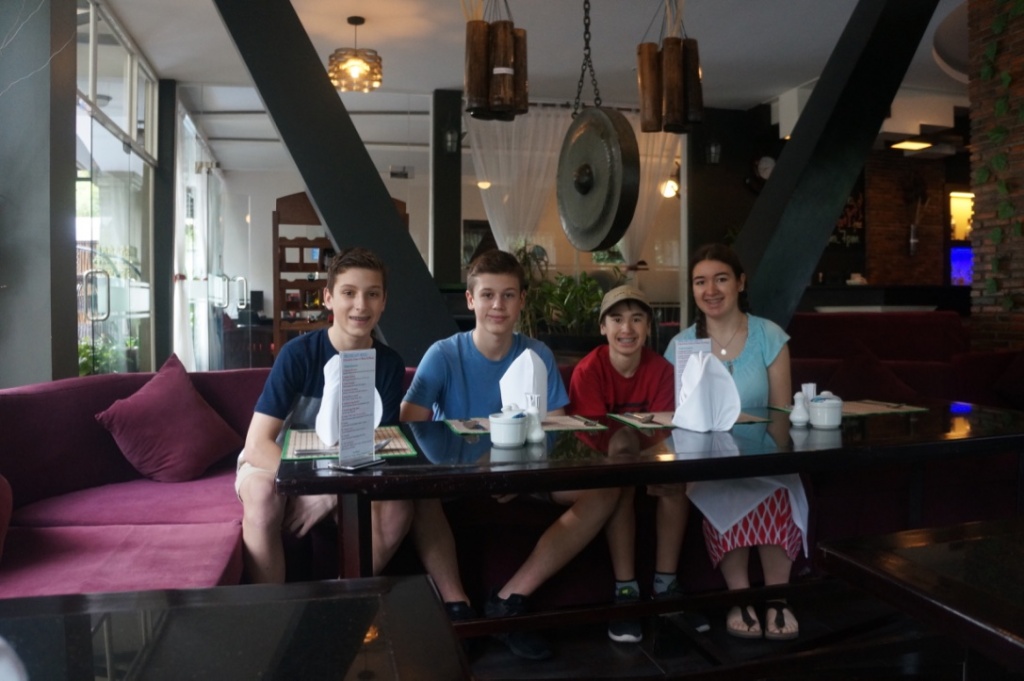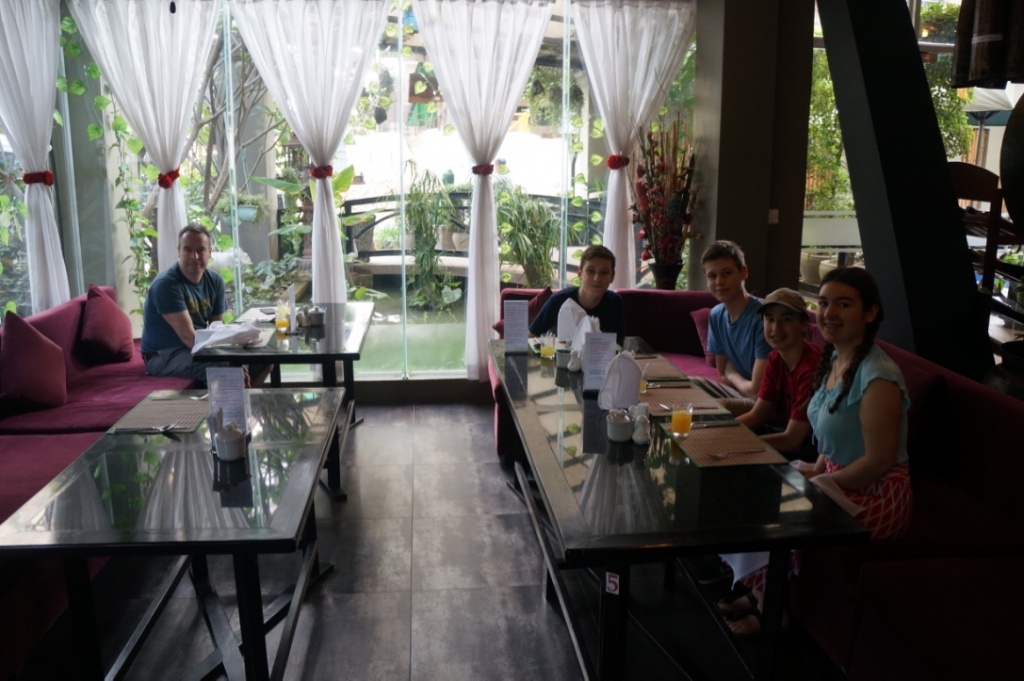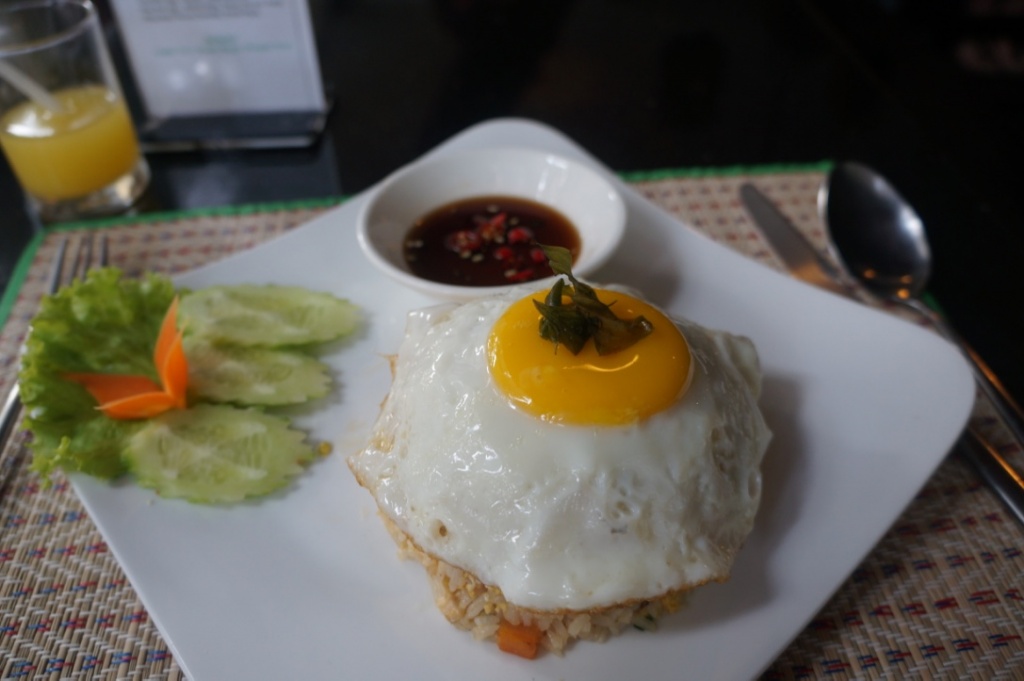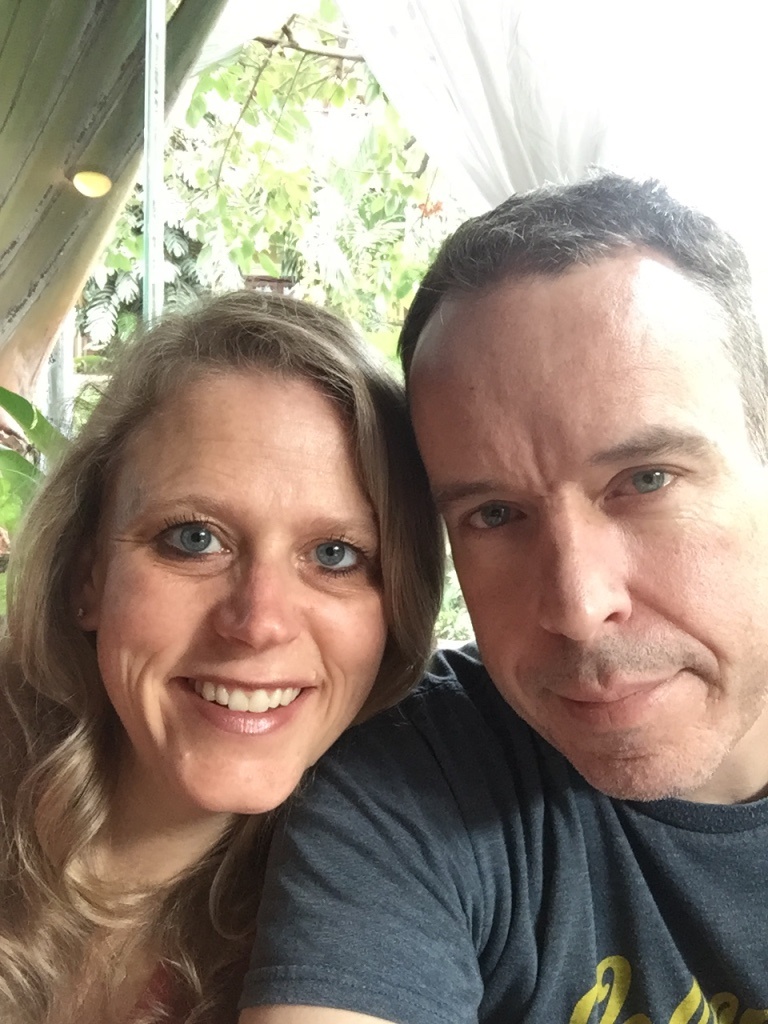 We then headed out with our guide, Lee – who not only showed us around, but shared with us about his own life, the Cambodian lifestyle, economics, politics etc. Although he was hard to understand with his thick accent (super hard for me with my hearing challenges), he was great!
We first went to the Royal Palace. (warning, I'm gonna be posting a lot of pictures!)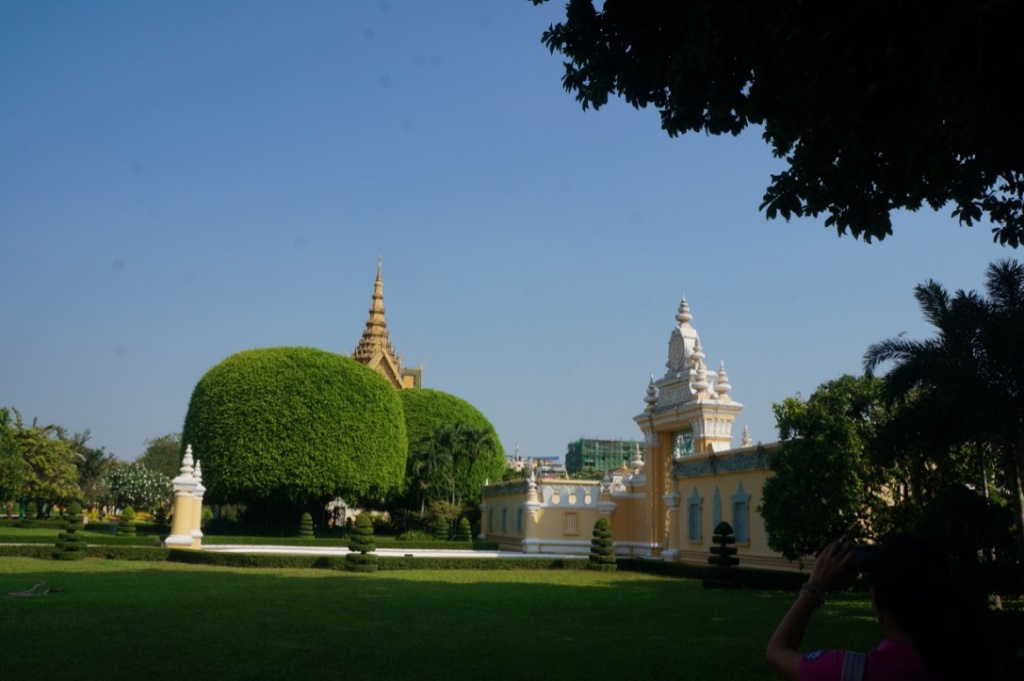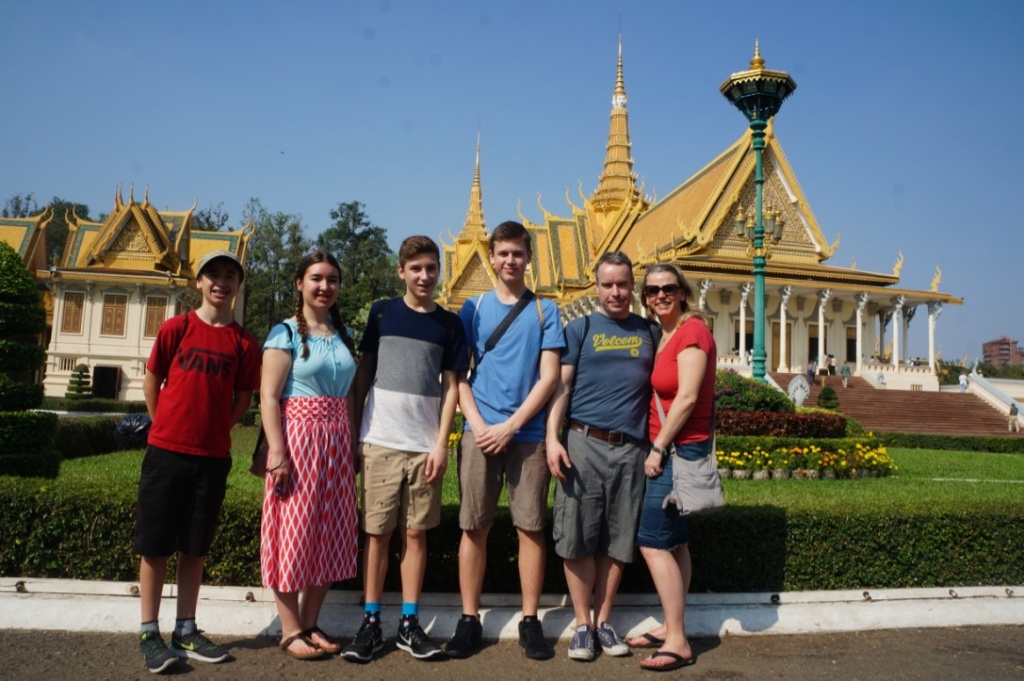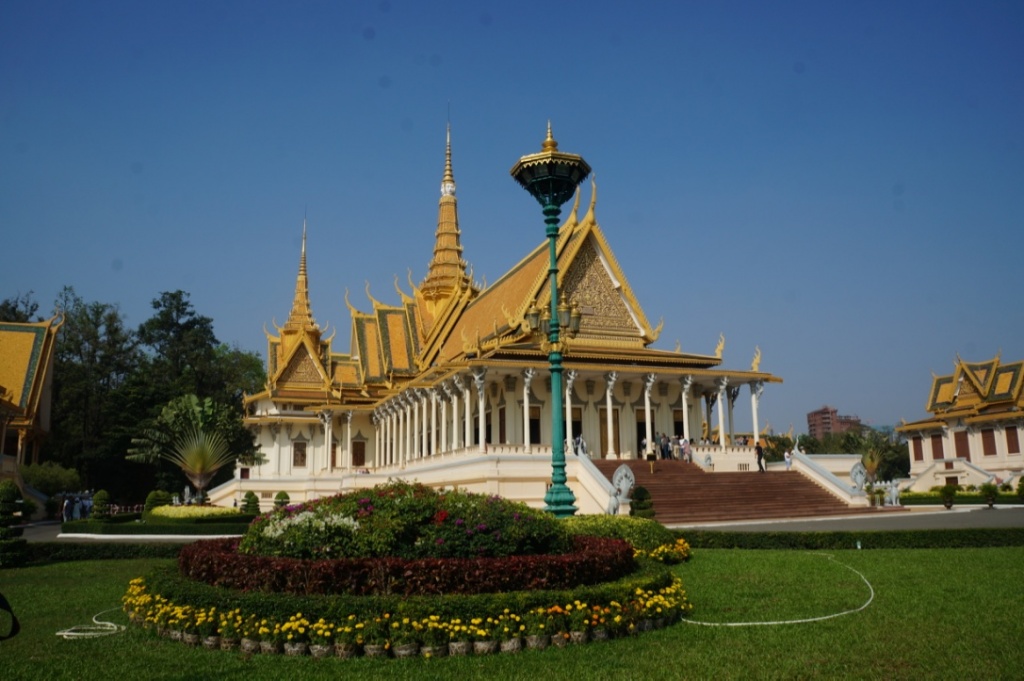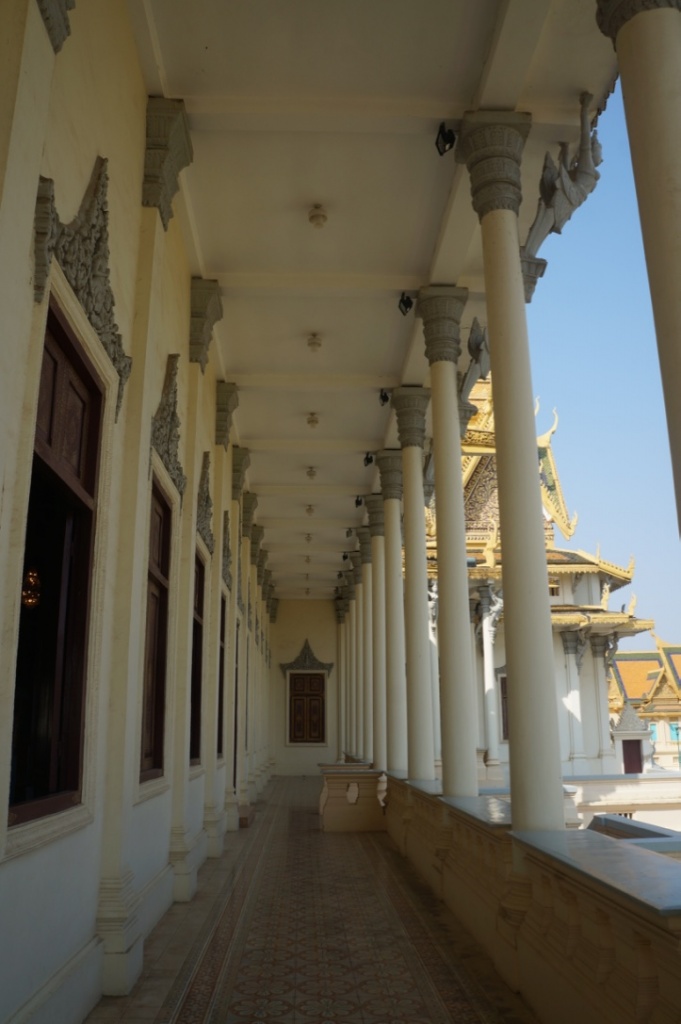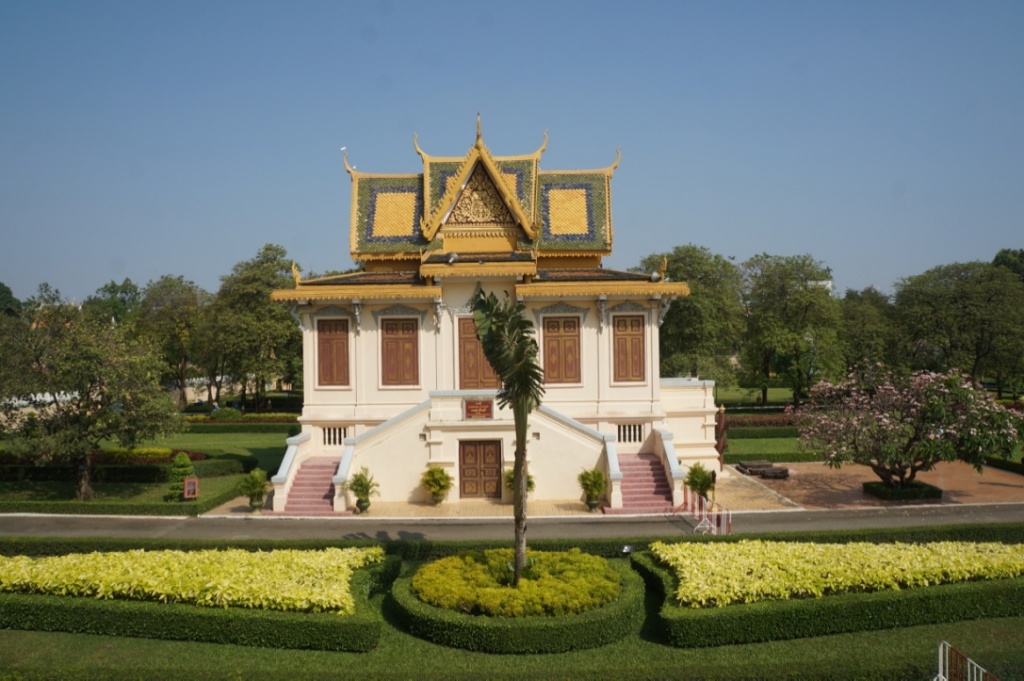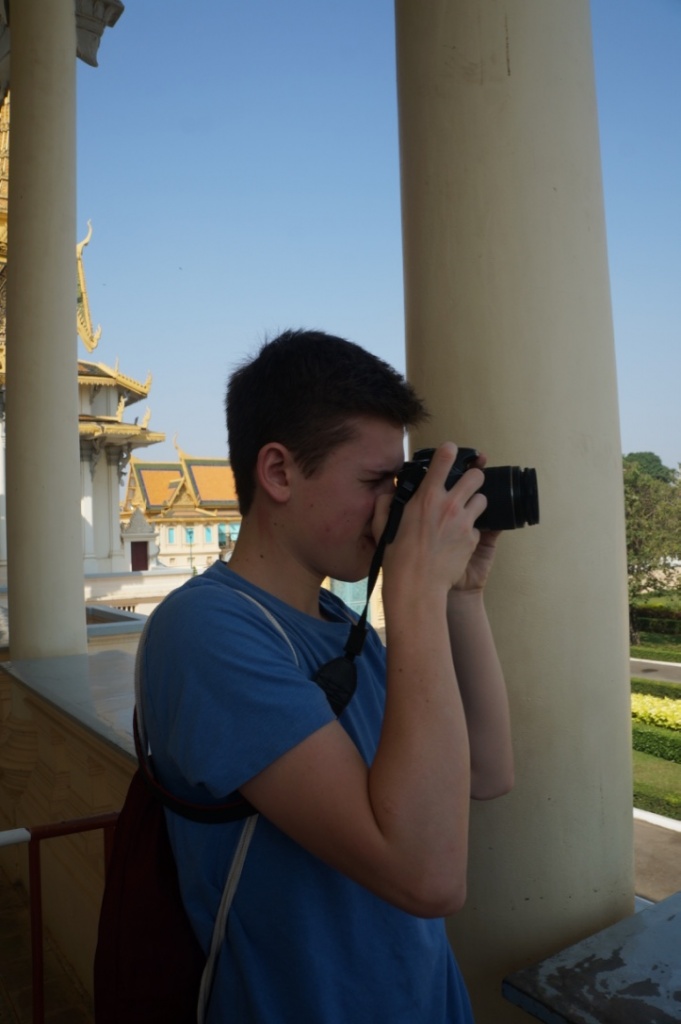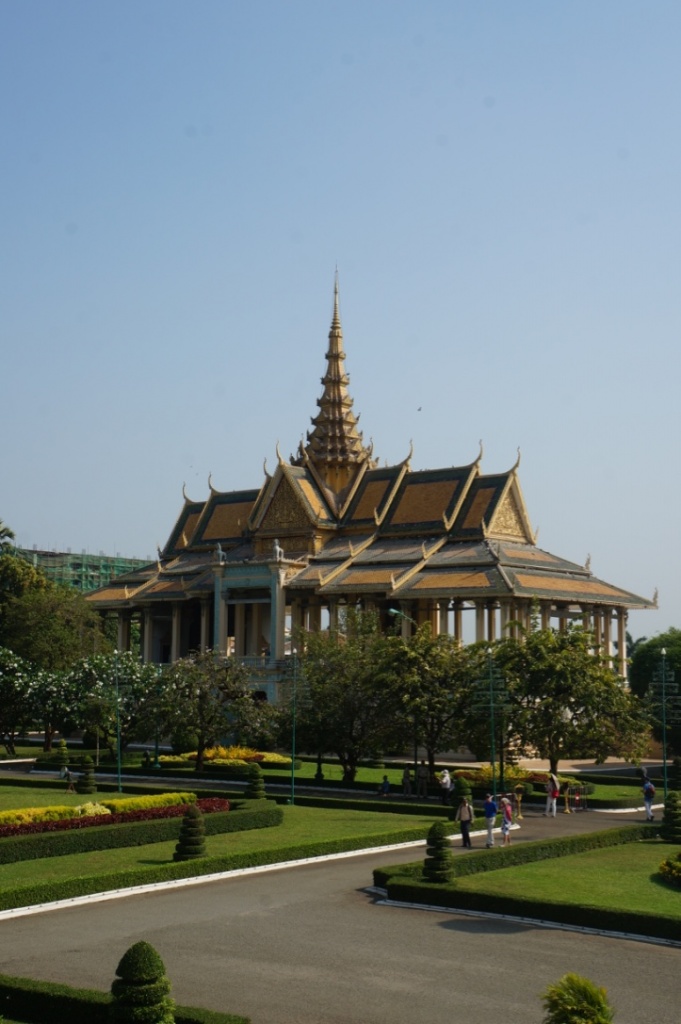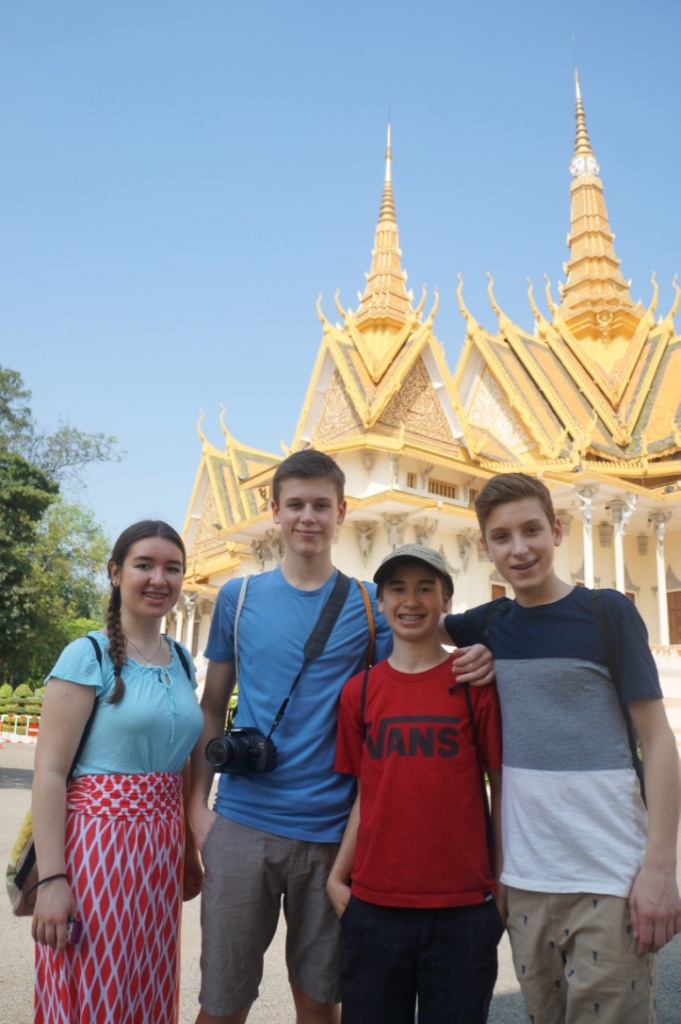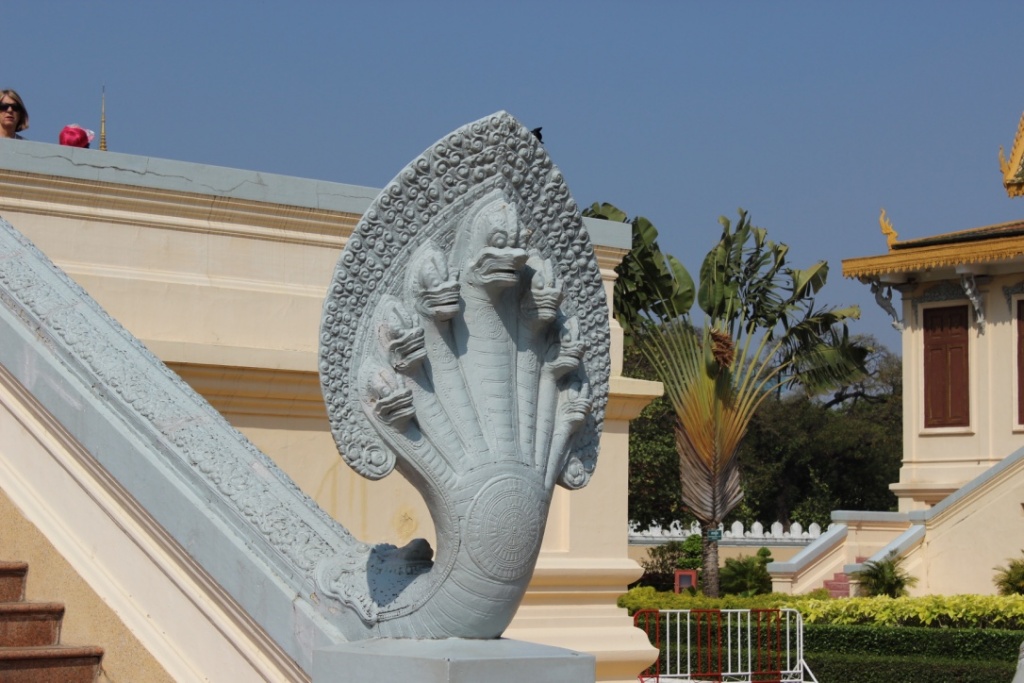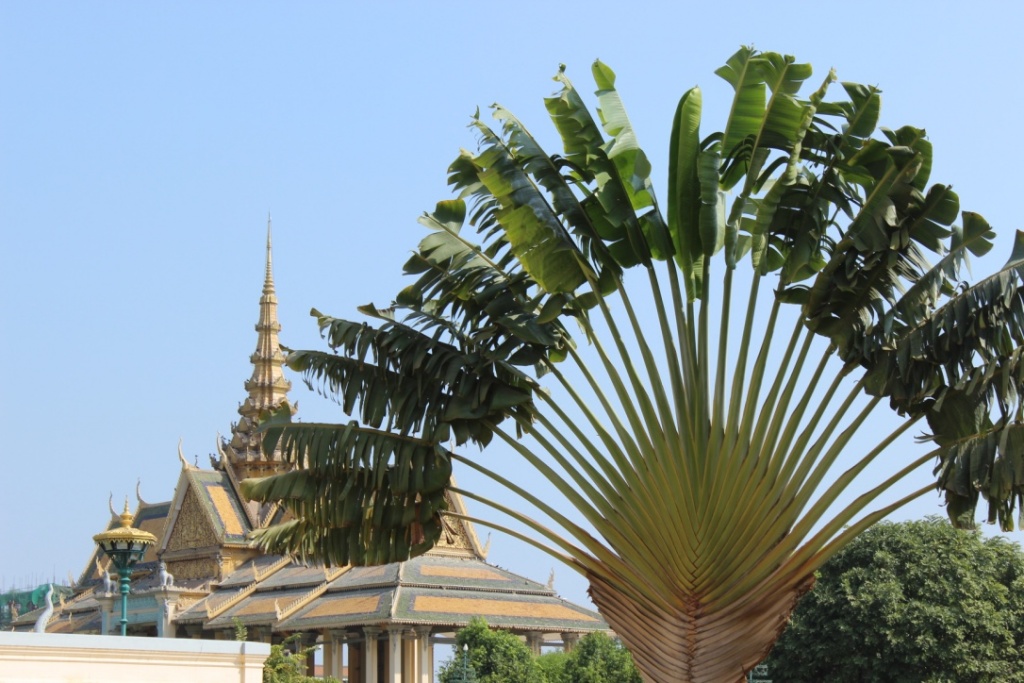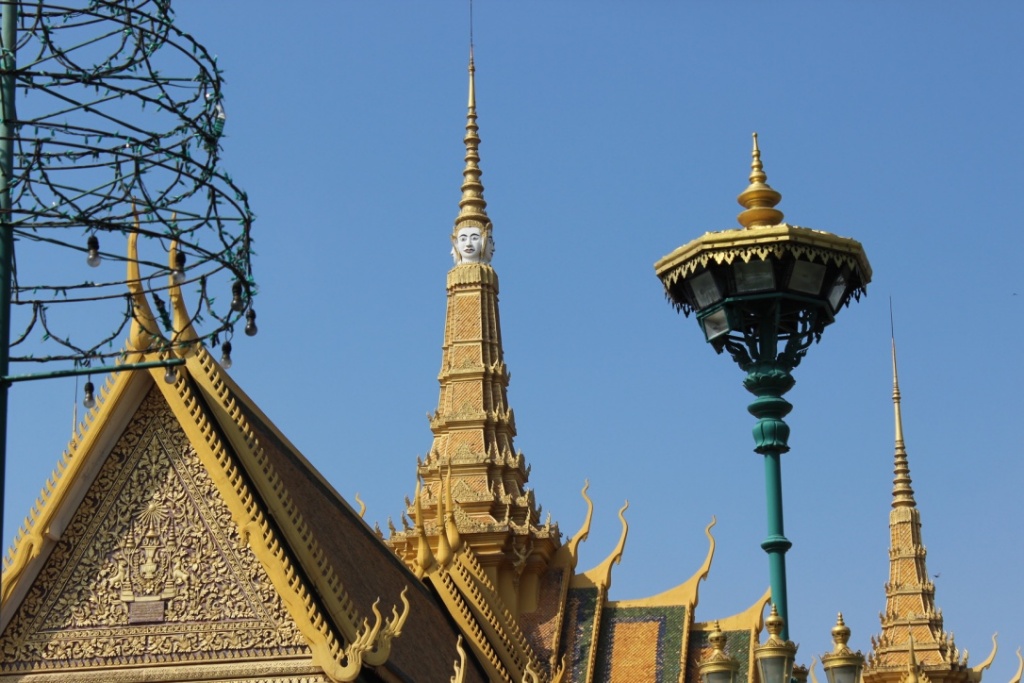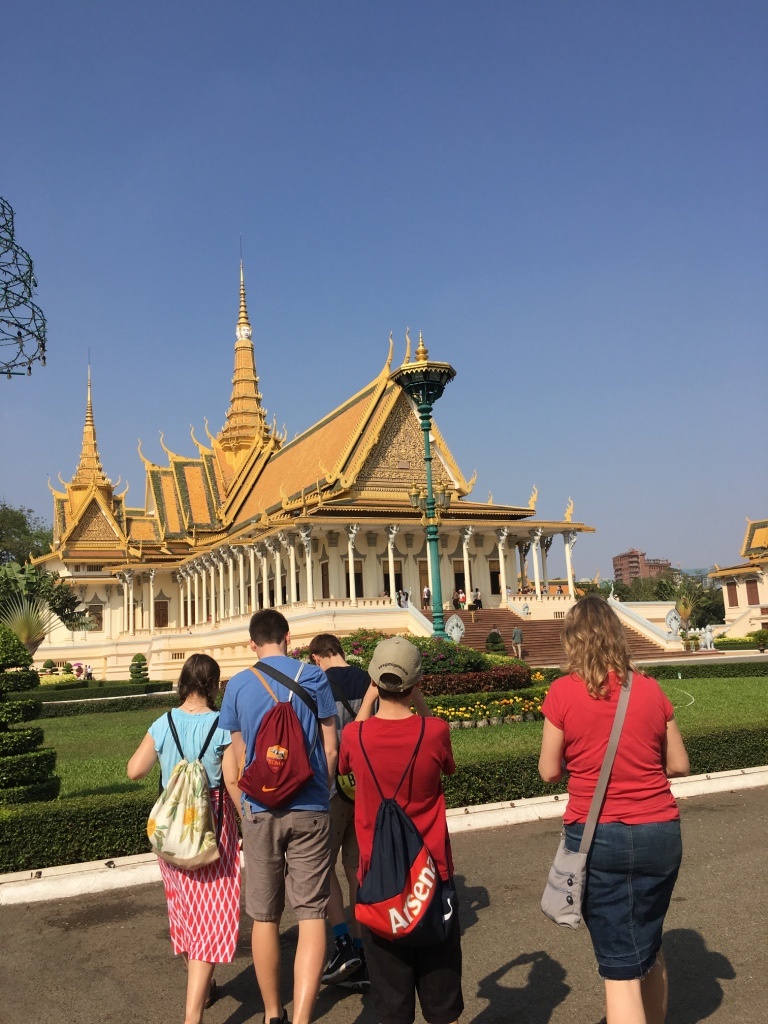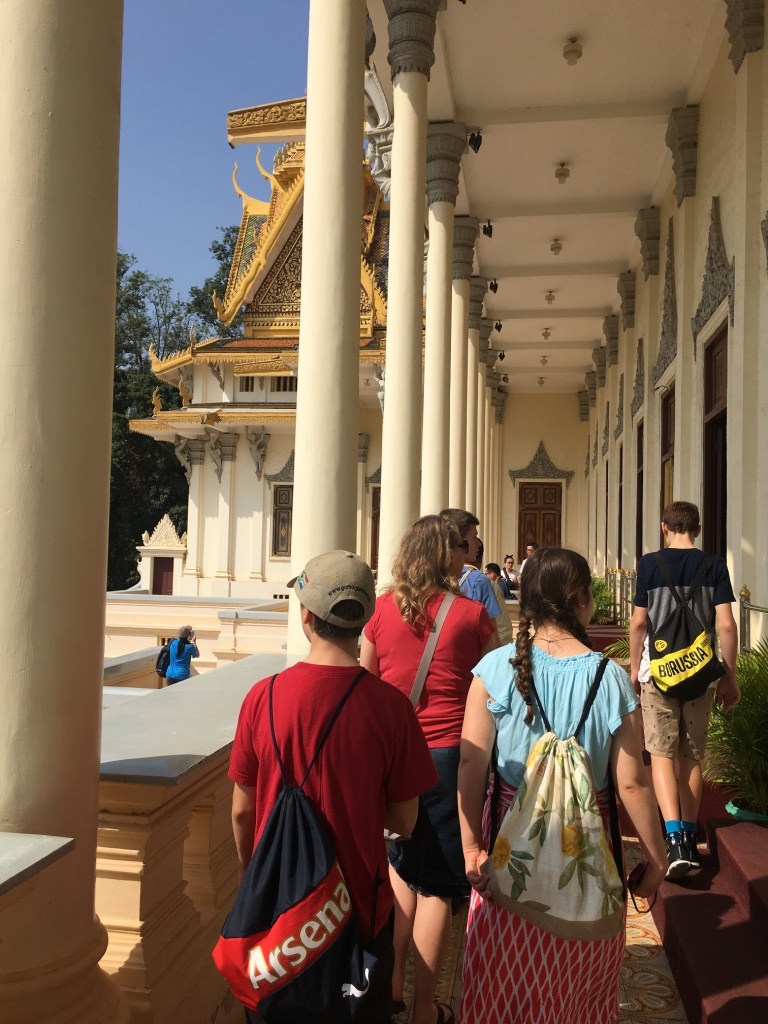 On the same grounds is the Silver Pagoda (temple with silver flooring – very cool looking – and costly, although a lot of it is covered by a rug.)
It's a shame that you can't take pictures of the inside (completely understandable, of course), but it was beautiful and impressive looking. We wandered around the area and learned about the other temples and buildings on site: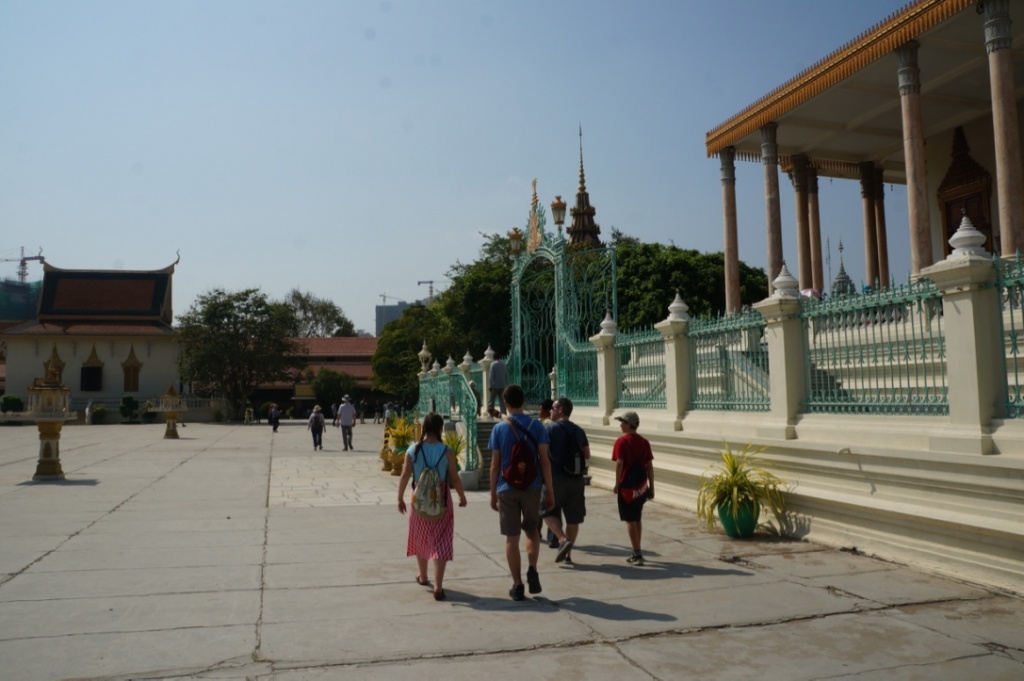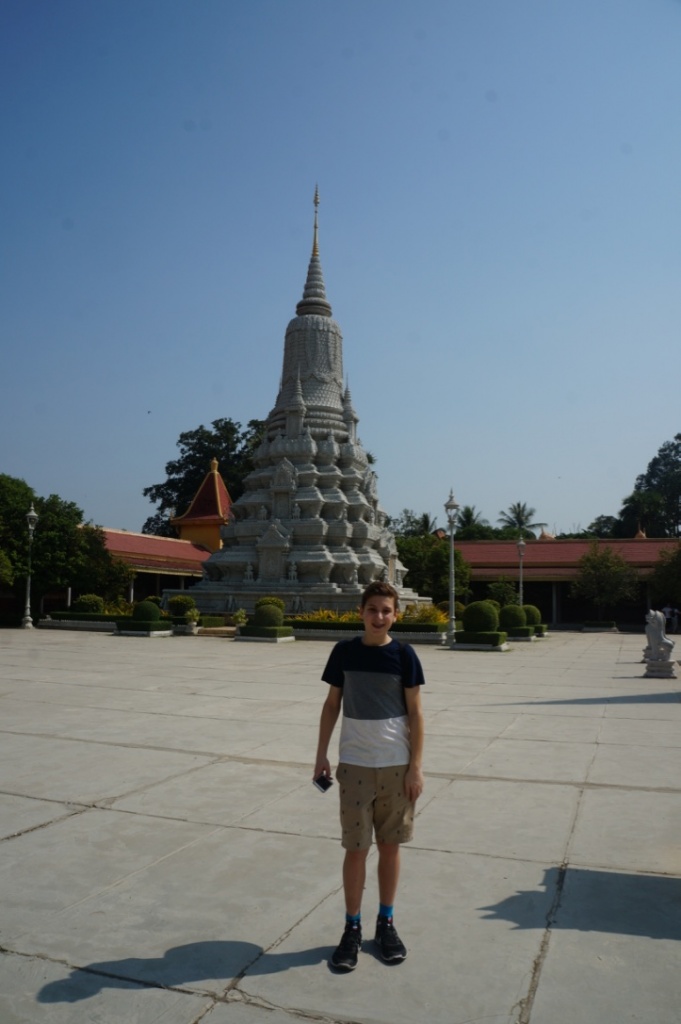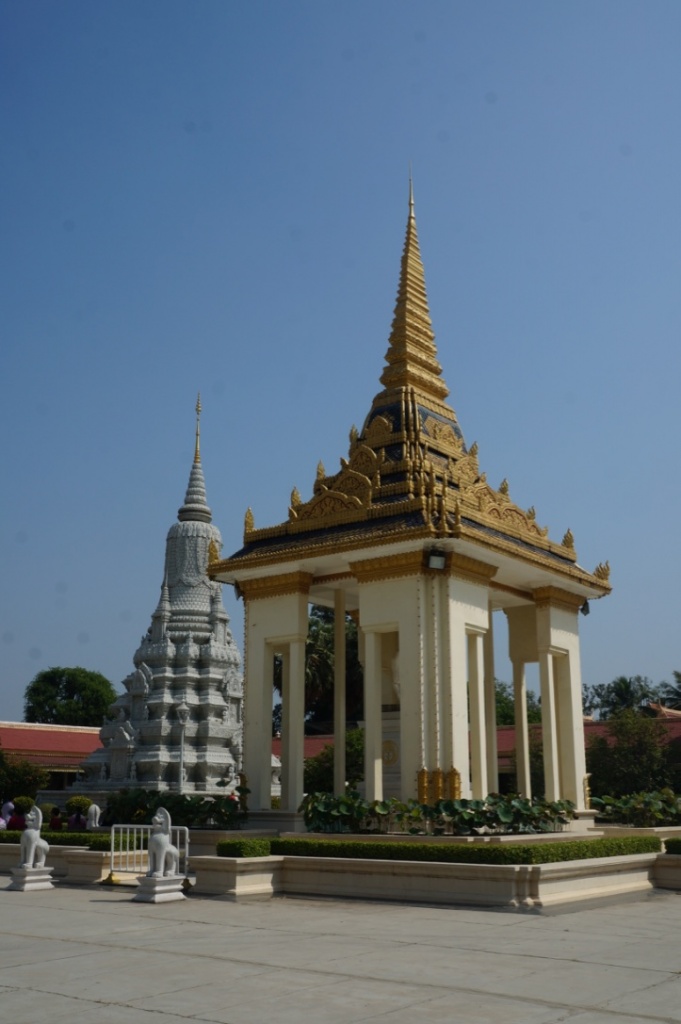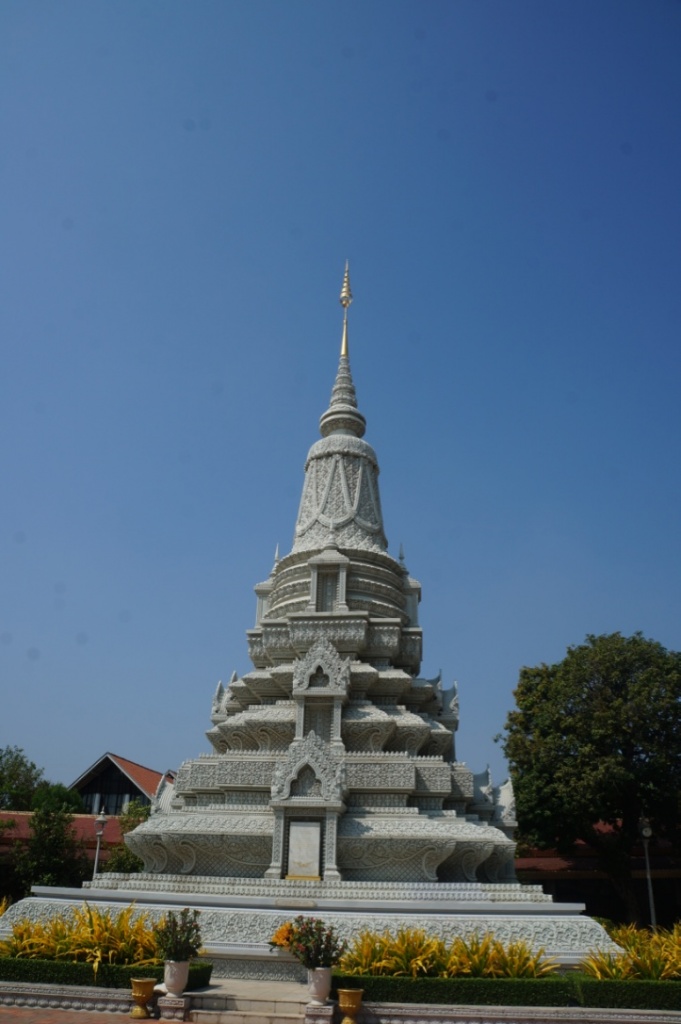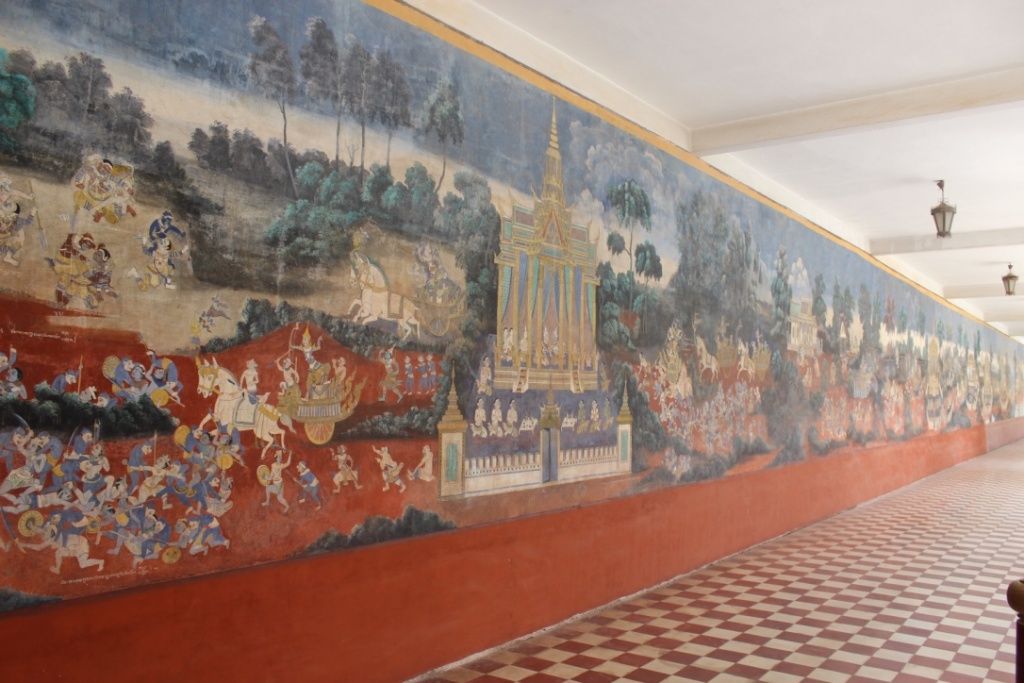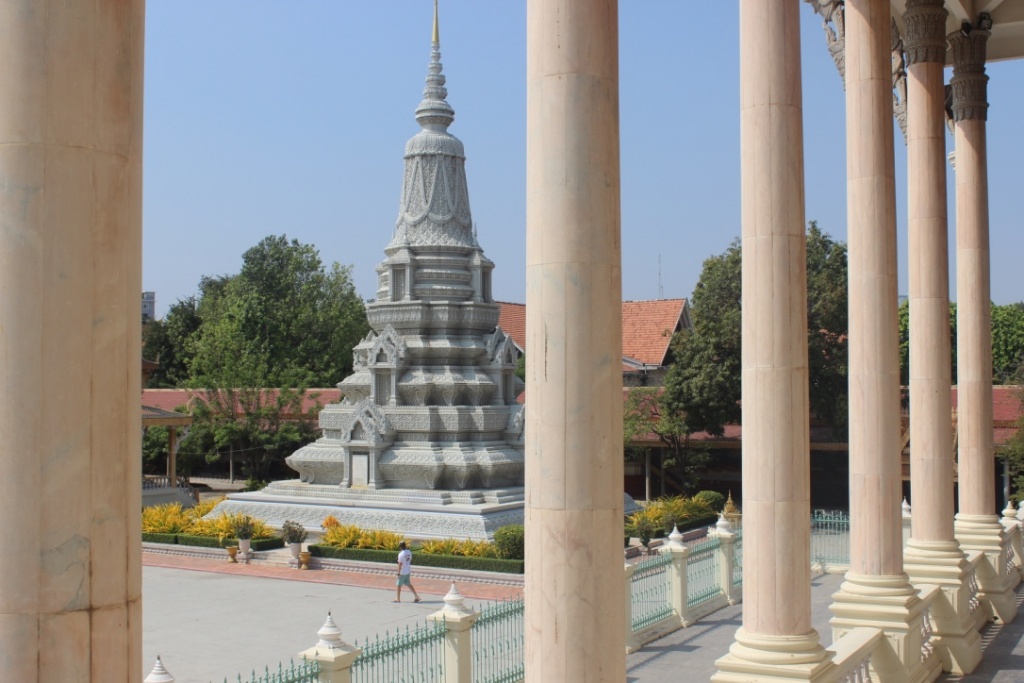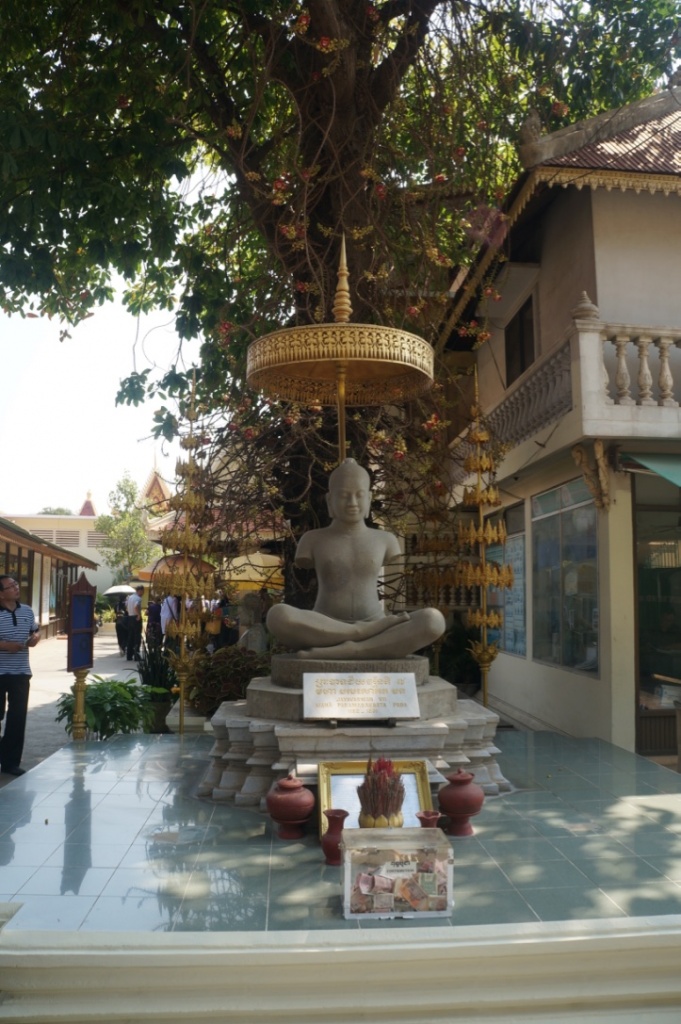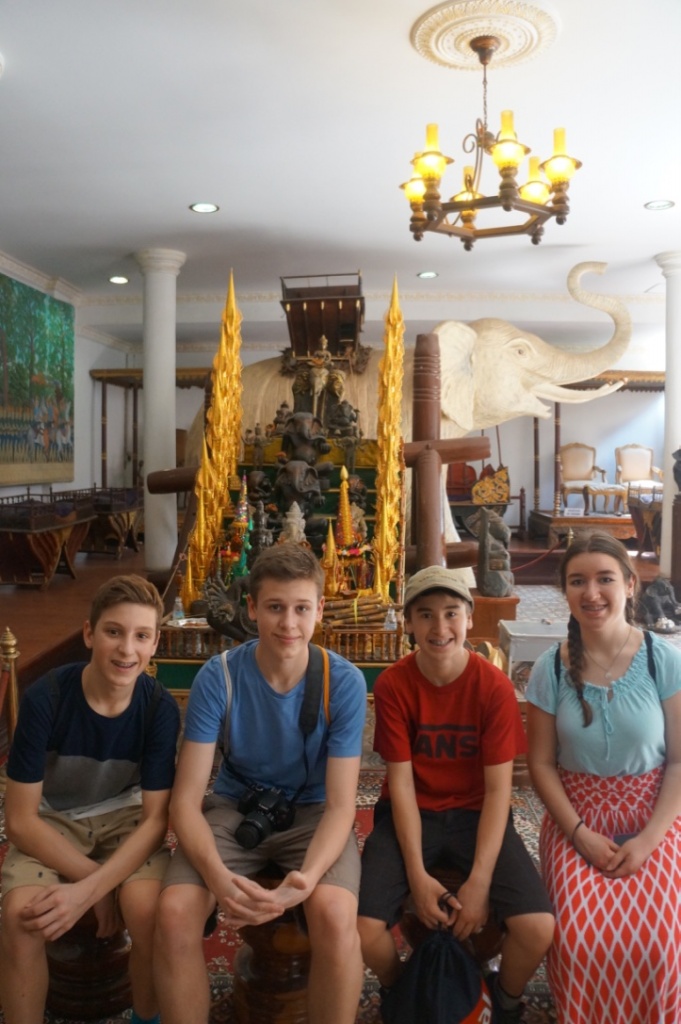 After spending time on the Palace grounds, we headed to the National Museum of Khmer Arts. I can't say that the kids were exceptionally excited about this museum. It is partially outdoor, so there was no rest from the heat. There were many neat Buddha statues and sculptures, but we didn't spend too much time there.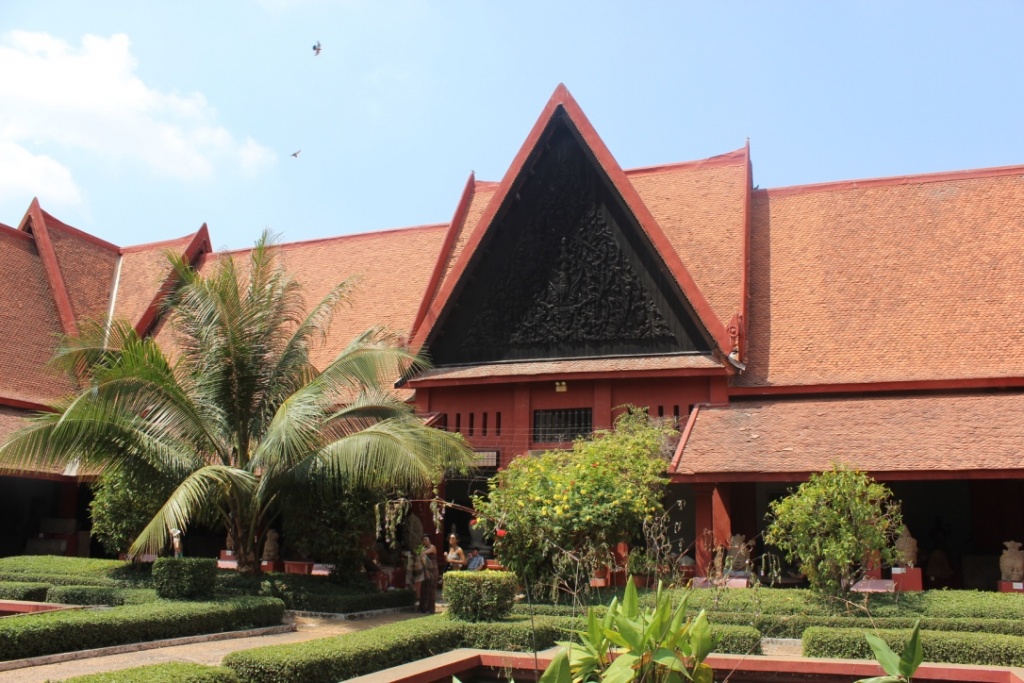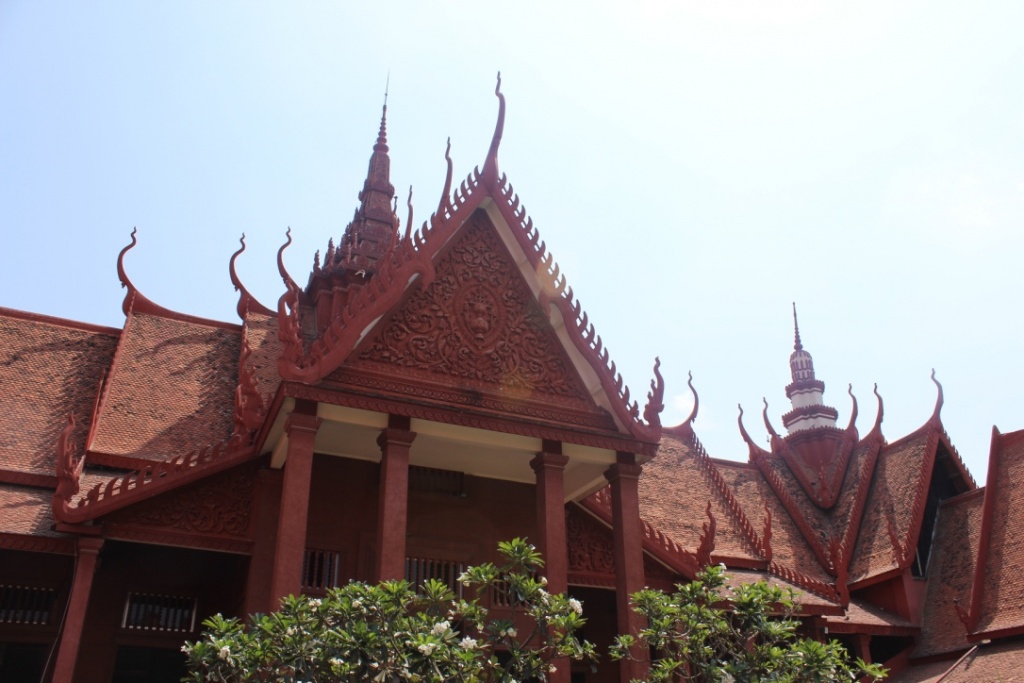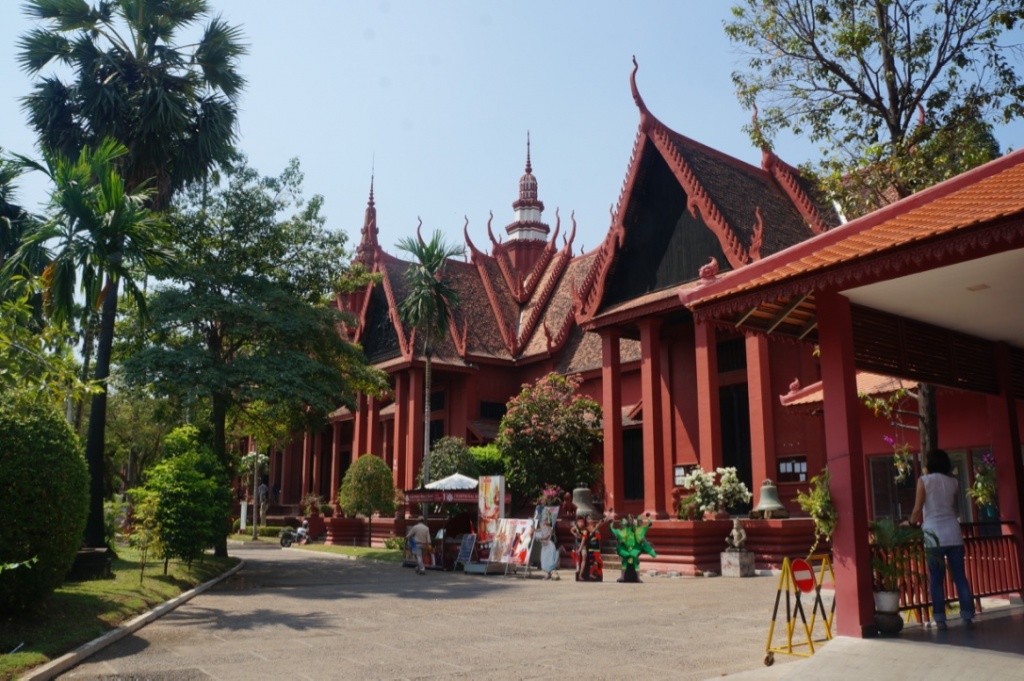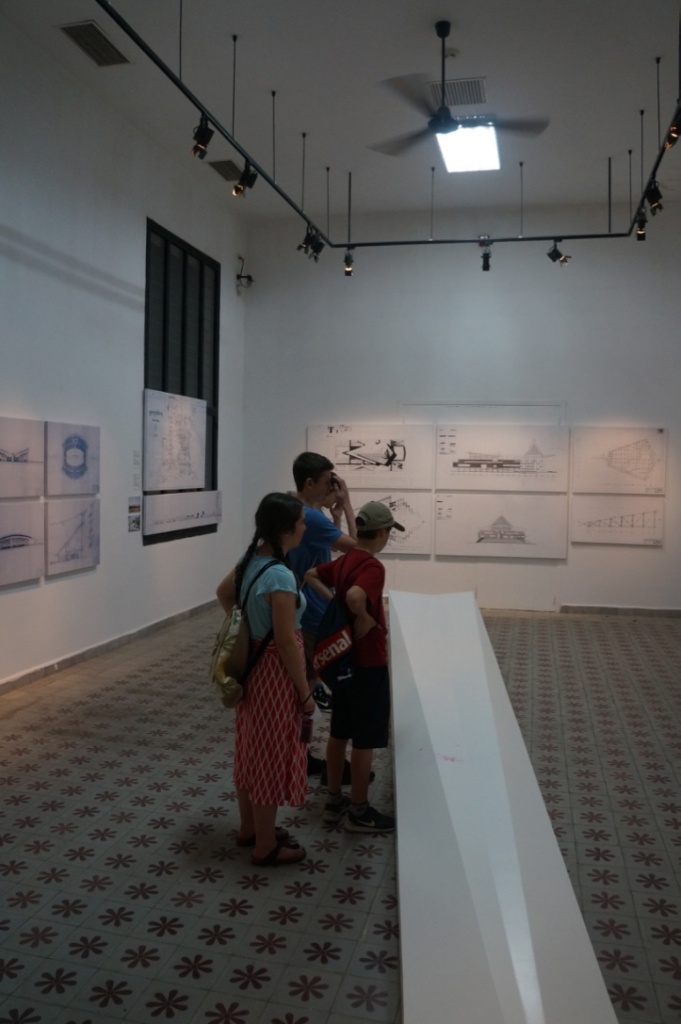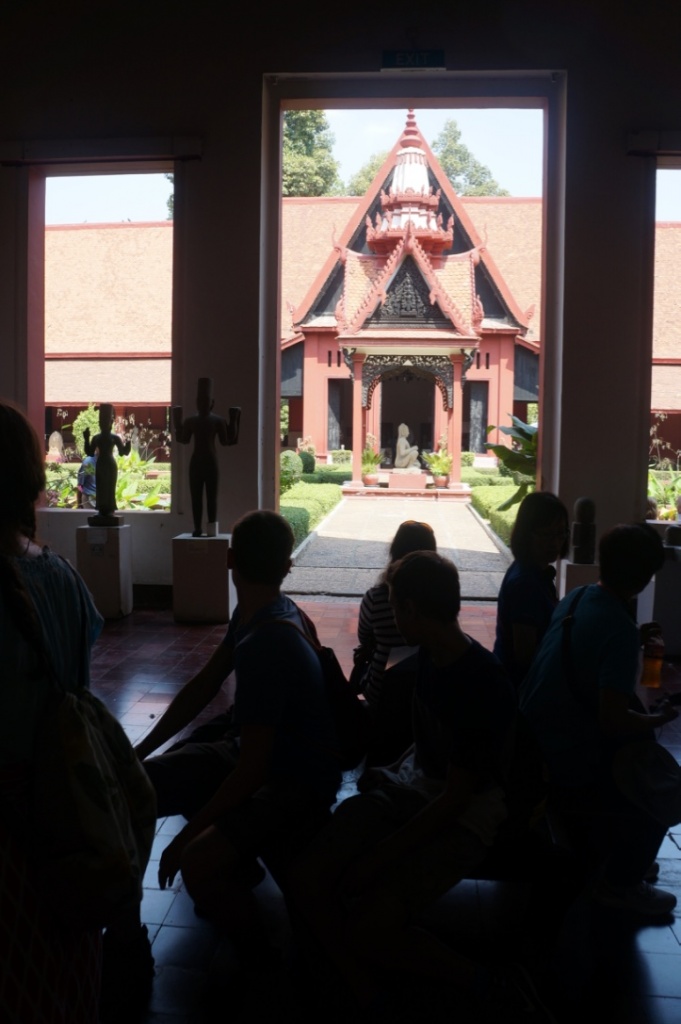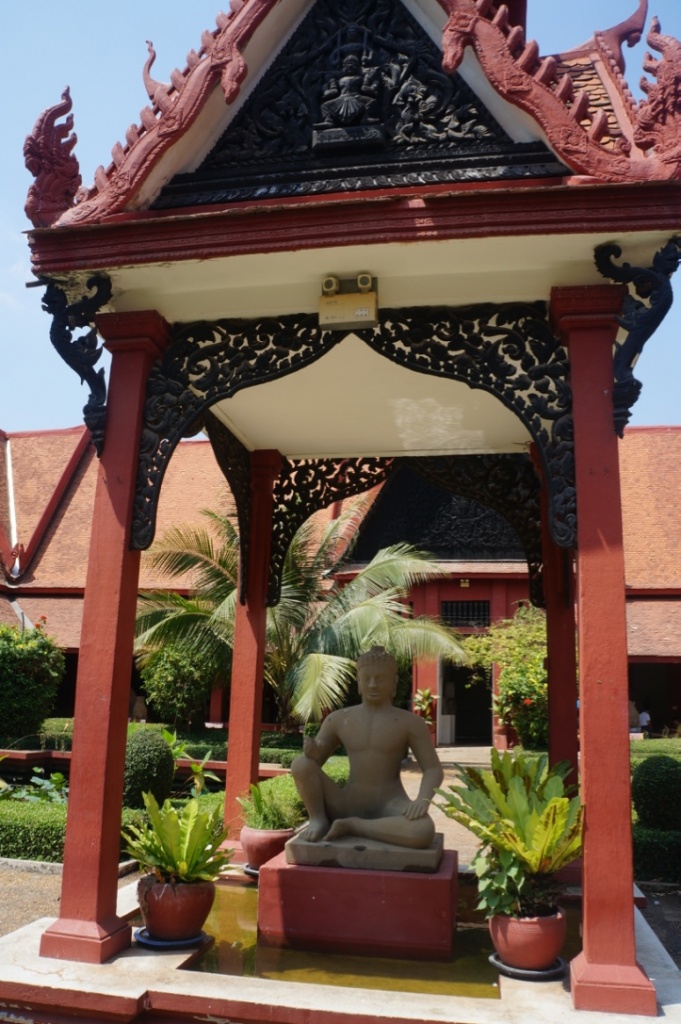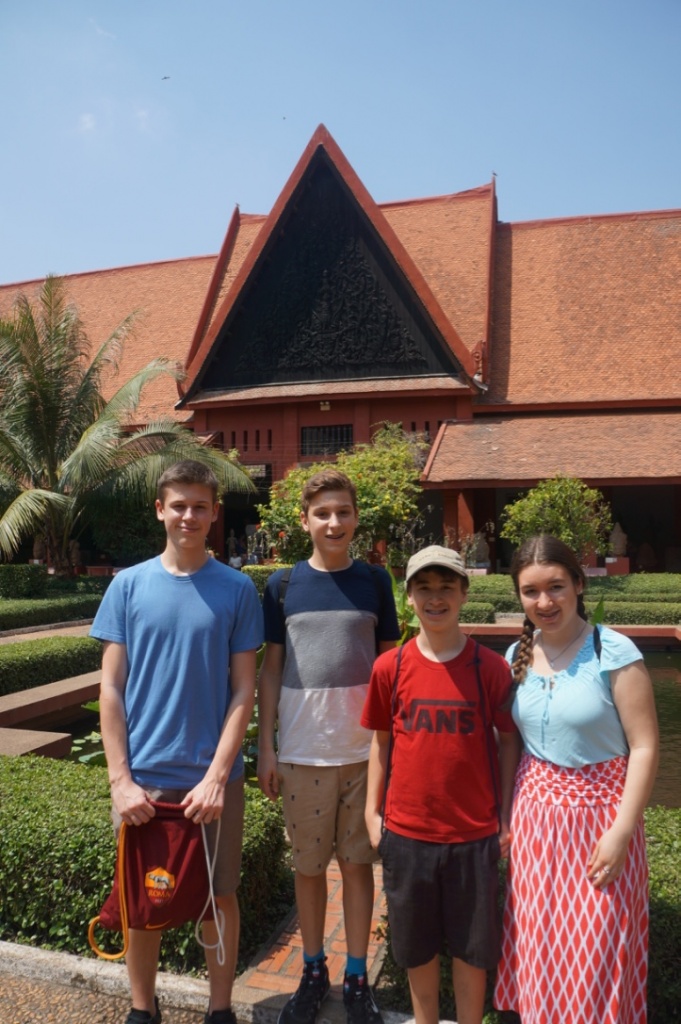 We then headed to Wat Phnom Hill – which is another site of a Buddhist temple that is very active and a mix between the old and new. We learned about the food offerings of eggs, raw meats etc. which was very different to see. It was very interesting temple.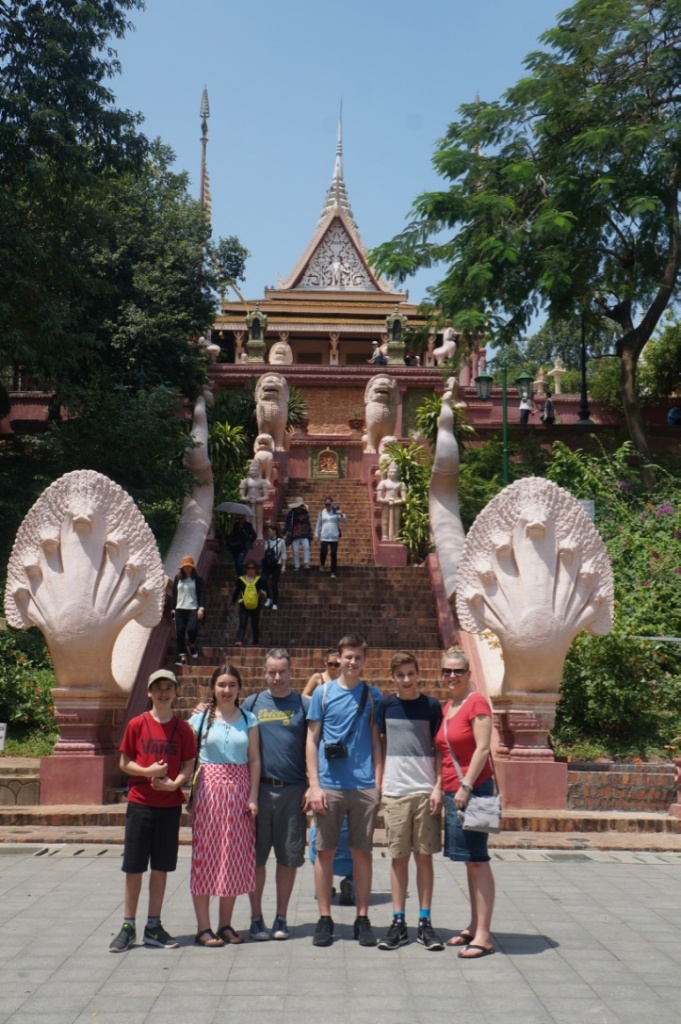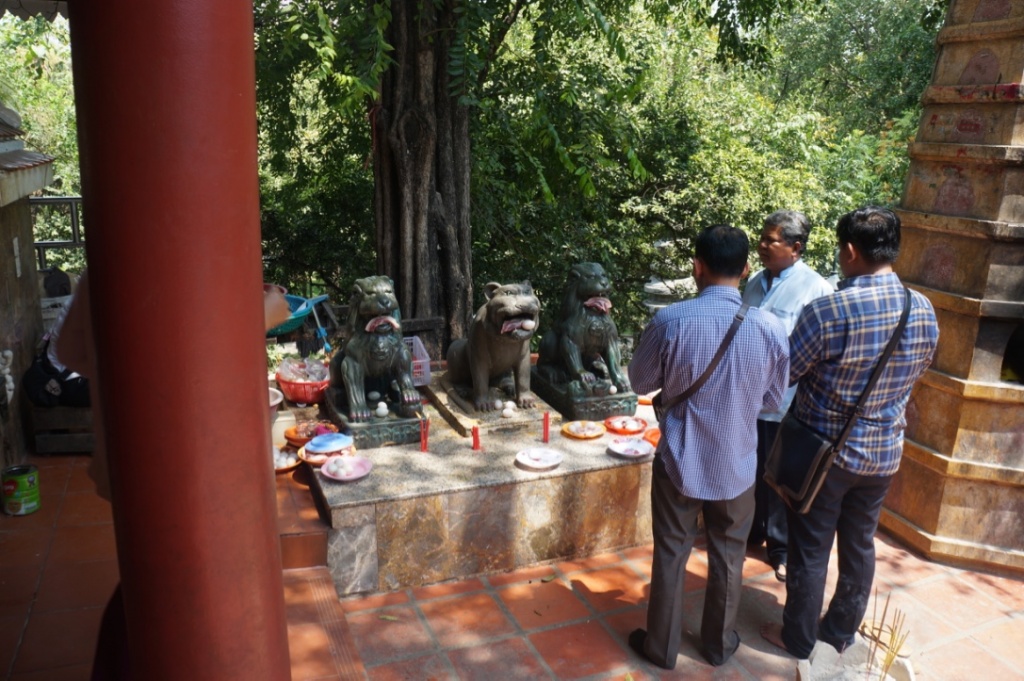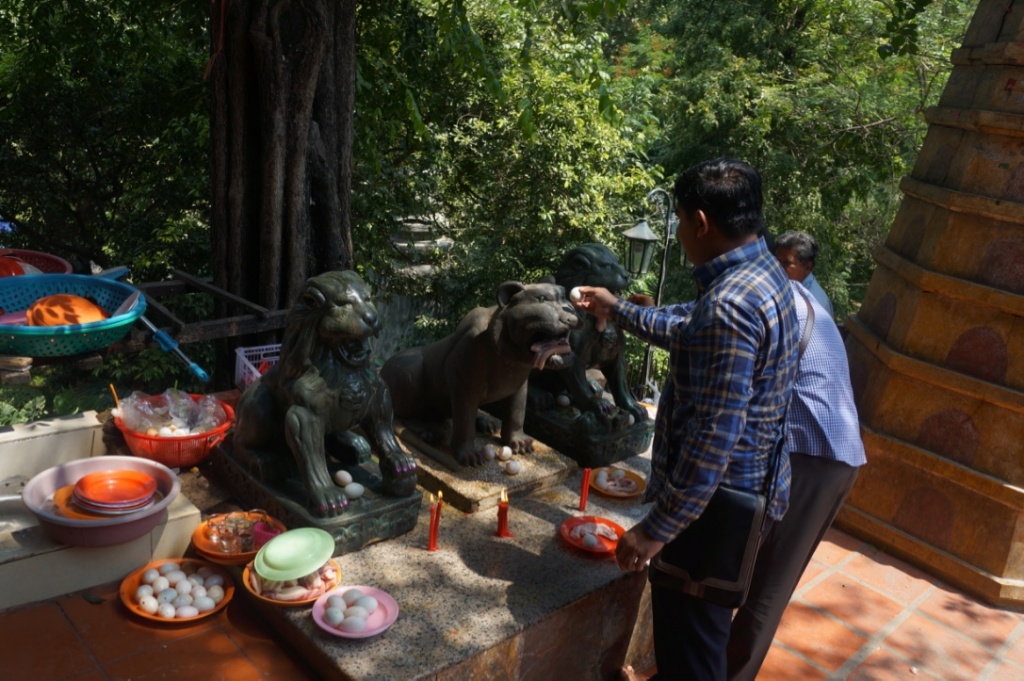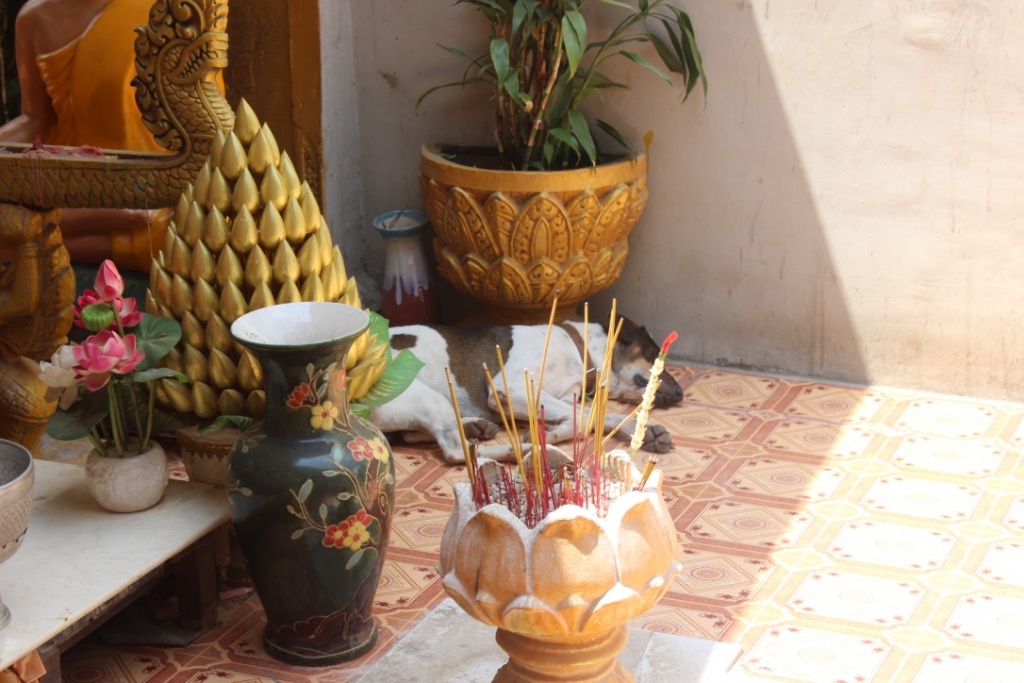 We saw a tree with tons of bats (all those little black things hanging! Ugh!)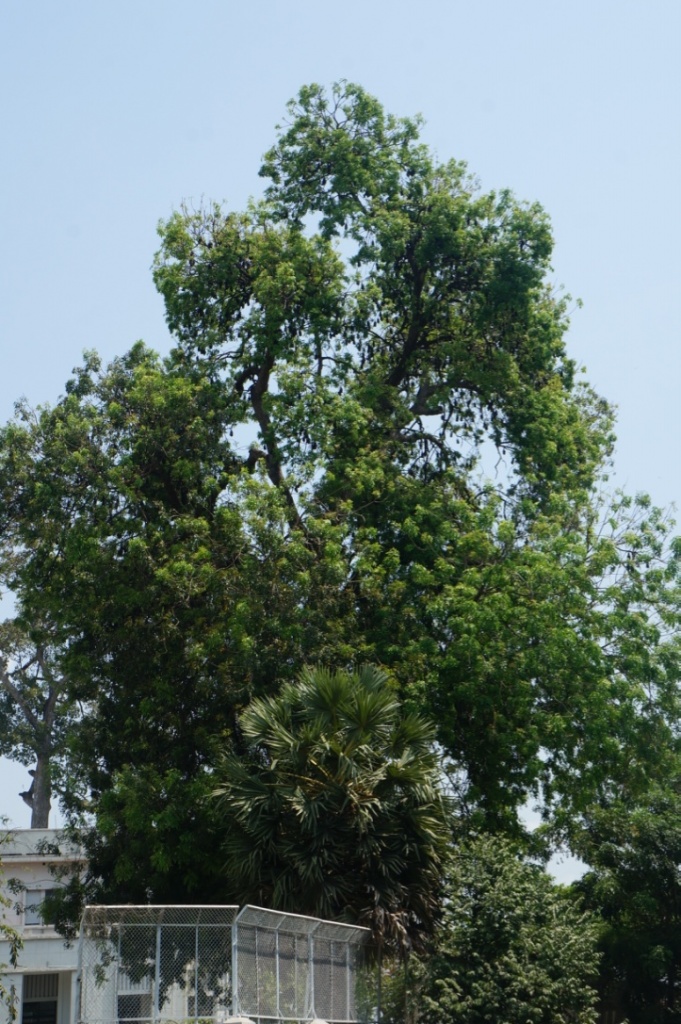 We then went to the local market. We first wandered around the souvenir area and picked up some small souvenirs. We then found ourselves in the clothing/shoe area, which we really didn't have much interest in the knockoffs. We stumbled into the food area, and that was an experience. The smells! Raw meat and fish were abundant! It was an experience in itself walking through it. Gabe would have died!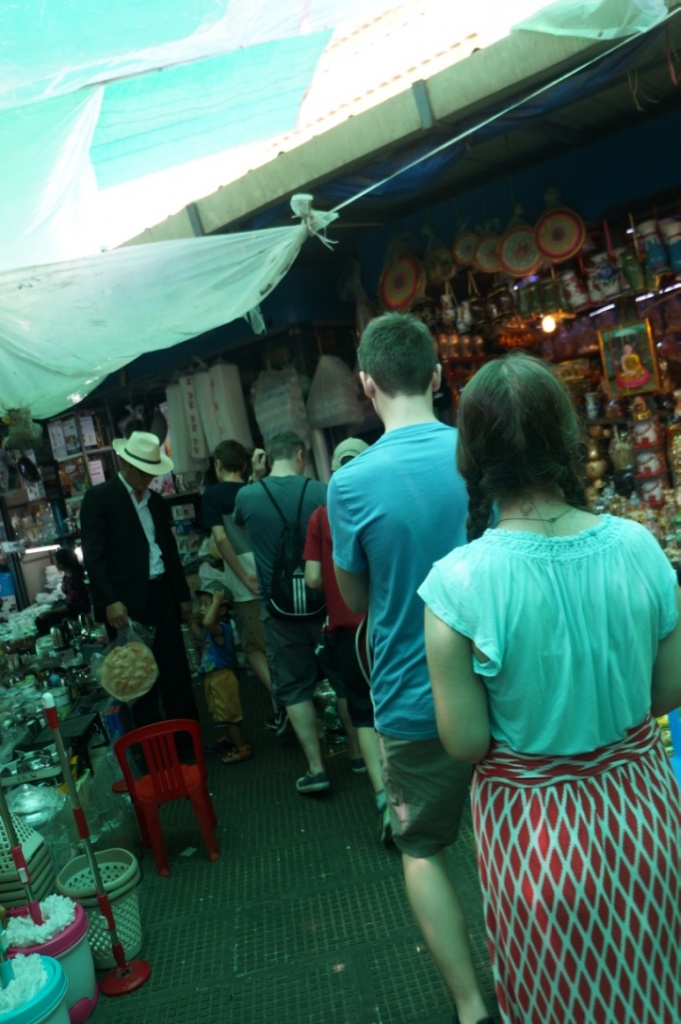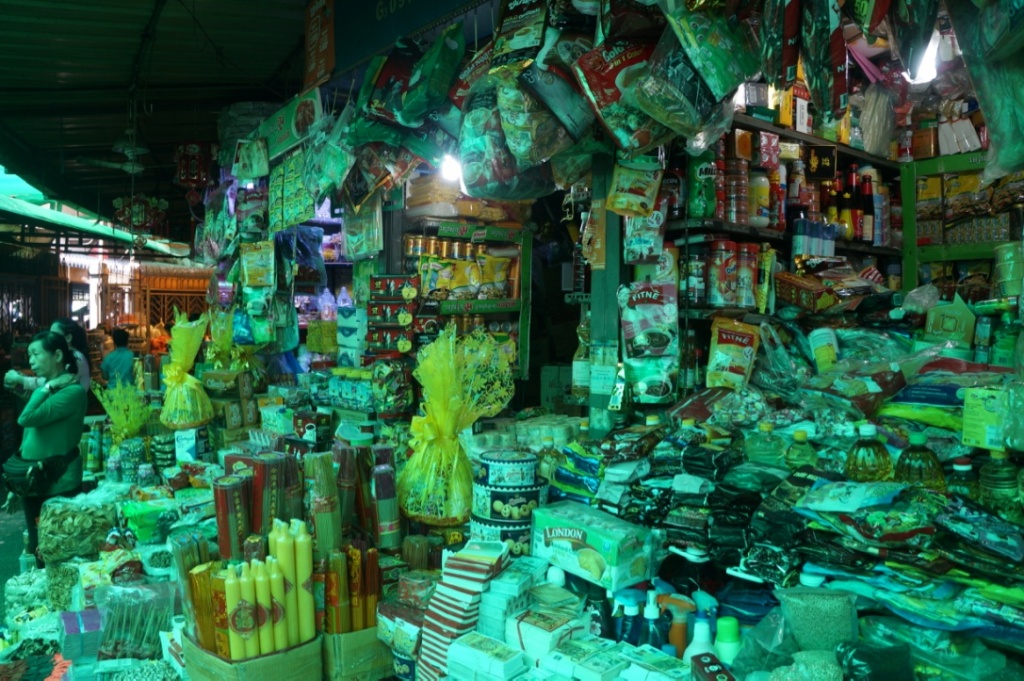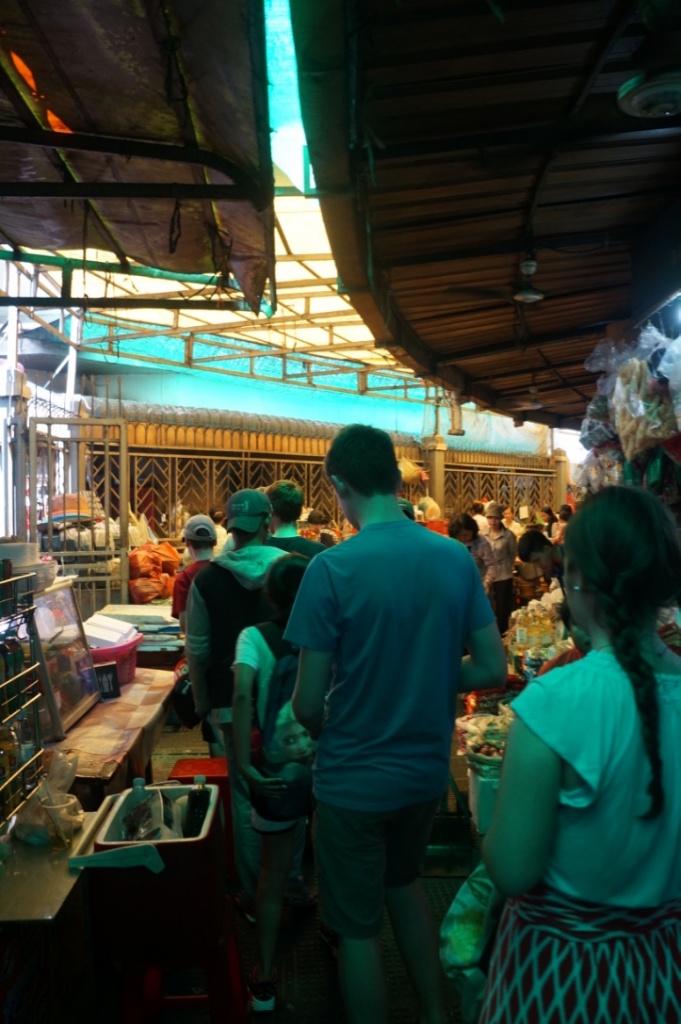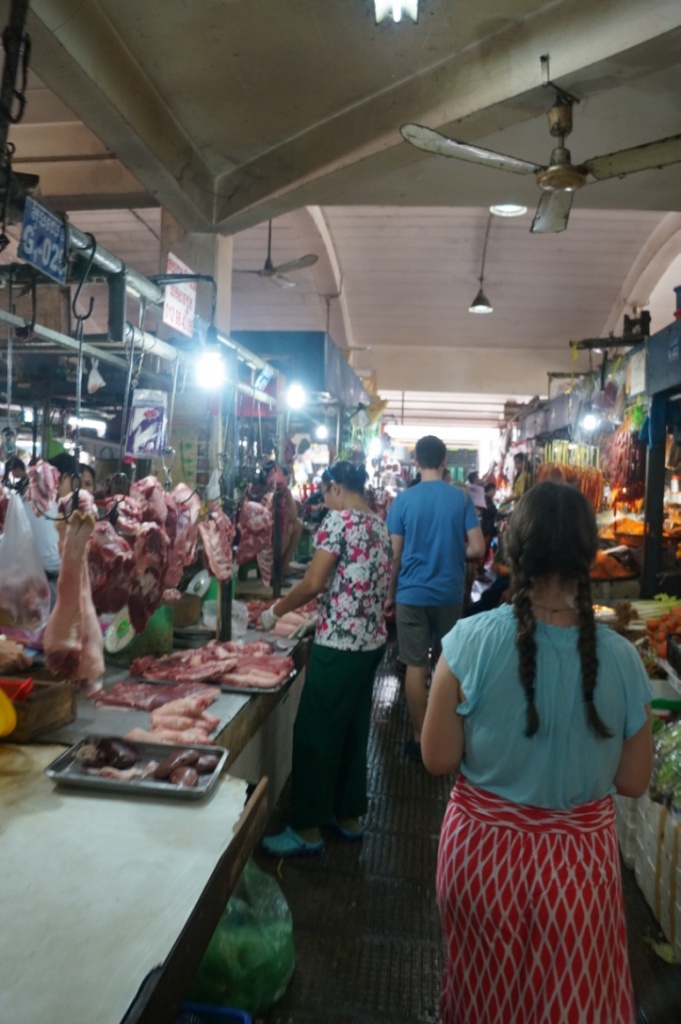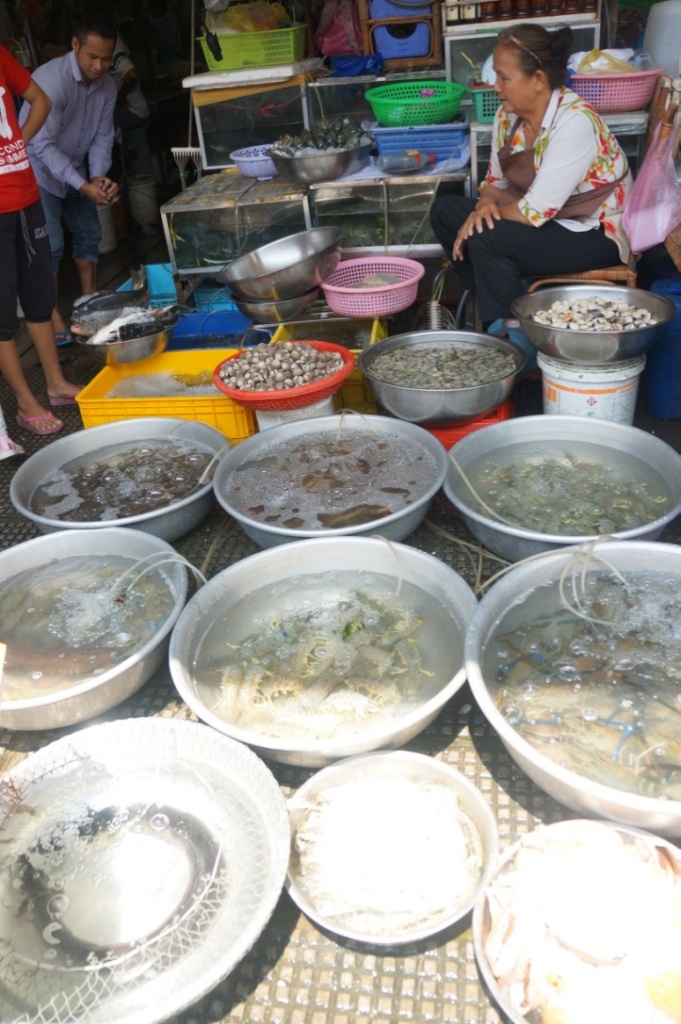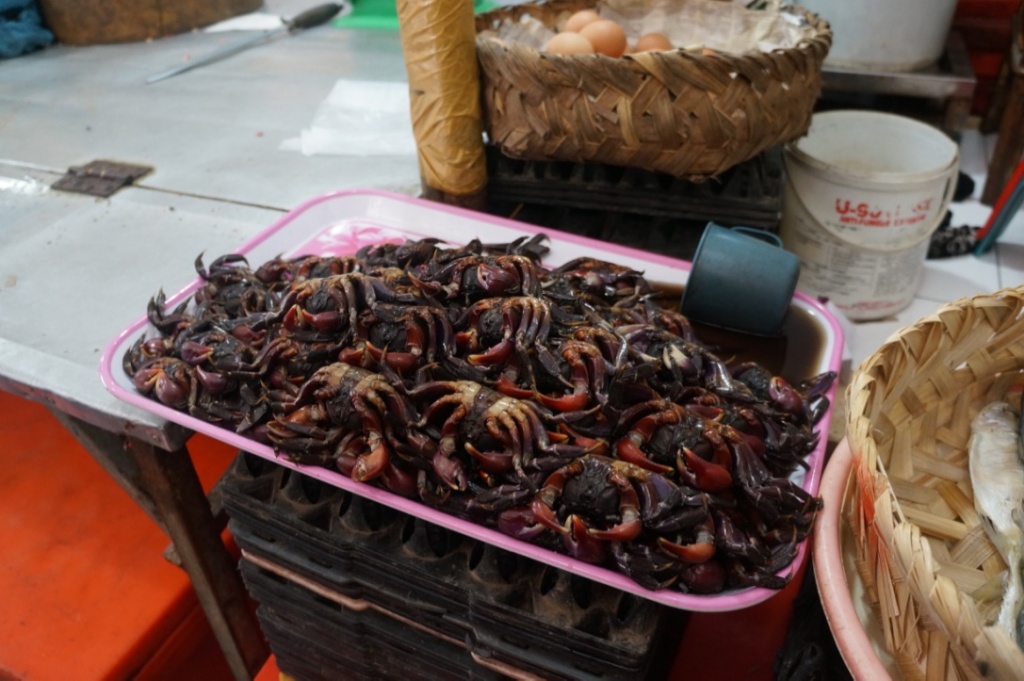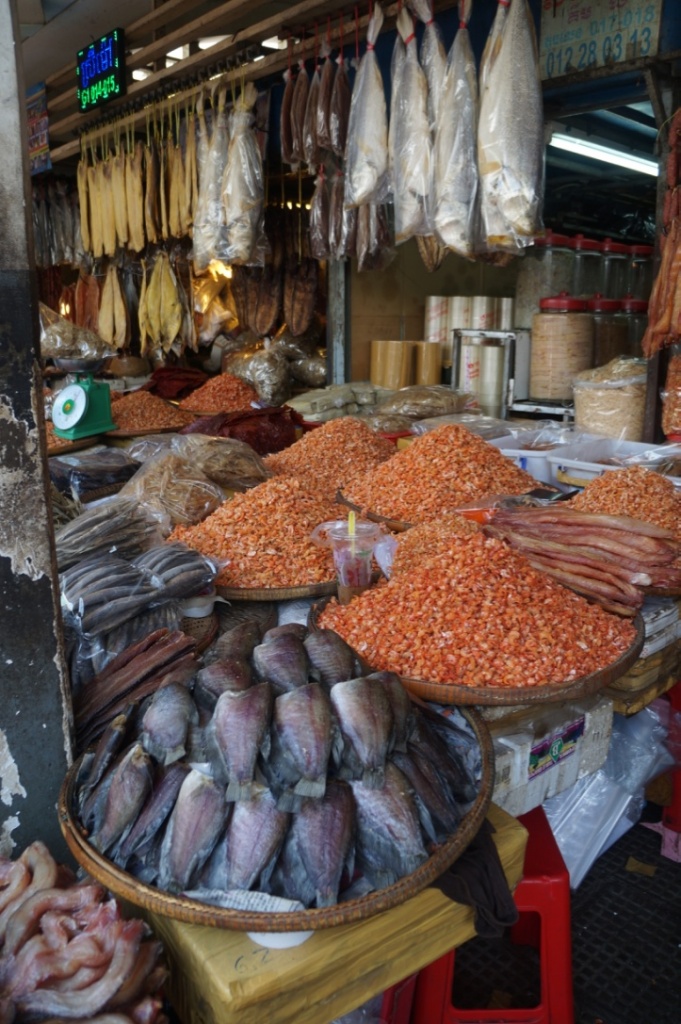 Our guide then took us to a restaurant for lunch. The downfall of some guides is they take you to a place where they clearly get some kick backs. We had a mediocre lunch at best. Living in Toronto, you can pretty much get good, authentic food anywhere, so it's very disappointing to eat somewhere with such mediocre food, clearly catered to you because you are a tourist. We had a good chuckle though that Rob's dish had so much shaved ginger in it that he thought they were noodles. And Josh was overwhelmed with all the vegetables that came on top of a very few noodles.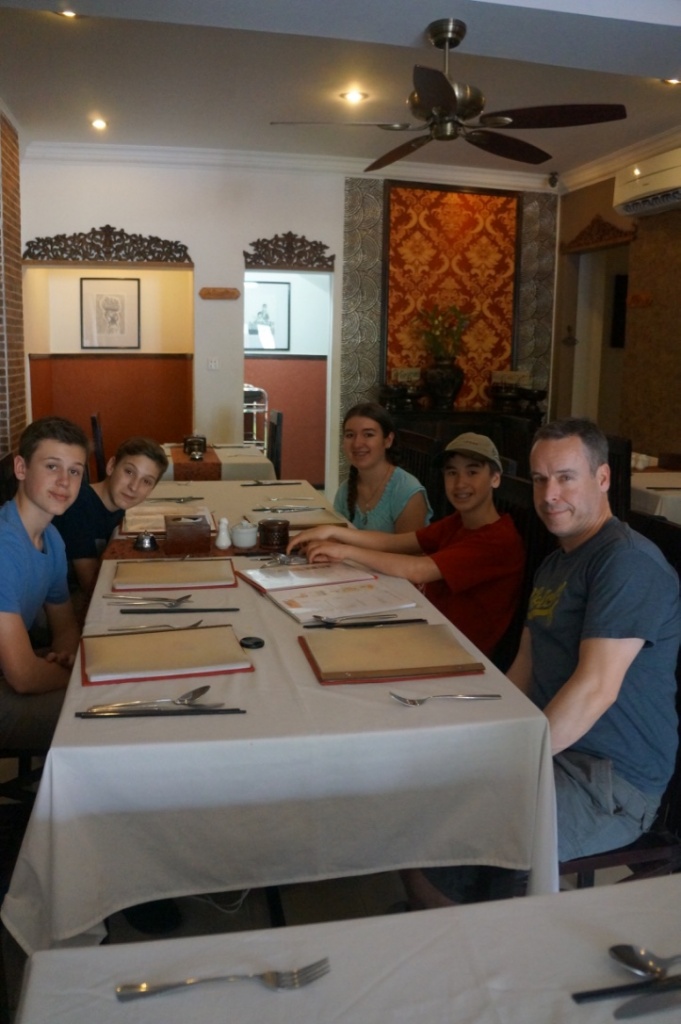 After lunch we headed outside the centre of the city, where we got to really experience the busyness, the traffic, the craziness as we drove!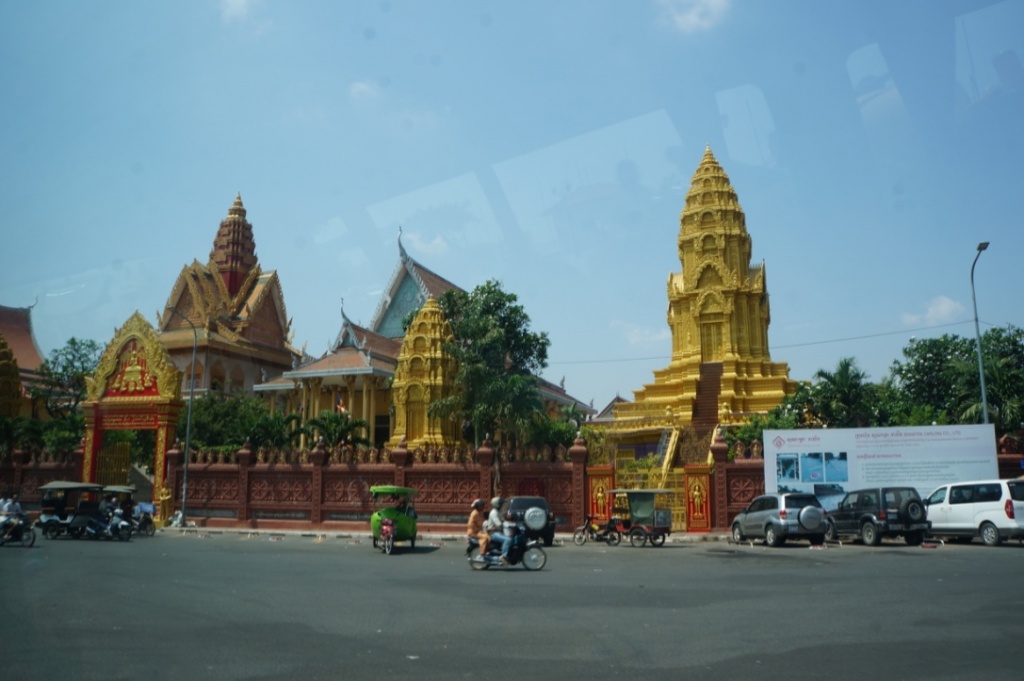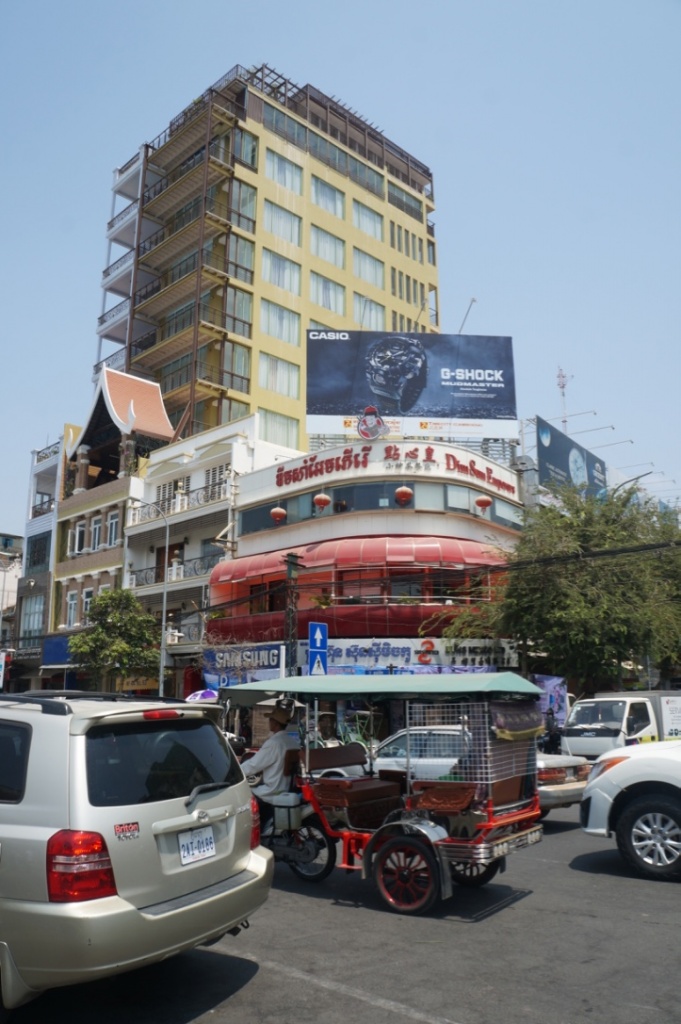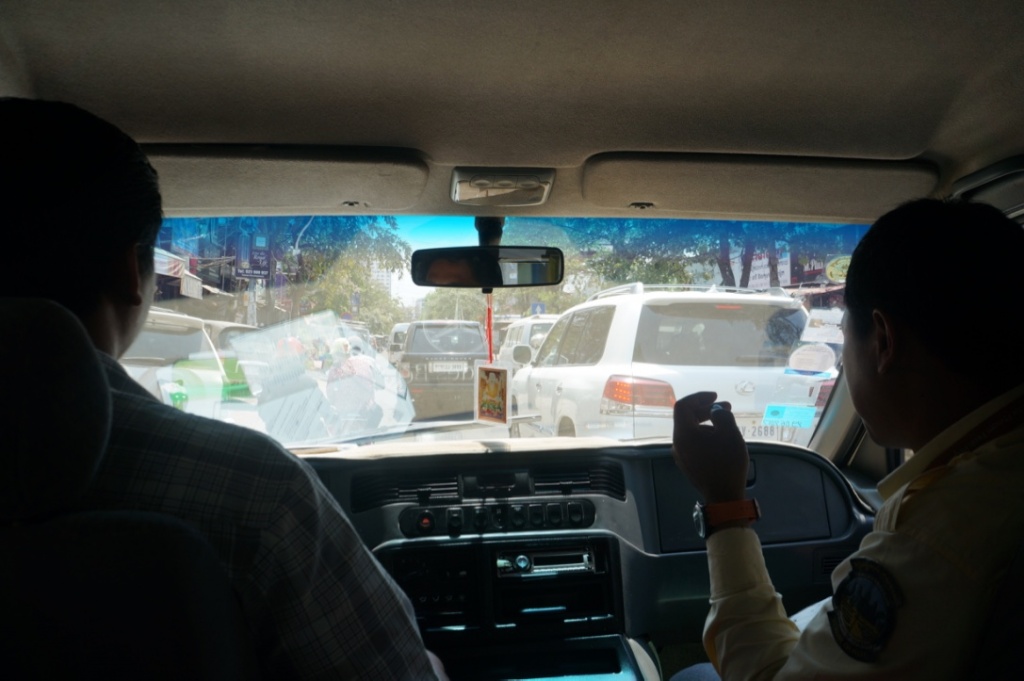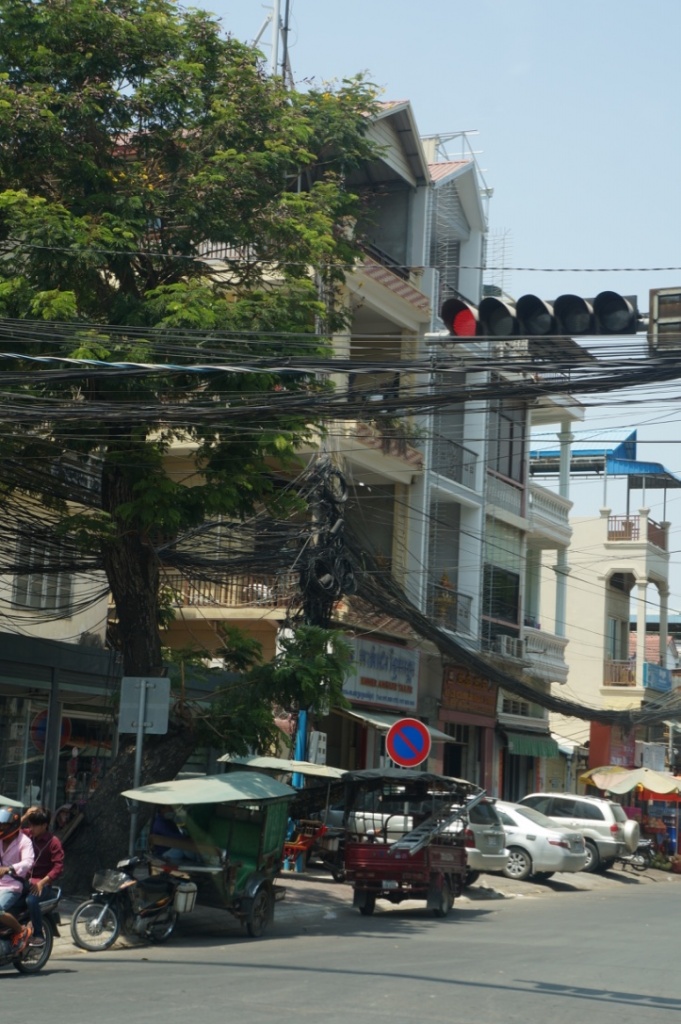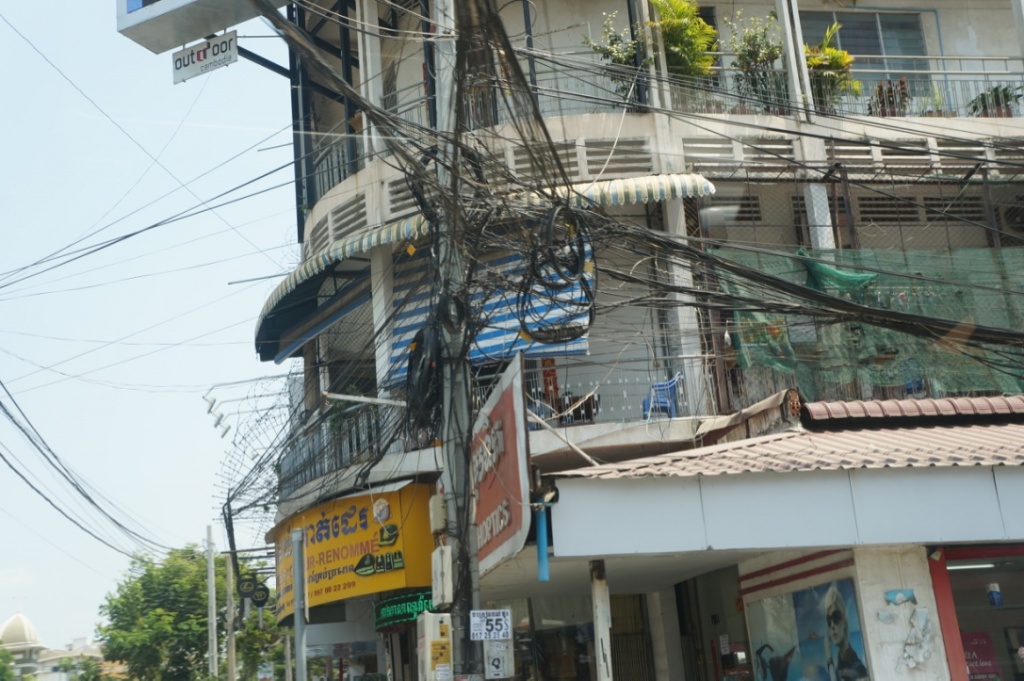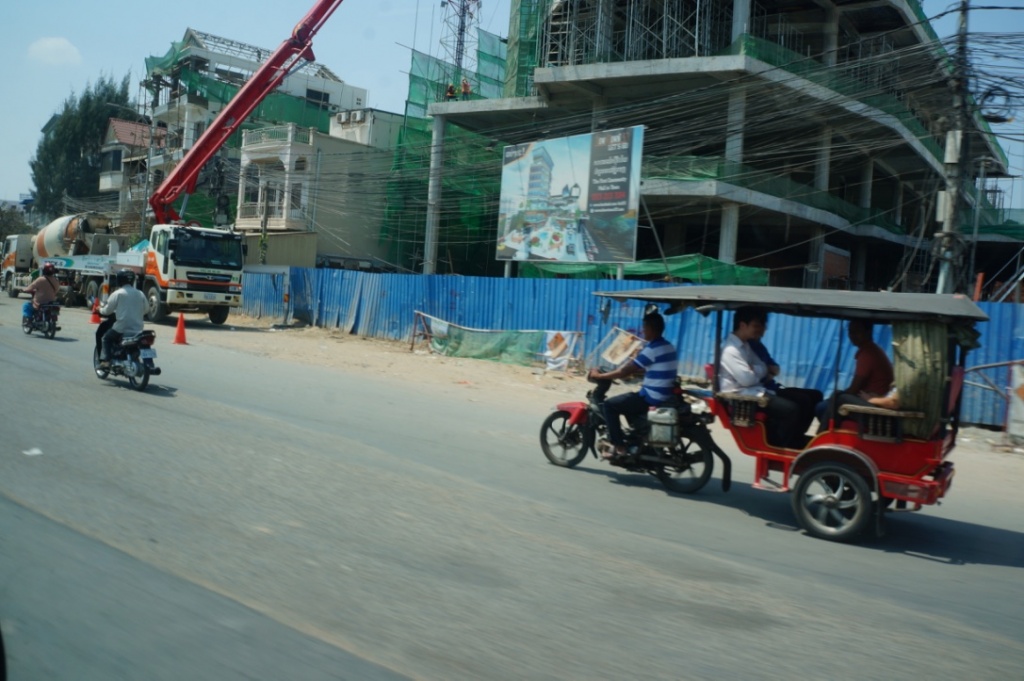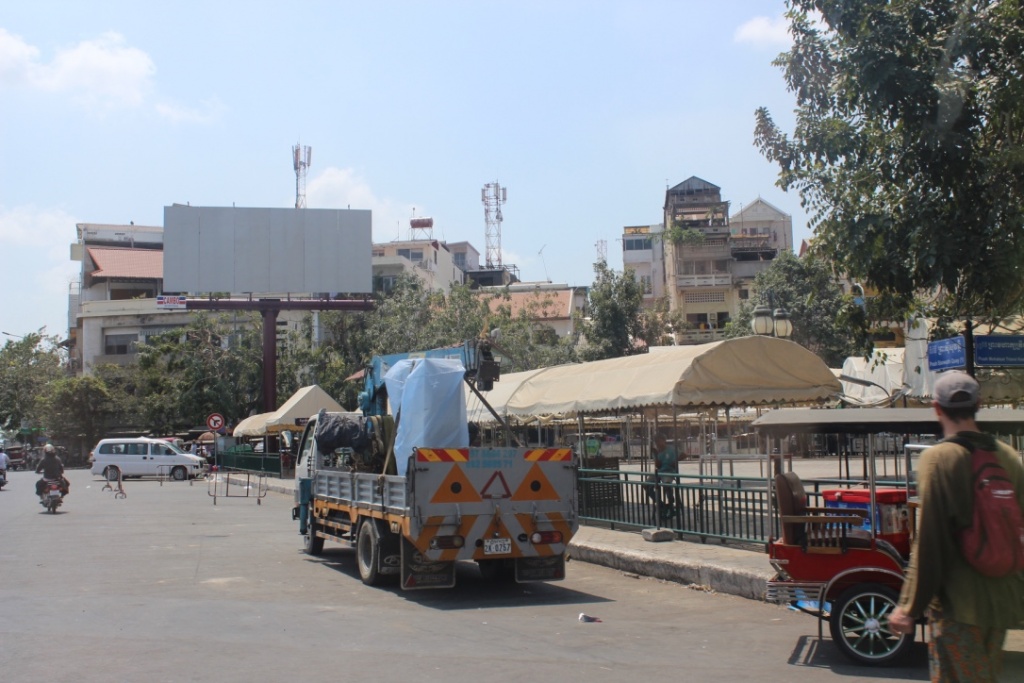 We also got to hear more history about our next stop, Choeung Ek Killing Fields.
Before we left, each one of the kids had to do some research on the sites/history of different places we were going to. Zach had shared with us the background of the Killing Fields; such a devastating part of Cambodian History.
Our guide talked with us as we drove, giving us more historical and political background about Pol Pot and the Khmer Rouge, and Choeung Ek, which is the site of a former orchard and mass grave of victims. He took us around the site and shared with us the stories and significance of different areas within site. Sobering.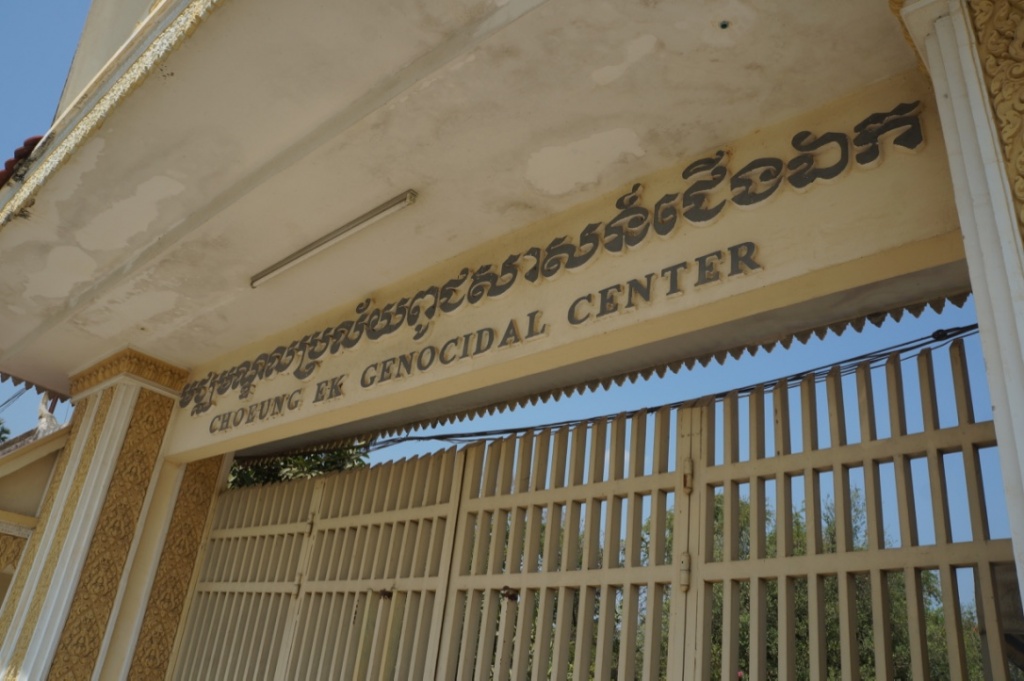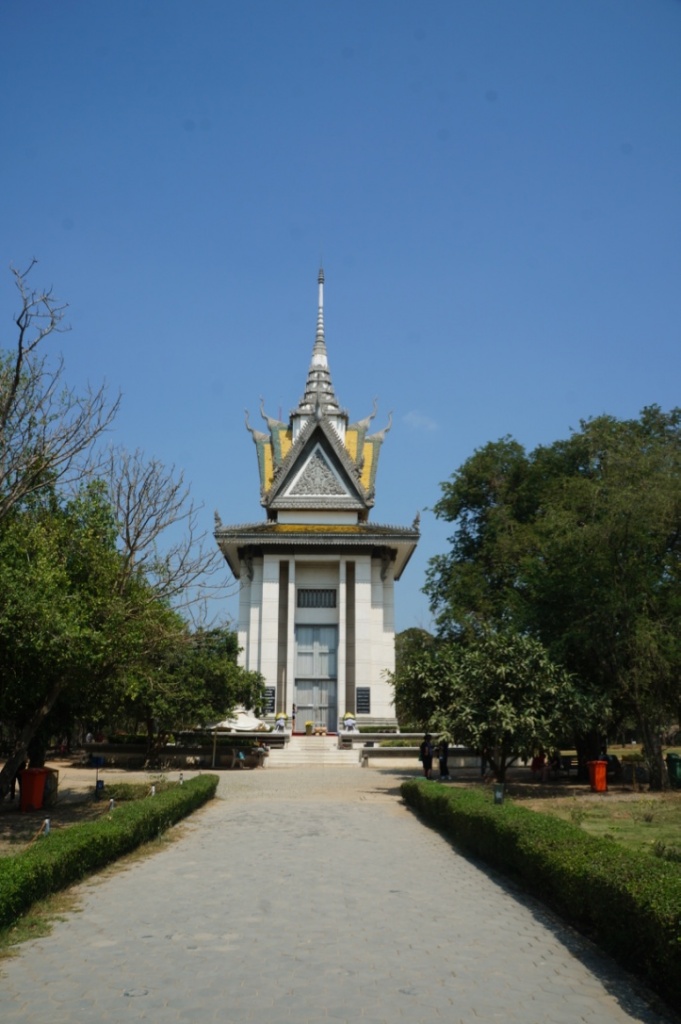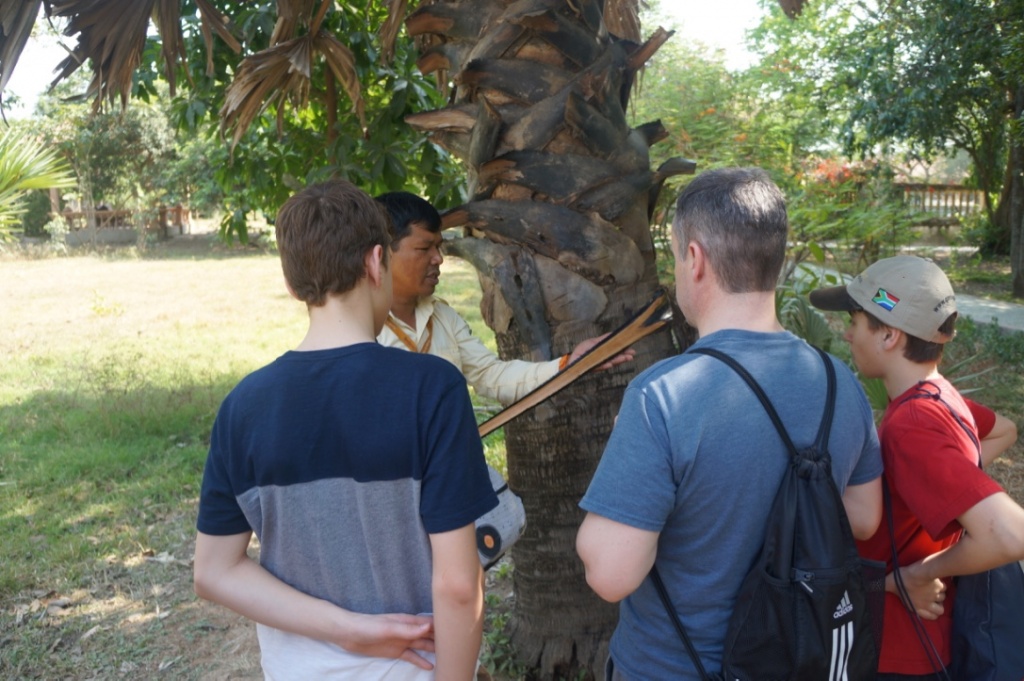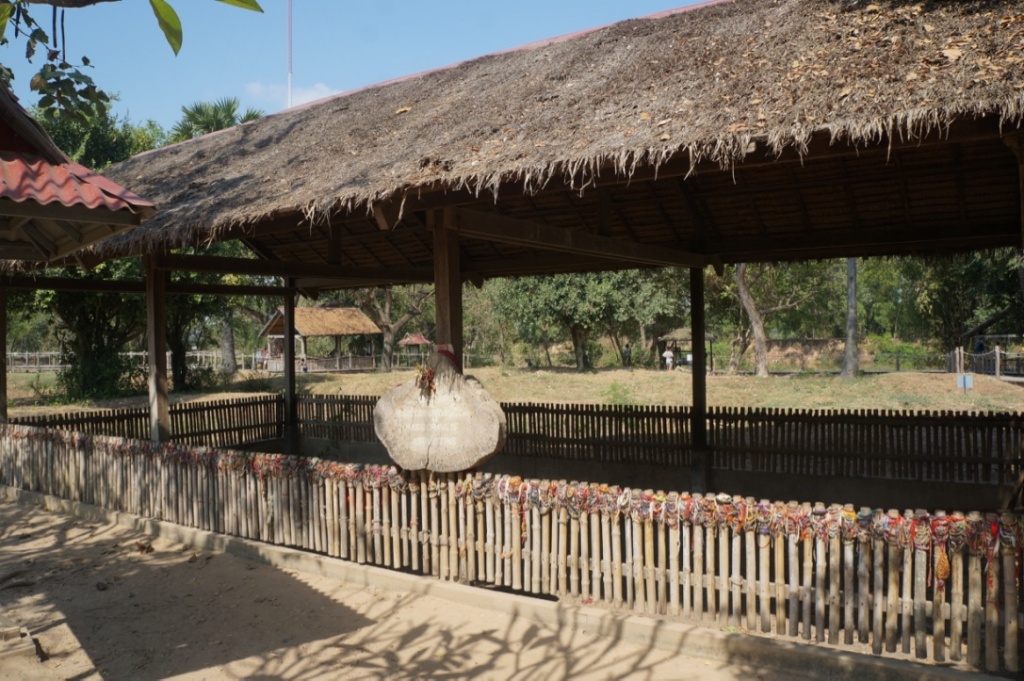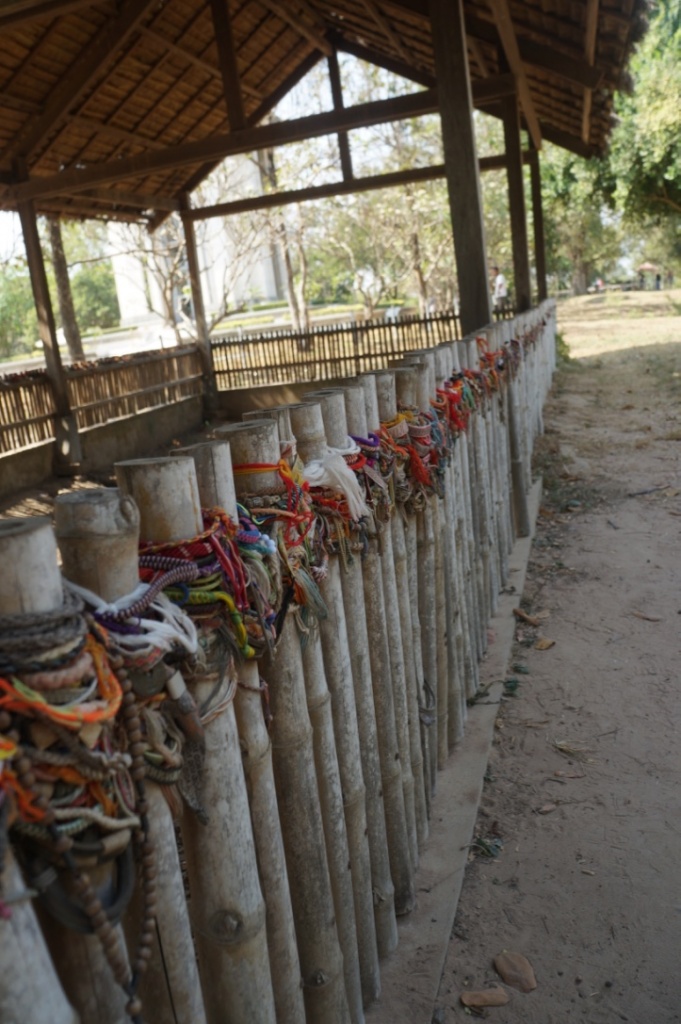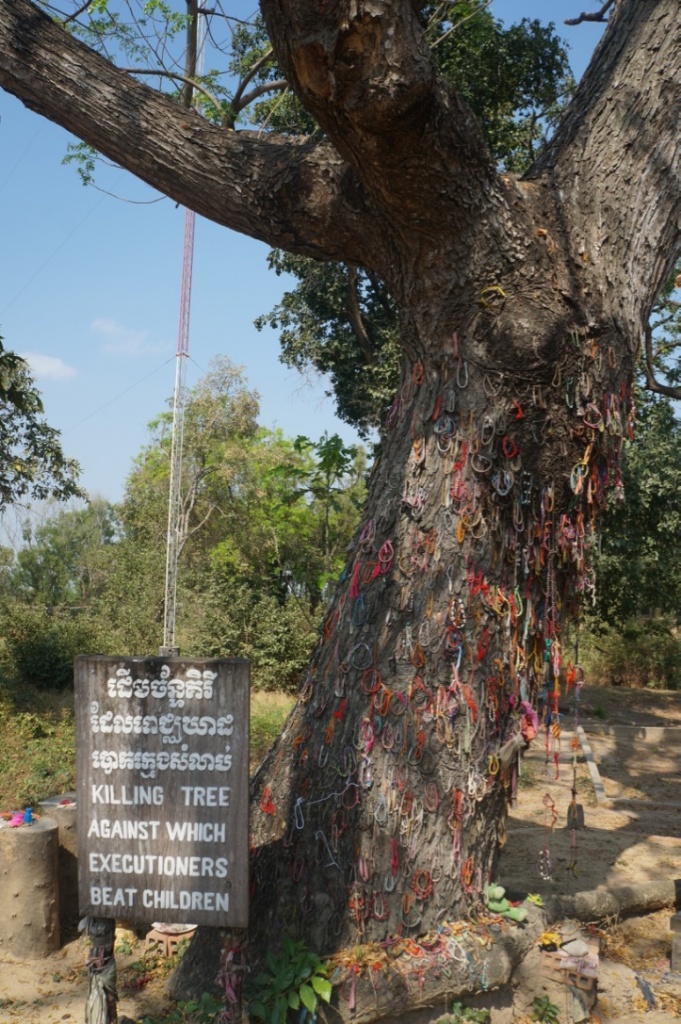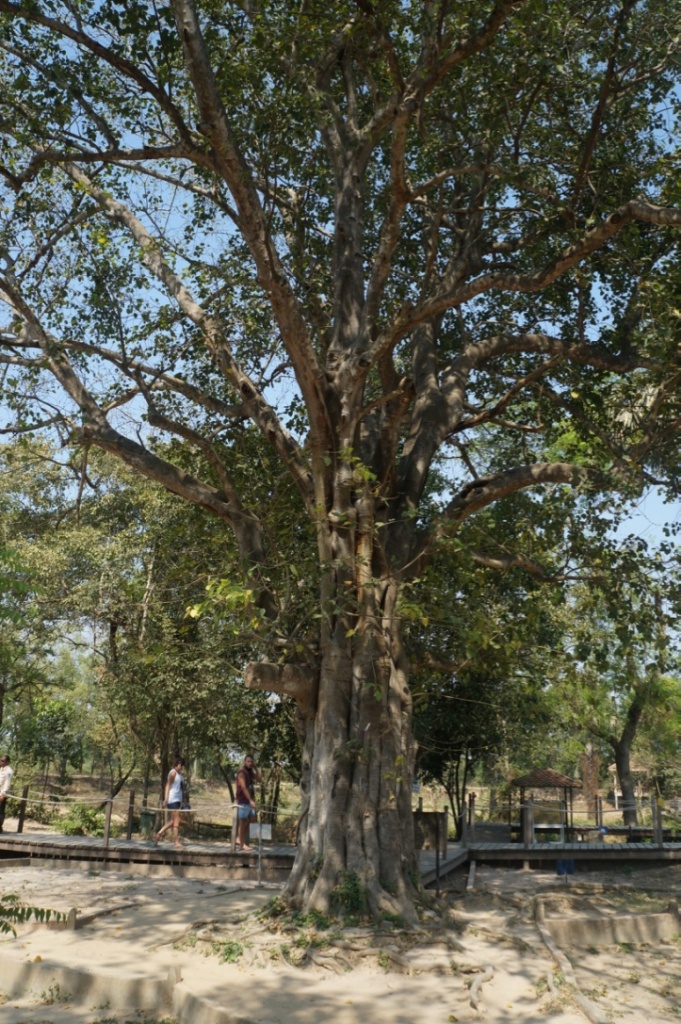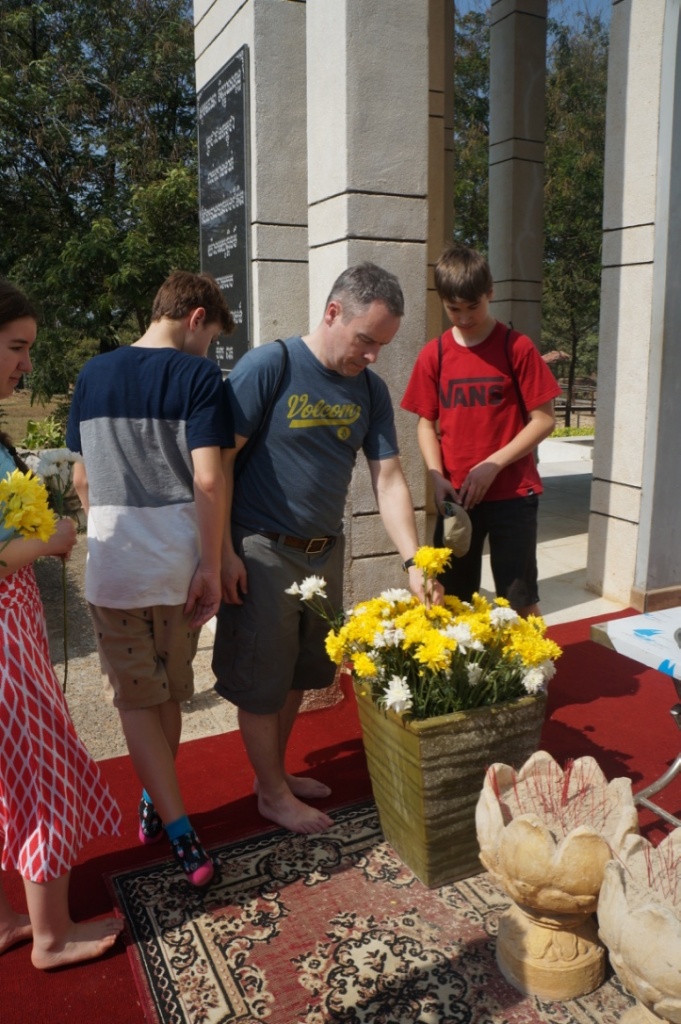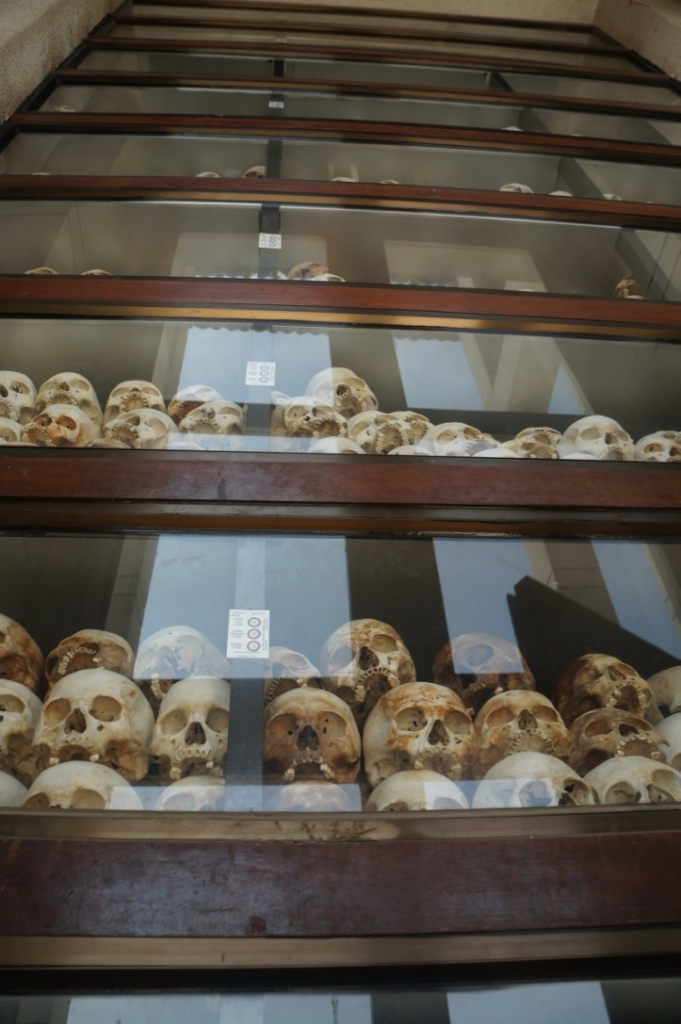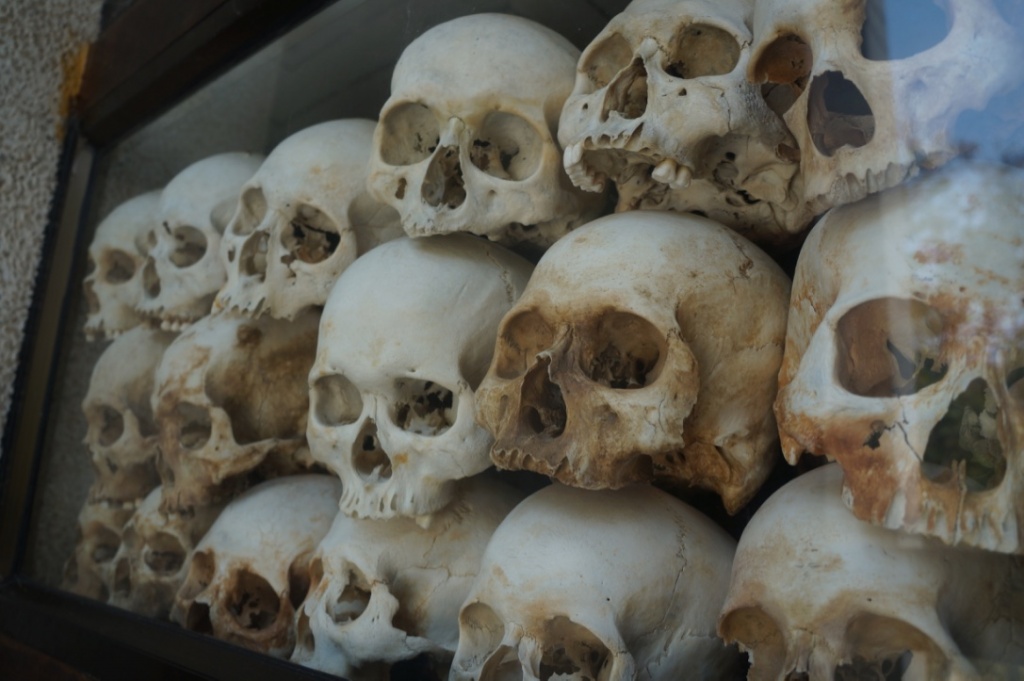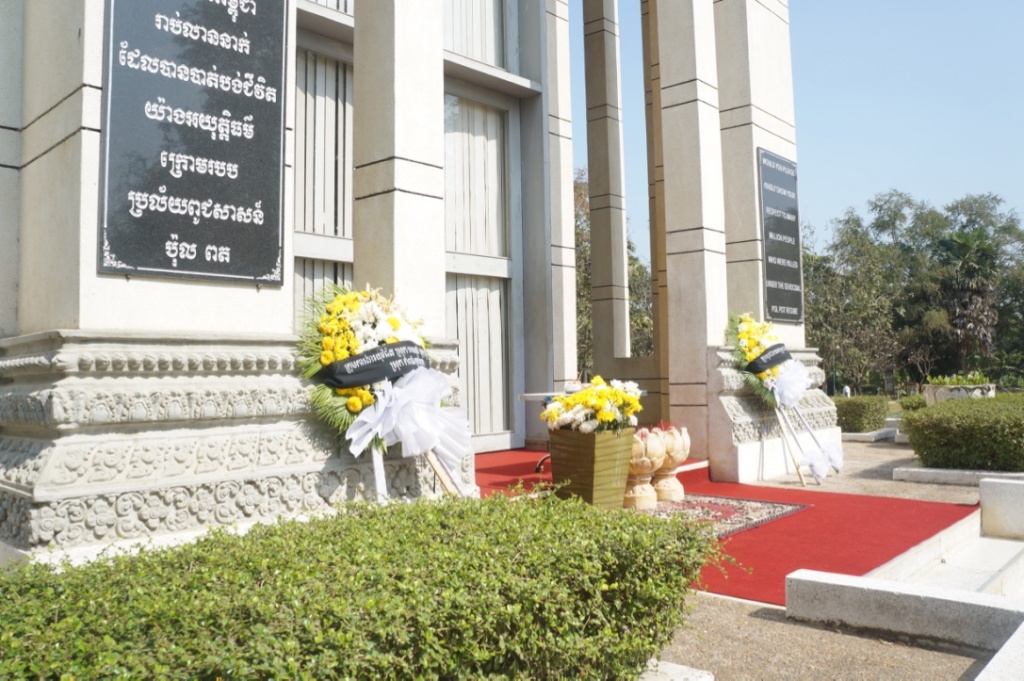 Its' a beautiful memorial, and such a tragic story for the millions that lost their lives. We met a woman on the plane who was coming back to visit Cambodia; she had told us her entire family was killed under Pol Pot. Such tragedy.
We were completely zonked by the end of the afternoon. The heat, combined with the jet lag kicking in! We headed back, and continued to hear more about the Cambodian people, and experiencing the city. It's truly sobering for our kids to see the extreme poverty of some, and to learn about life here. A teacher is paid the equivalent of $200 US per month! That fact put things in perspective to our kids – especially when you consider the kind of trip we are on…
More to absorb: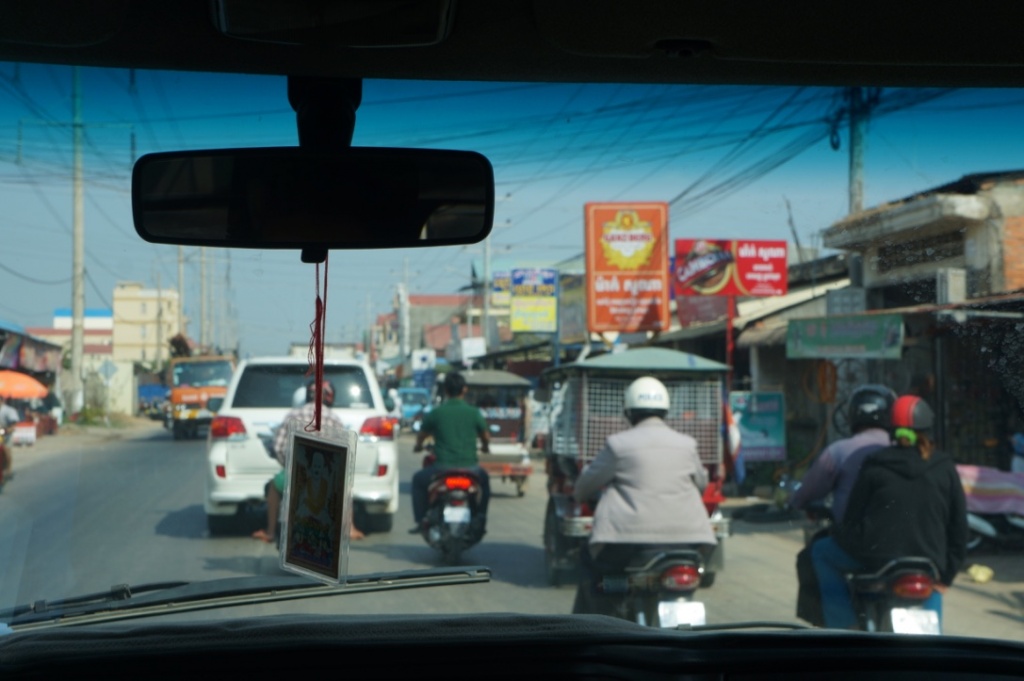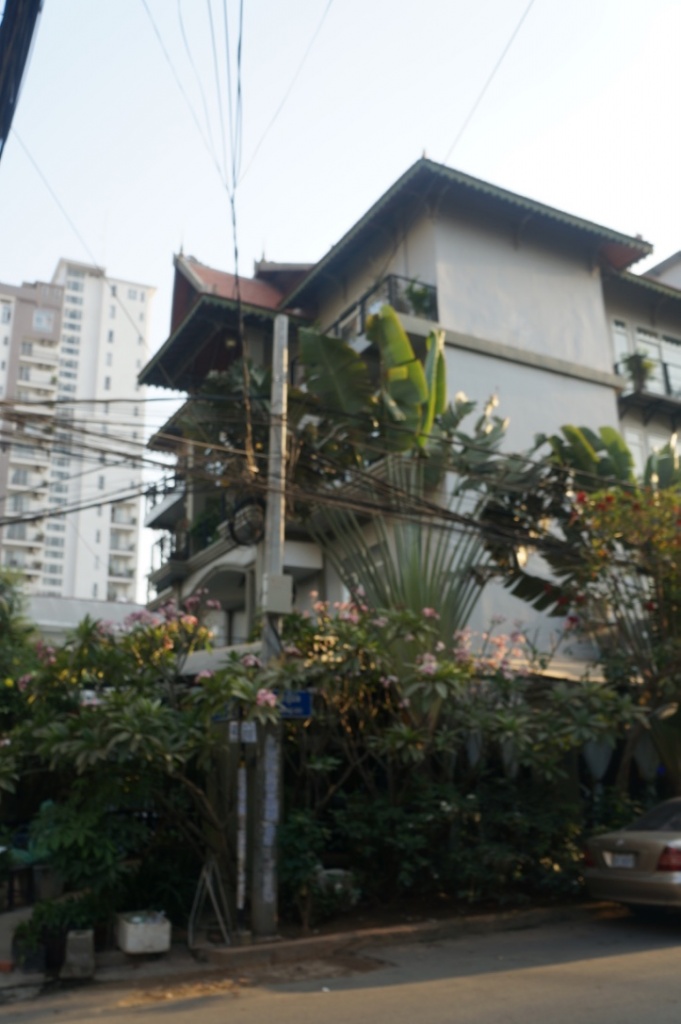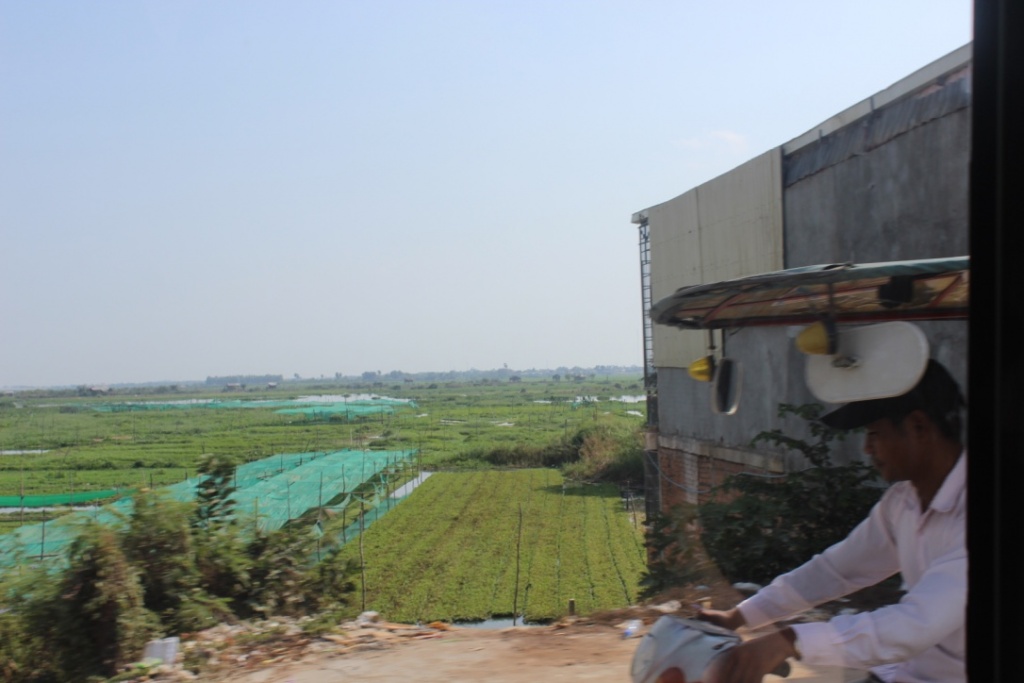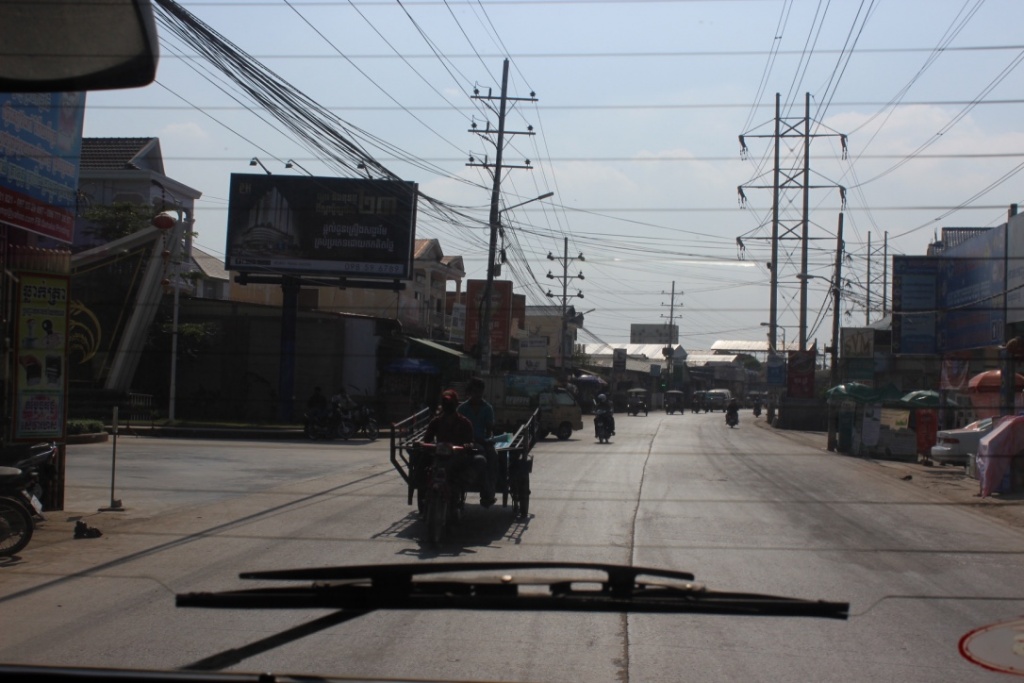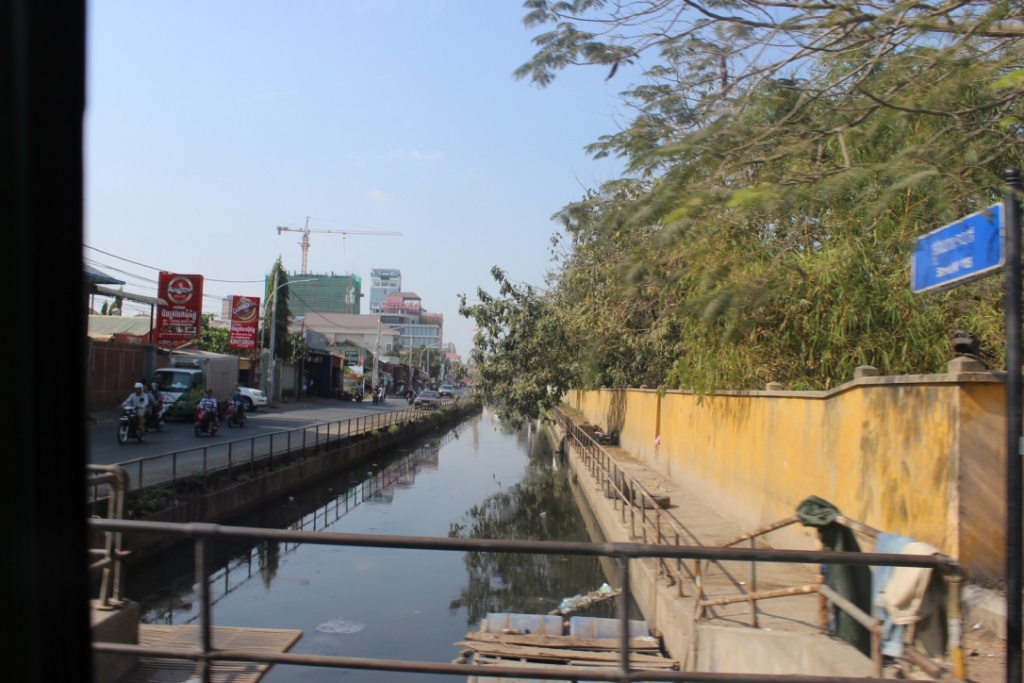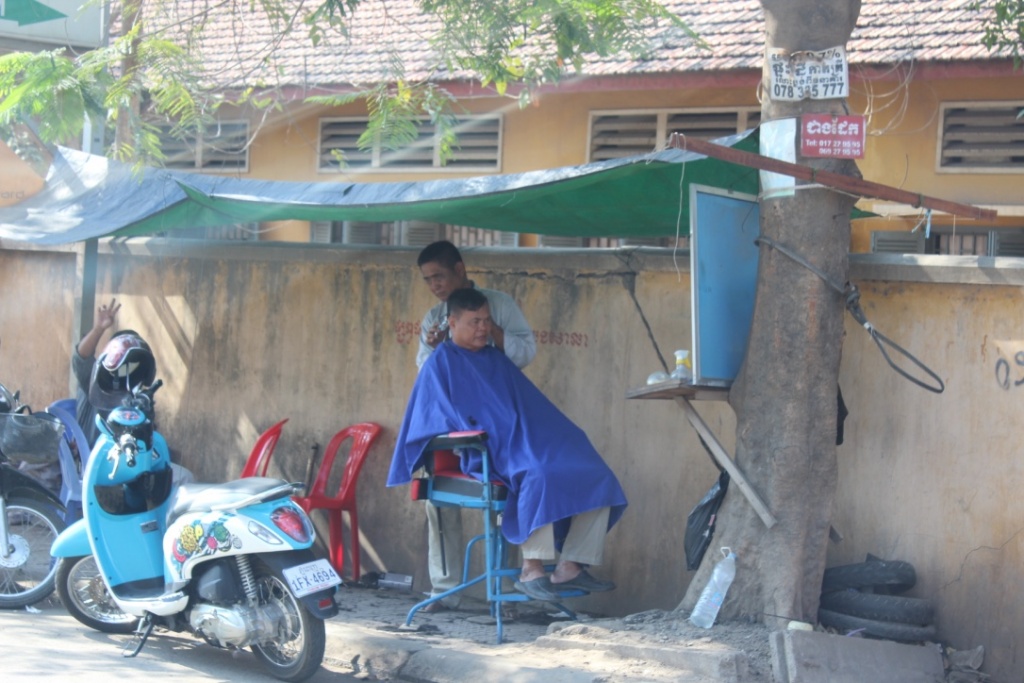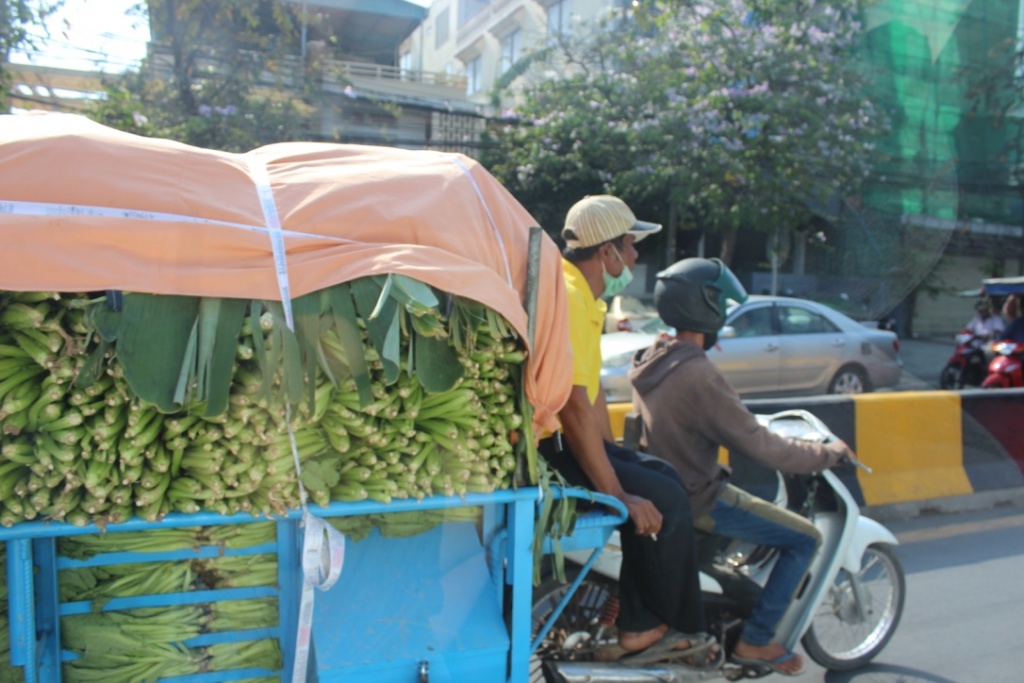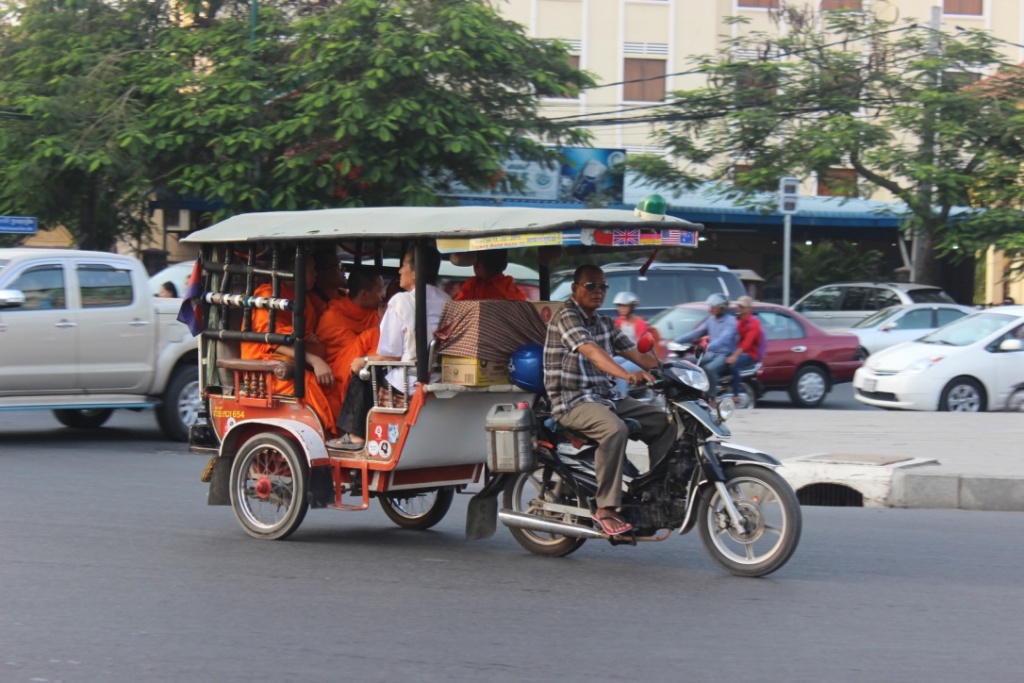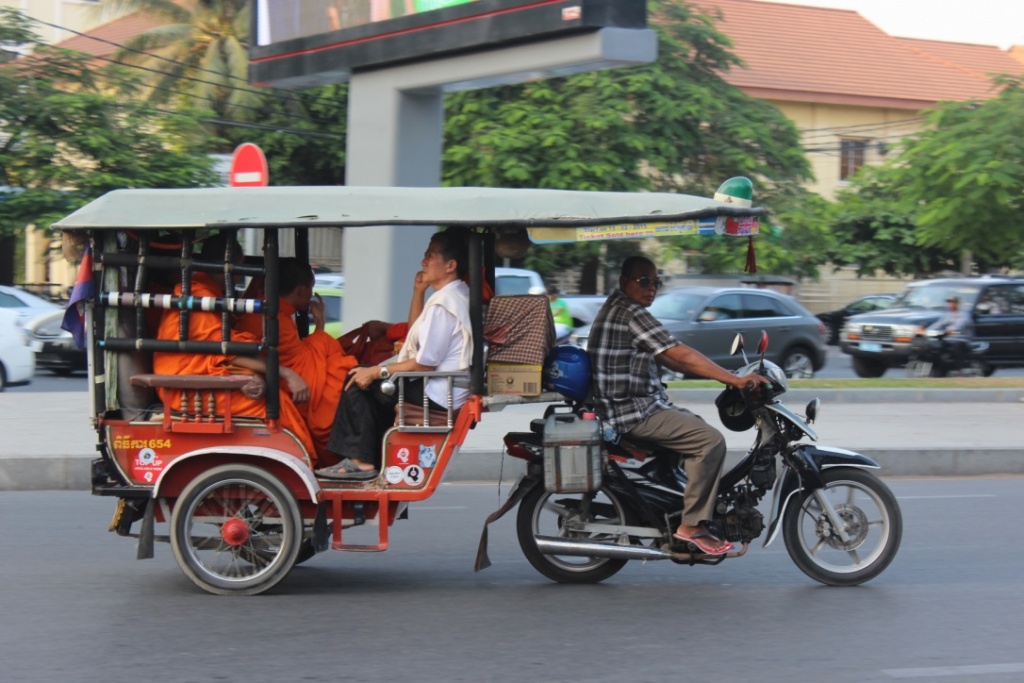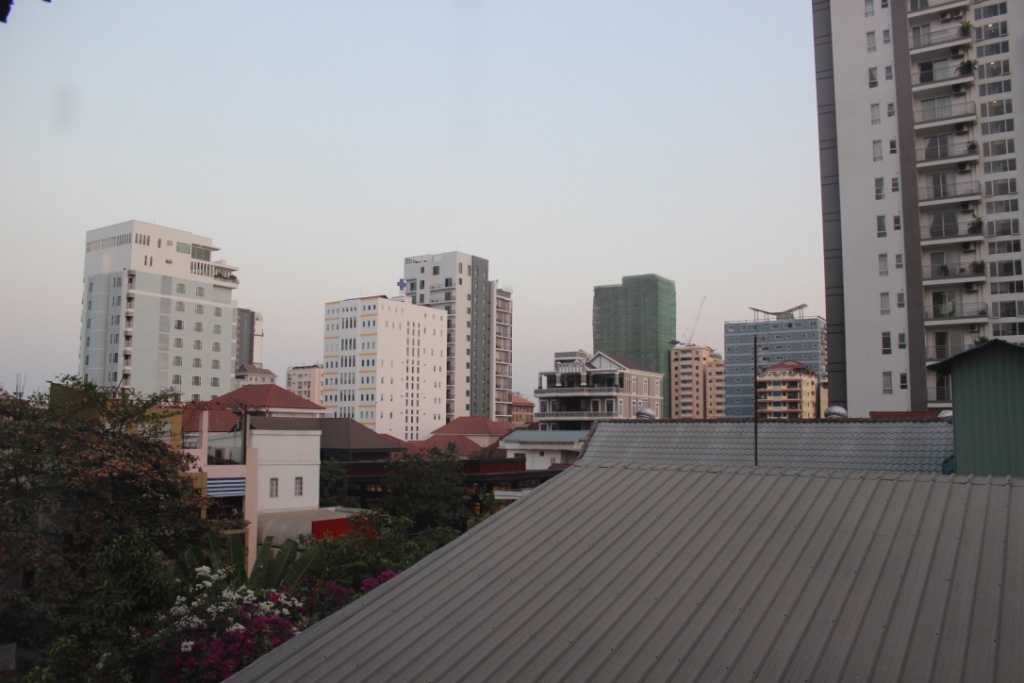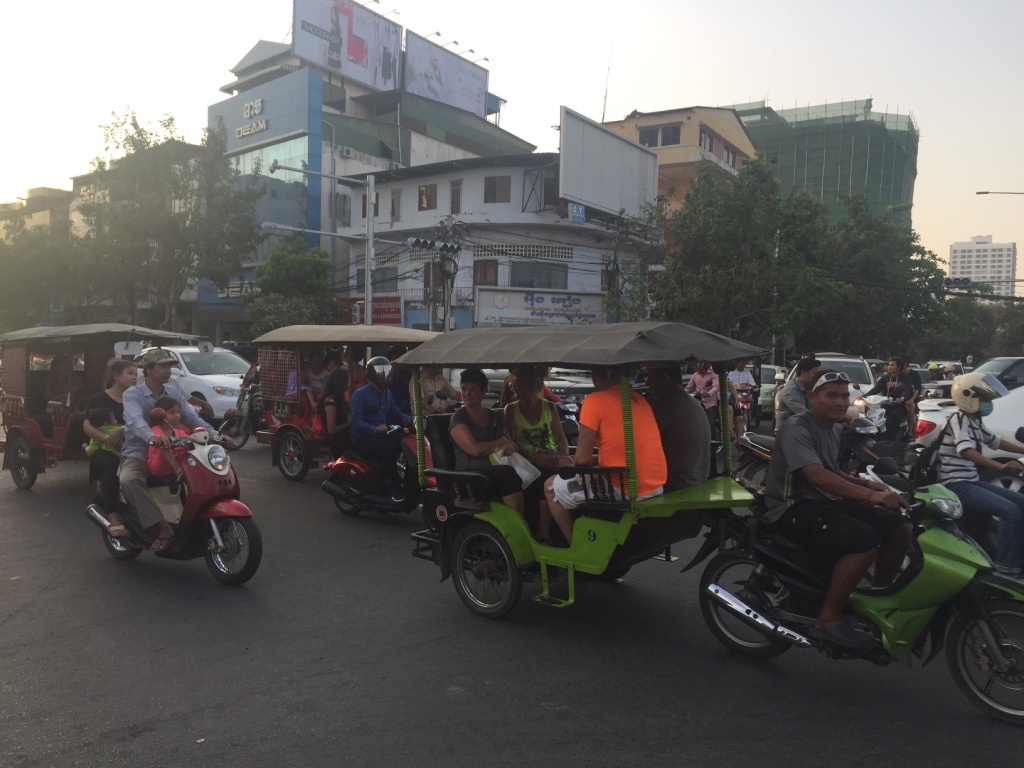 After a snooze, we decided we would head out and explore the area around our hotel by foot. Except, that Phnom Penh is NOT a pedestrian city!! Let's just say that we had a lot of laughs and were able to cross the street a few times only!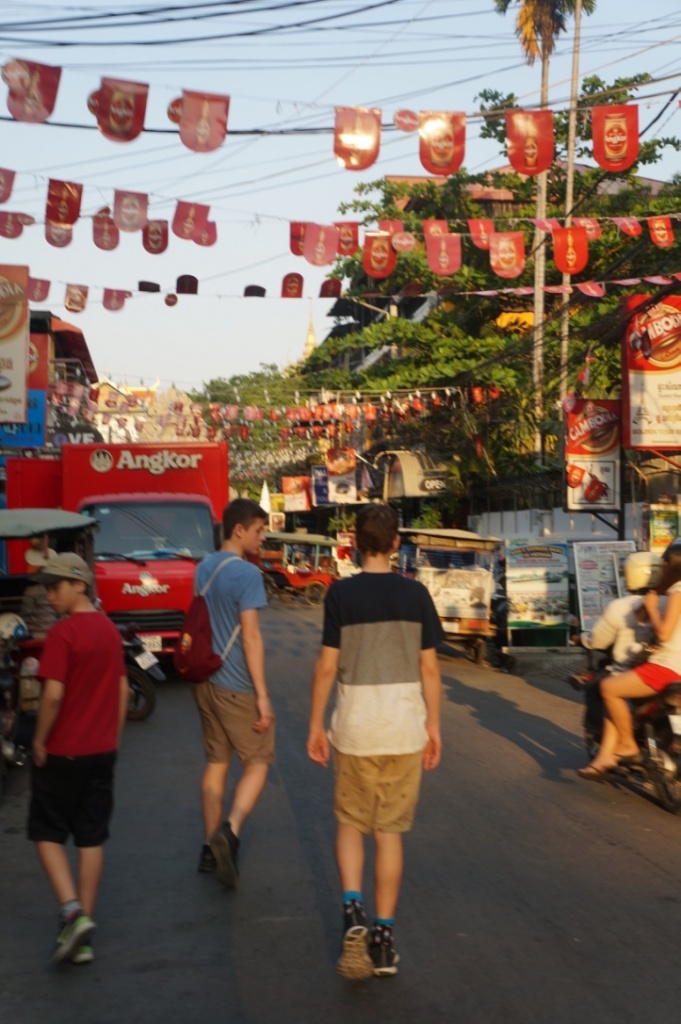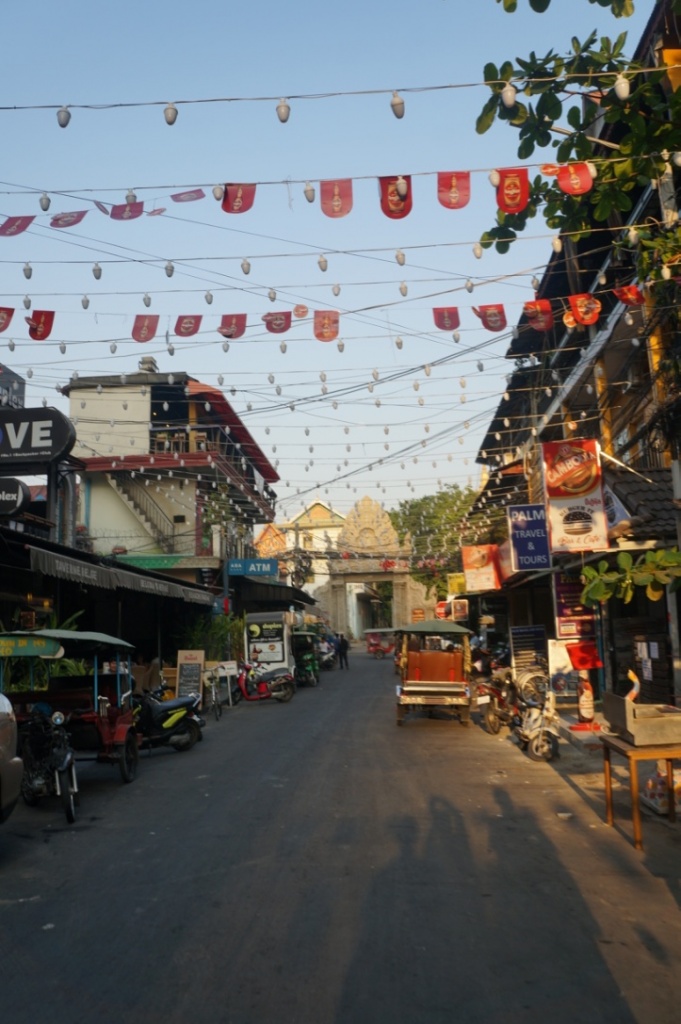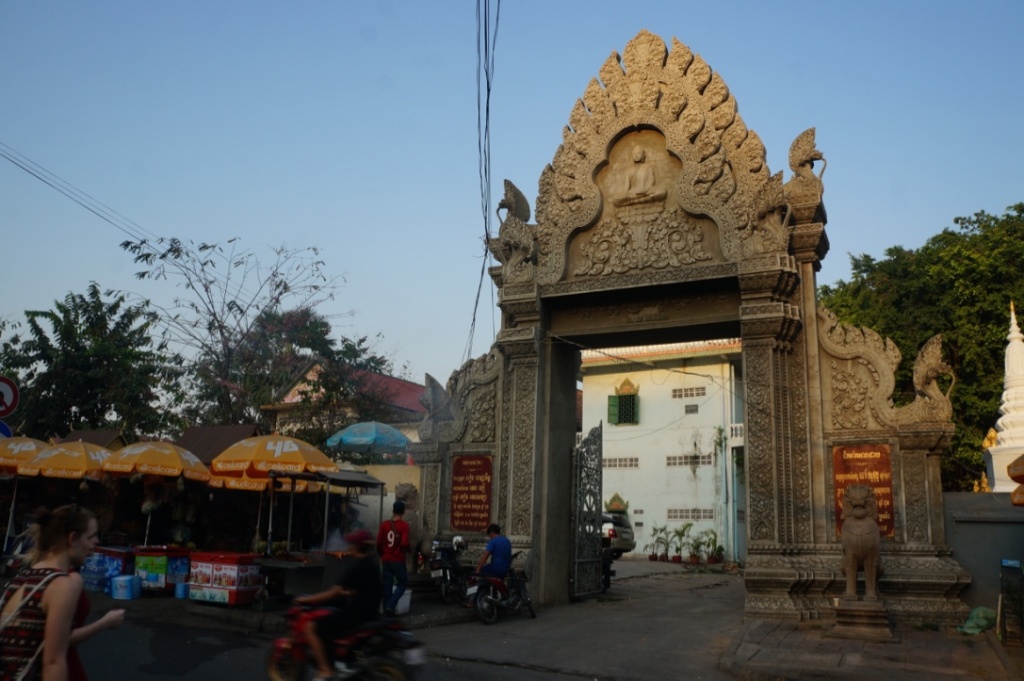 Street food: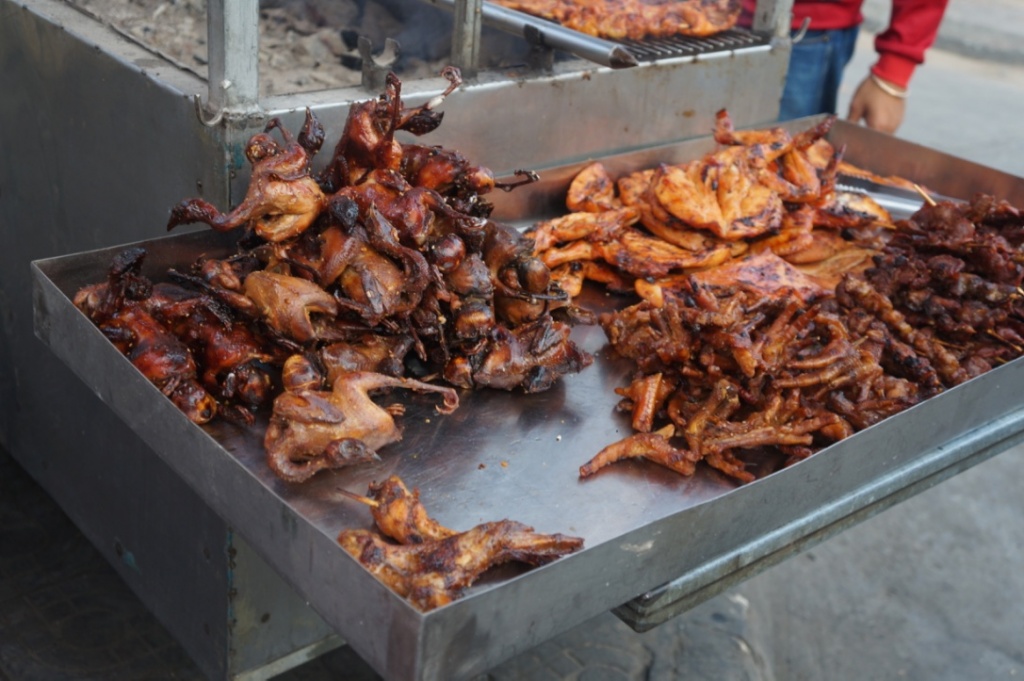 Gasoline, anyone?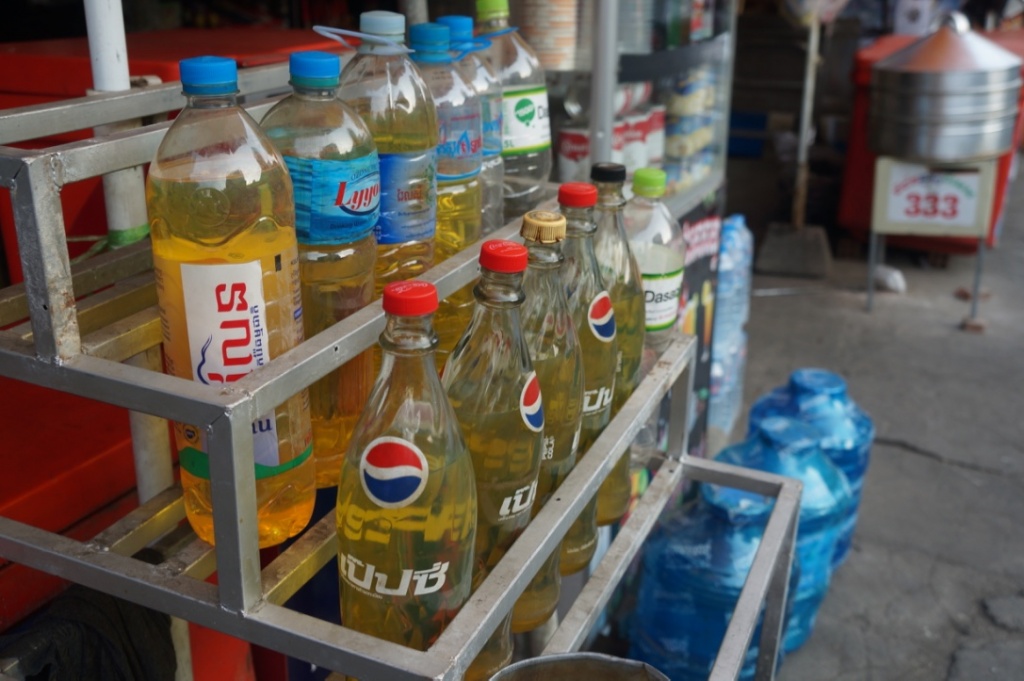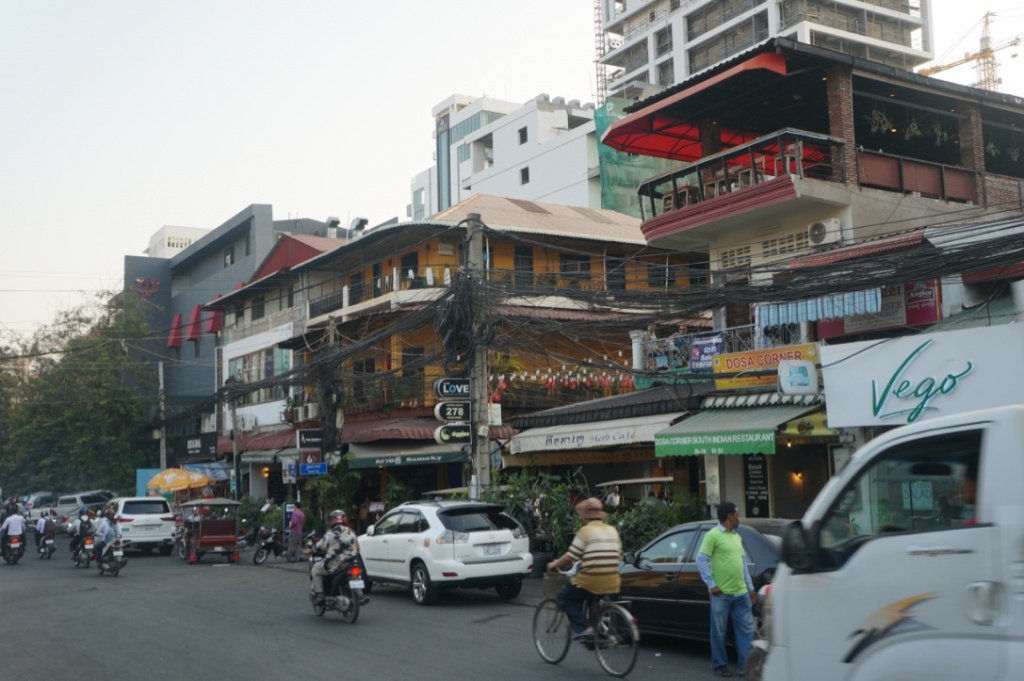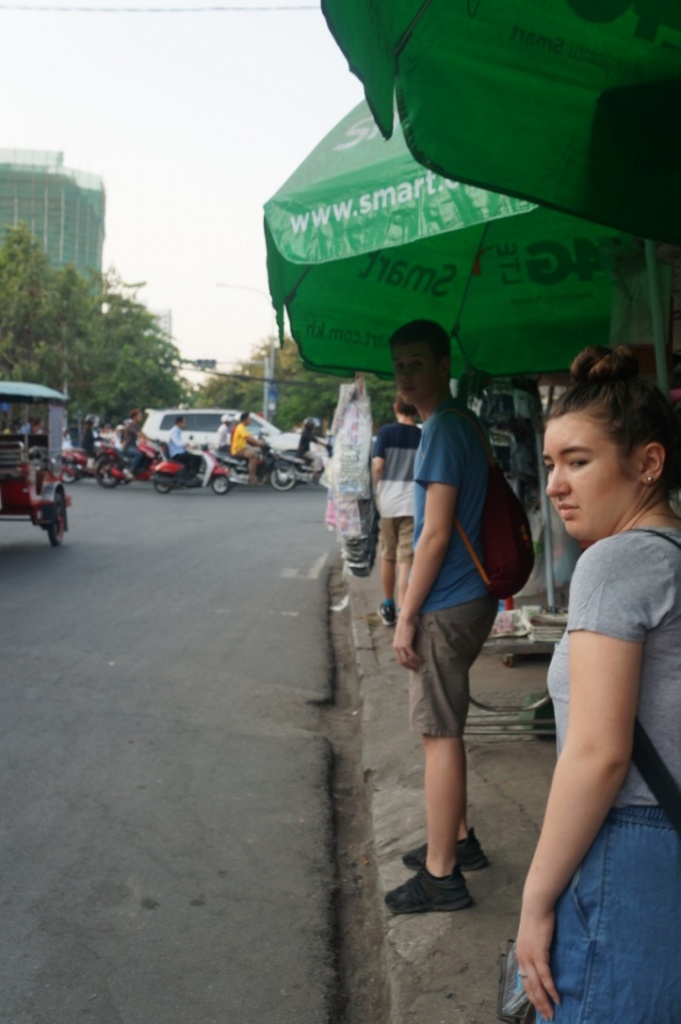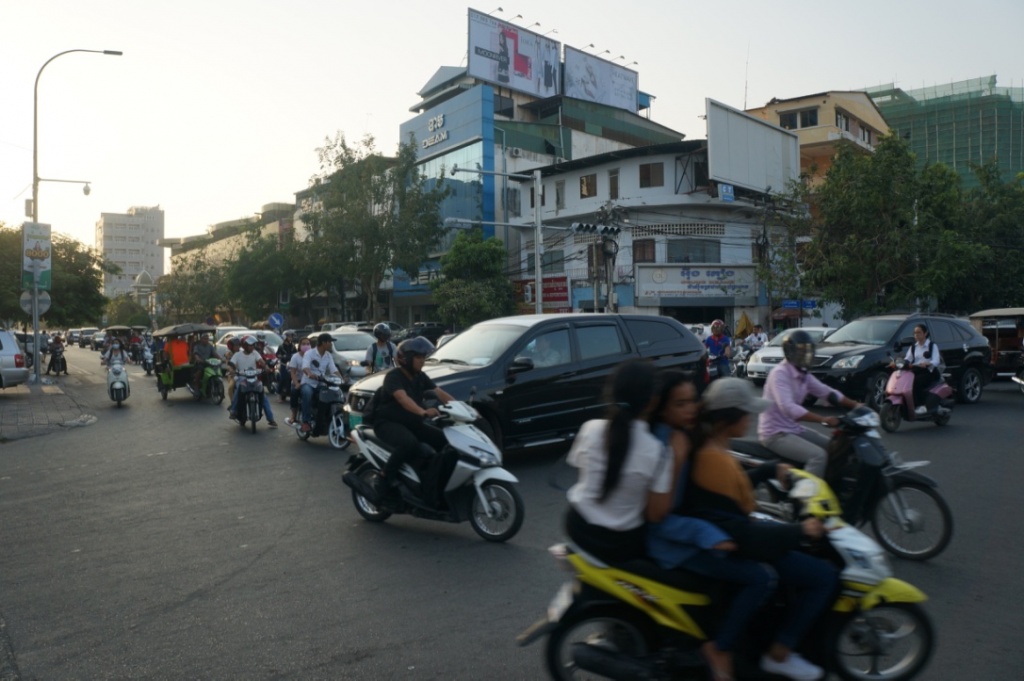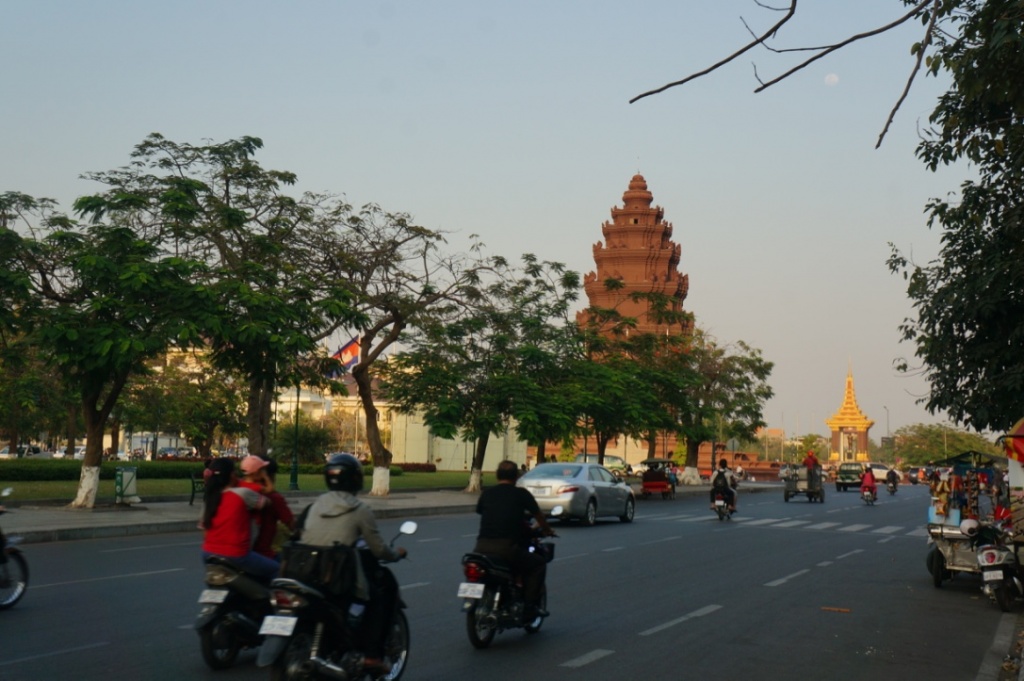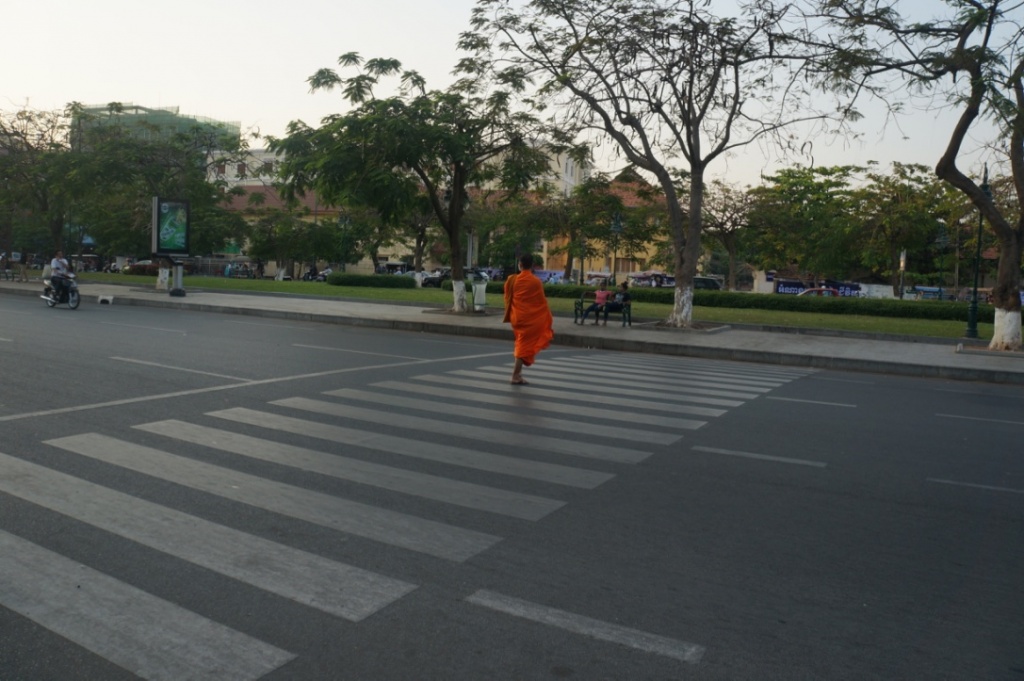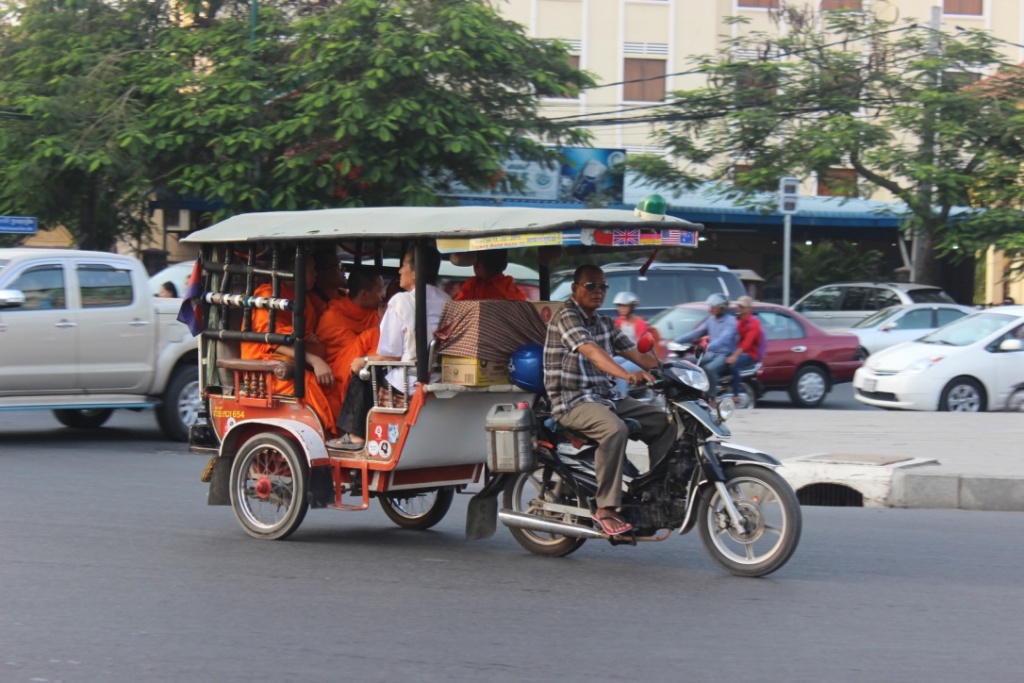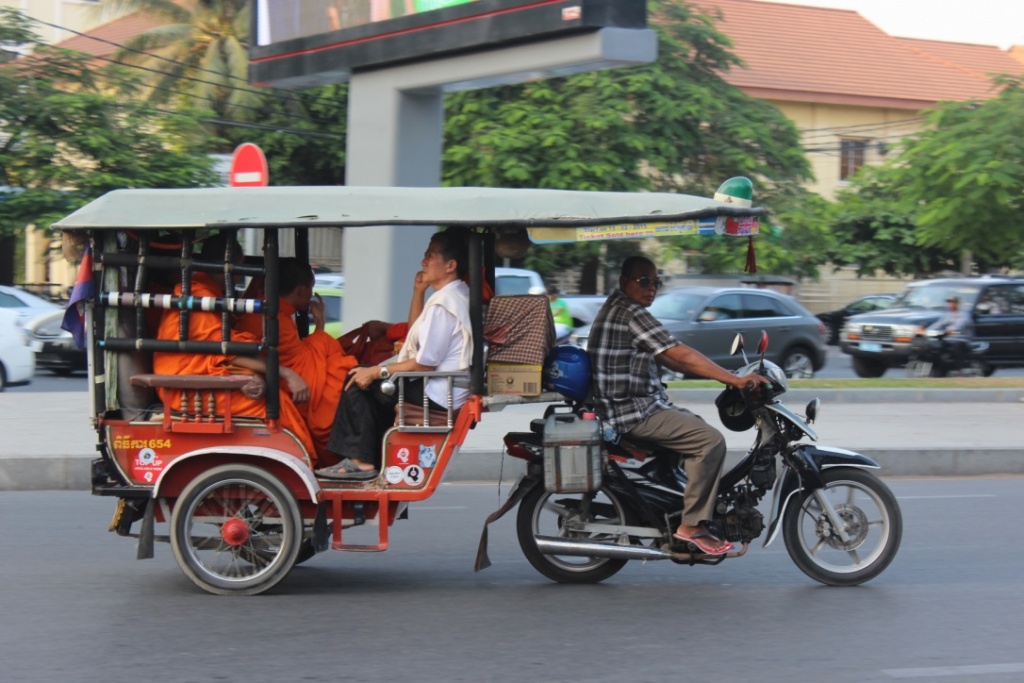 We found a little peaceful spot: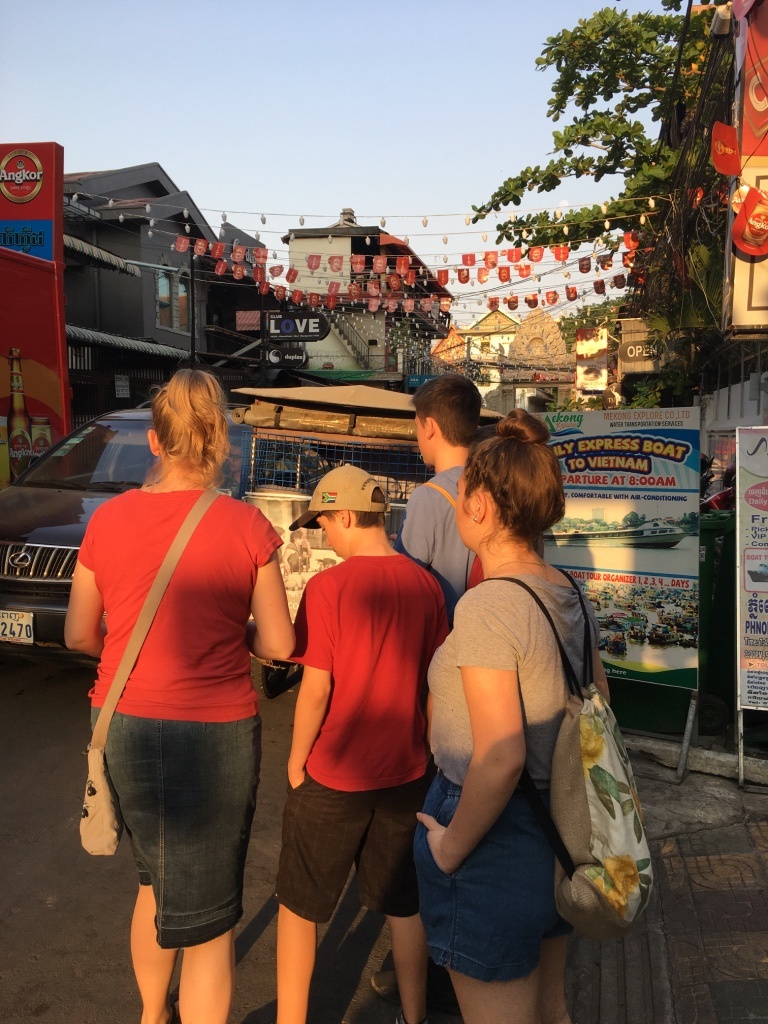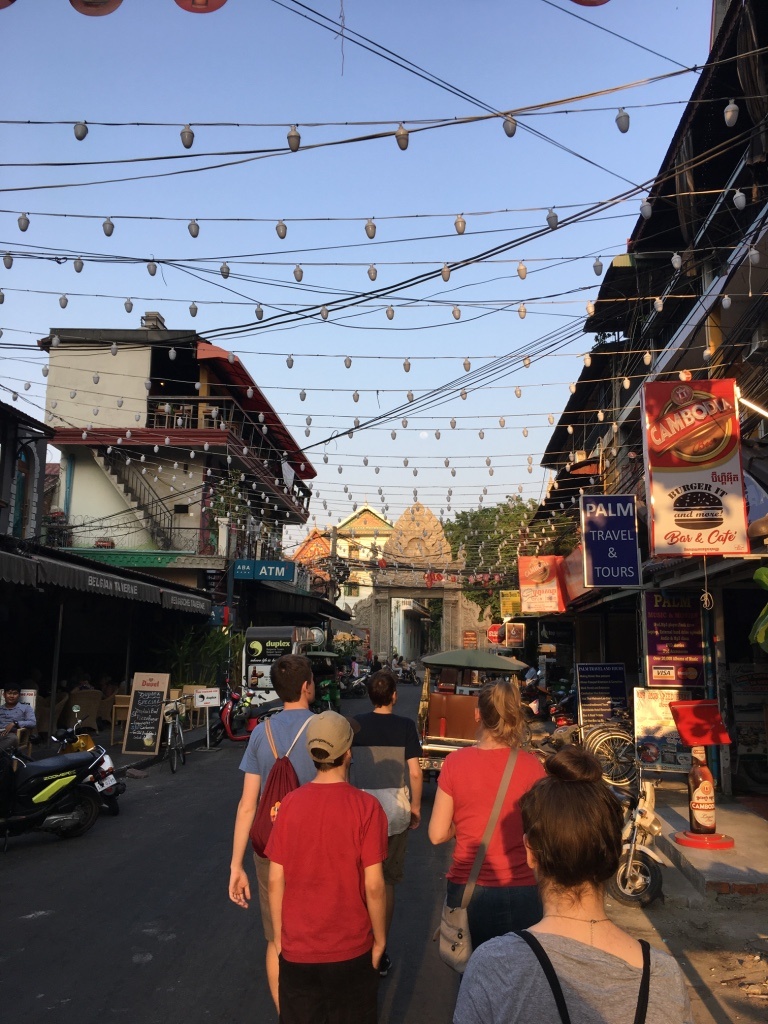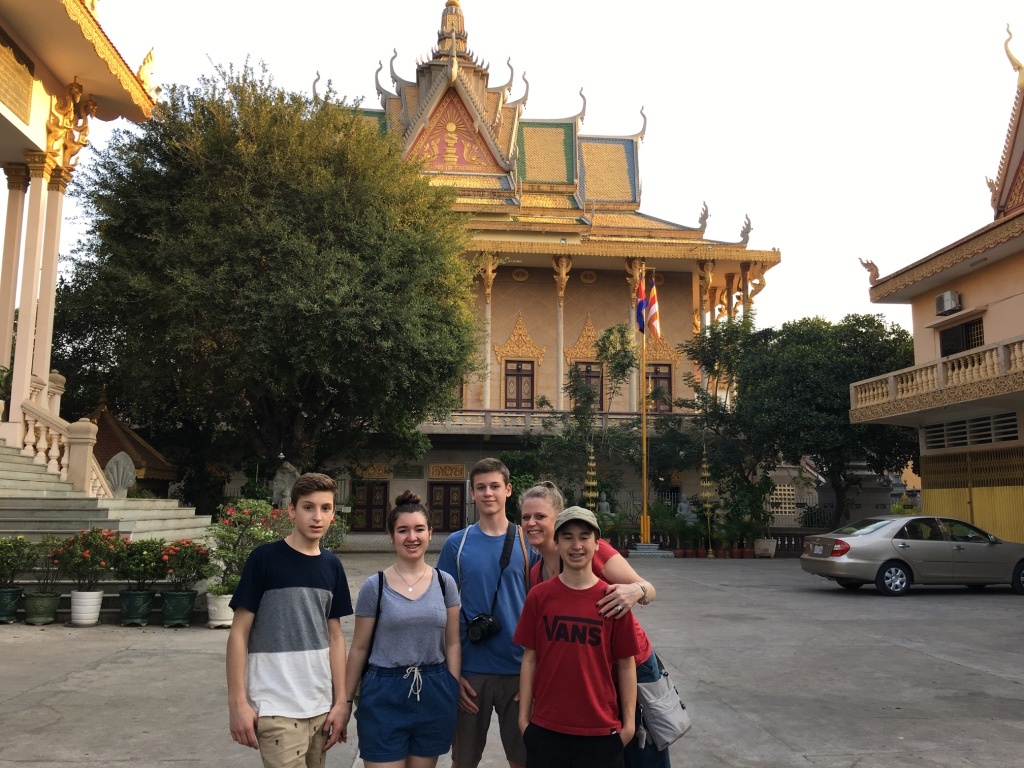 There was one area we were trying to get to, but it is the equivalent of crossing outside the Arc de Triomphe in Paris! Rob braved it as he wanted to get a picture on the other side, and we took pleasure in cheering him on and recording him! I suggested we all try — and I loved how Josh and Sam put their complete faith in me and said they would cross if I guided them…. Just too hard for 5 people to cross all together, so we enjoyed watching the game of Frogger Rob was playing!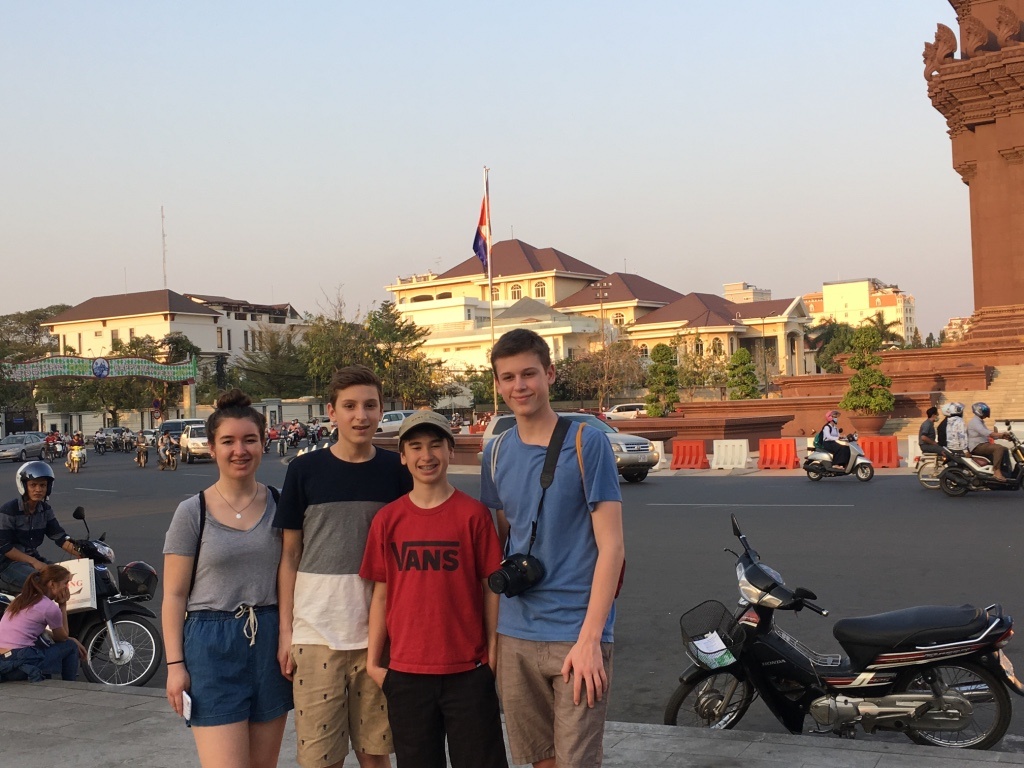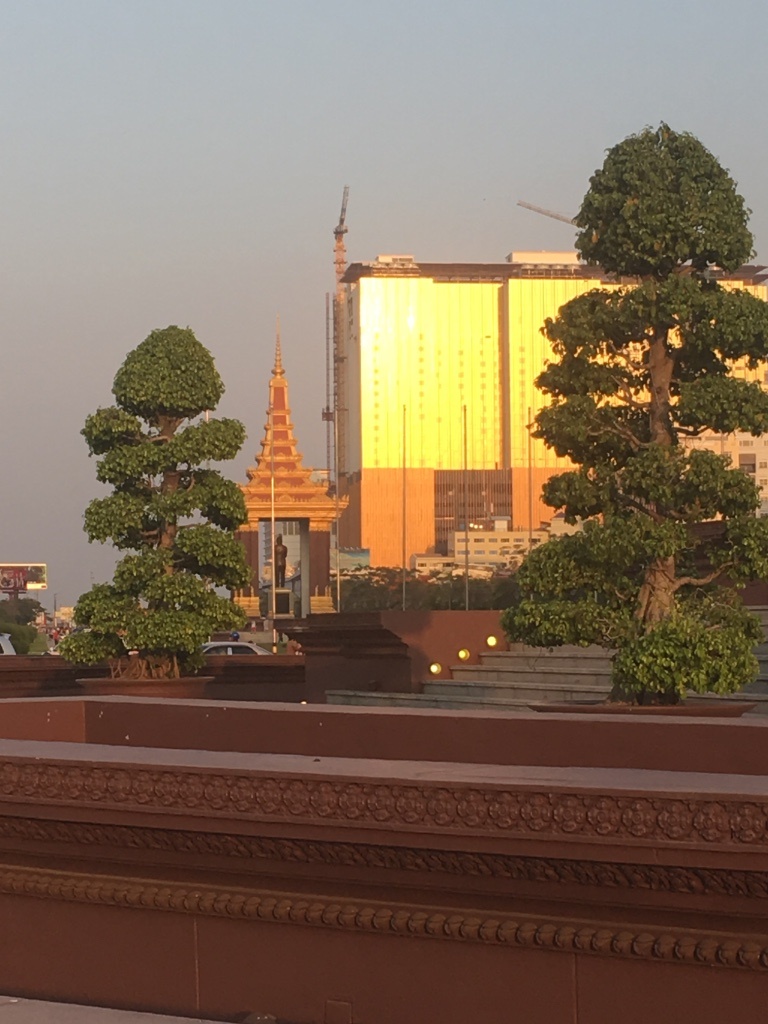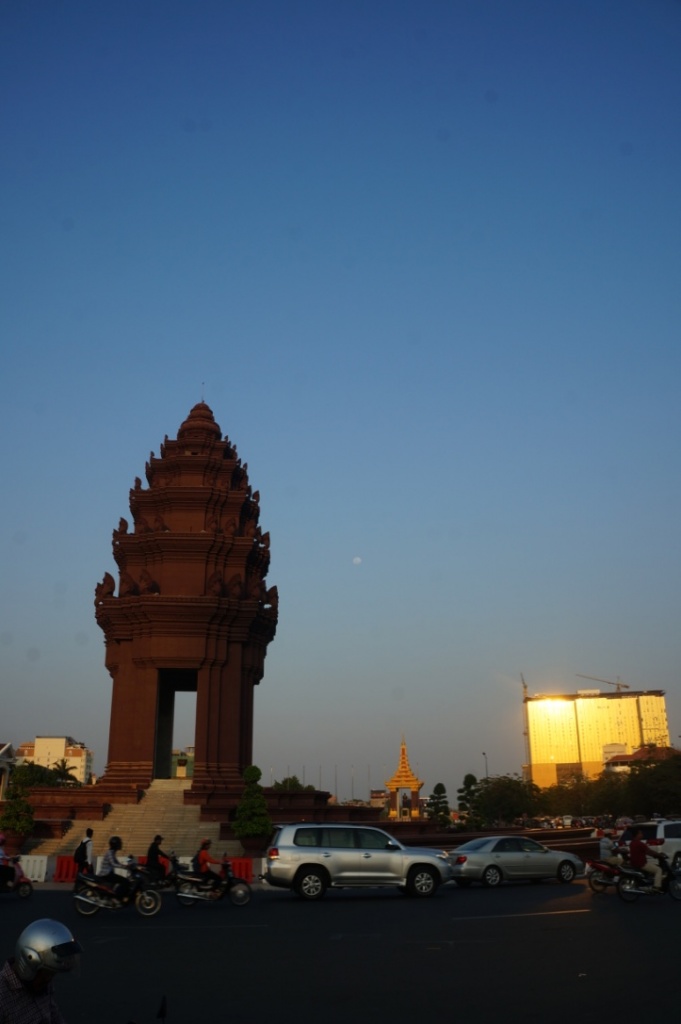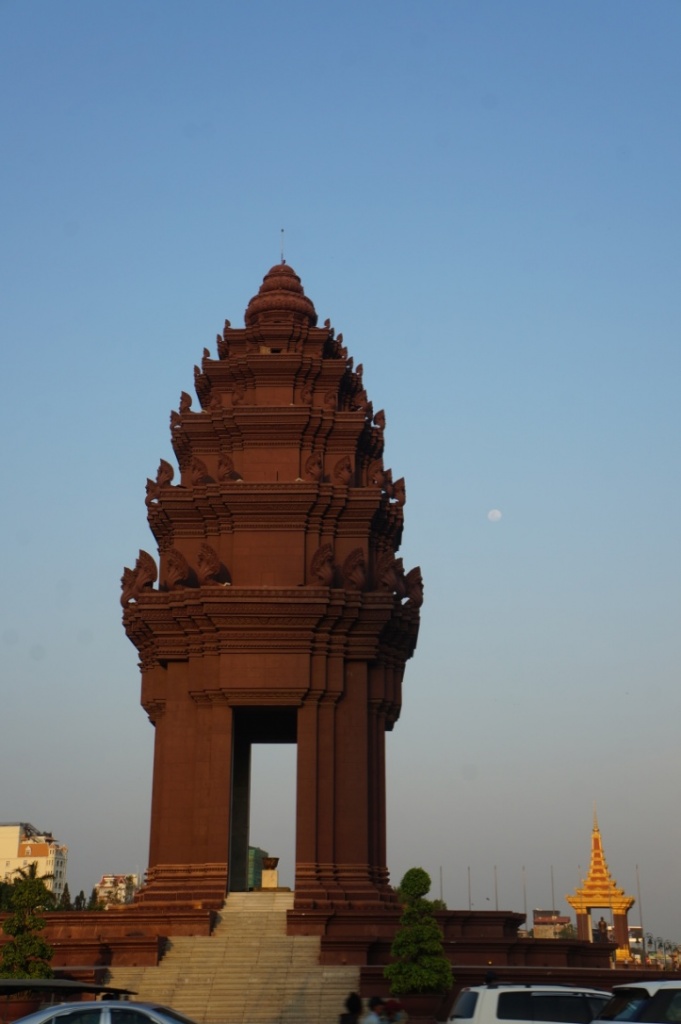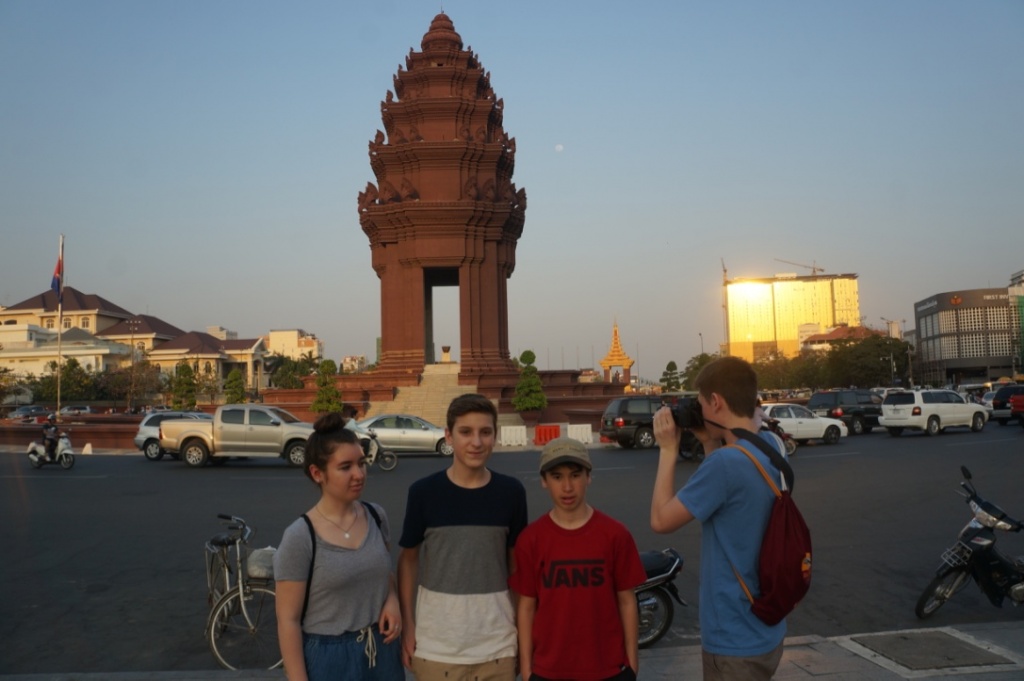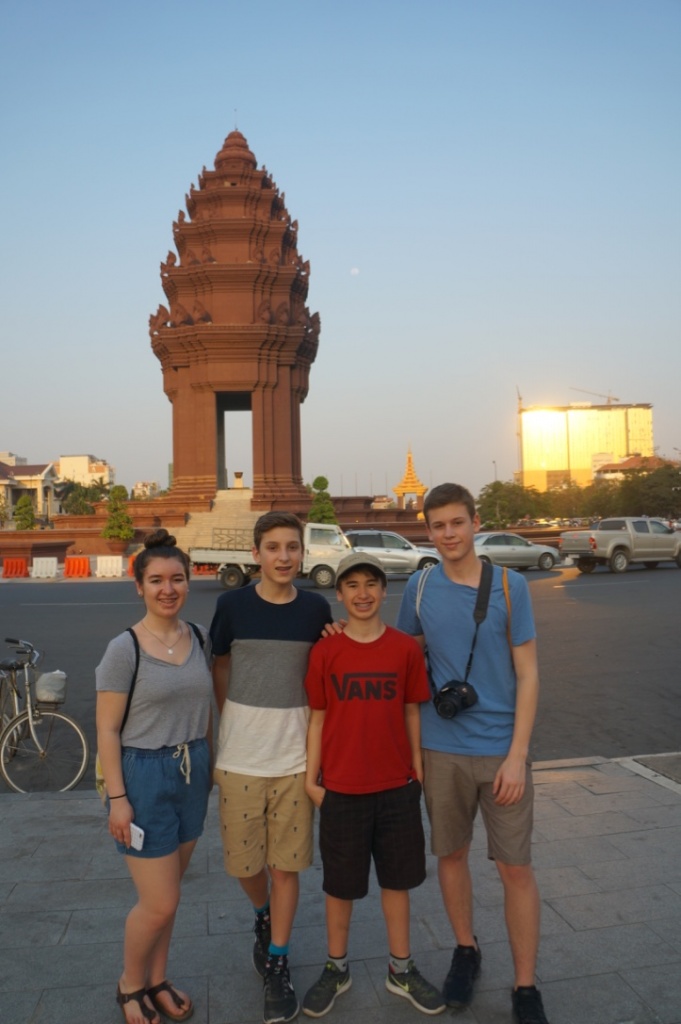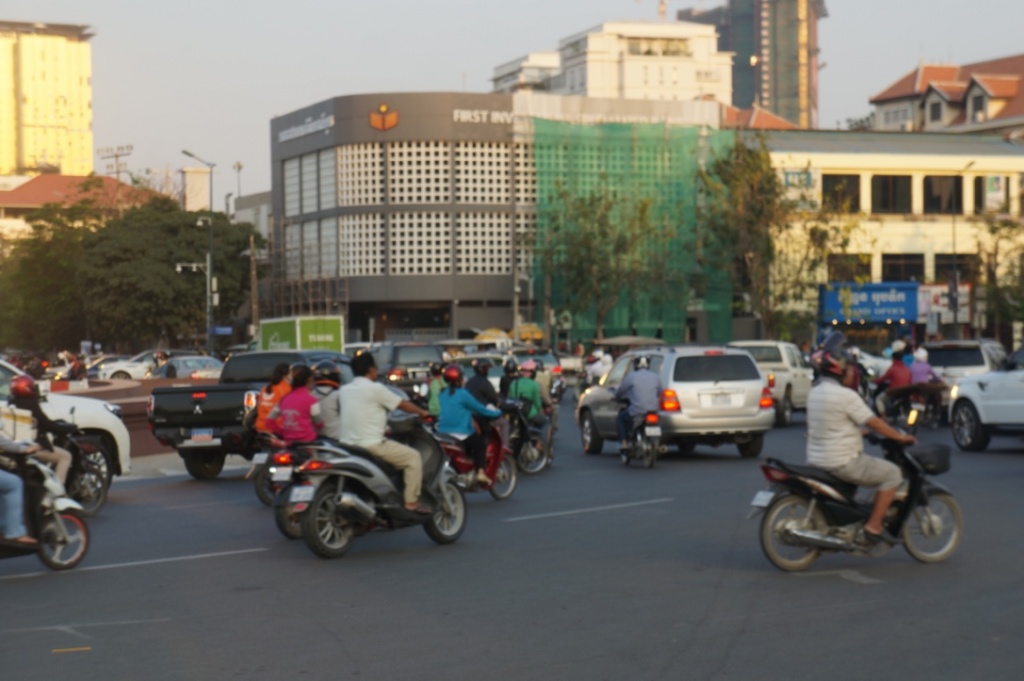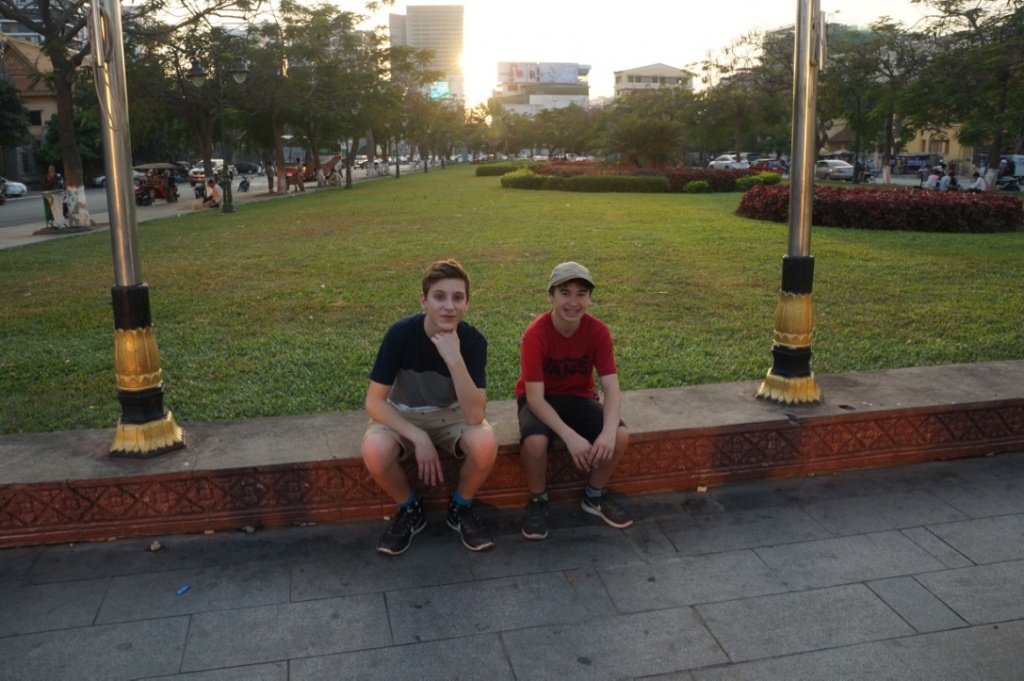 Rob's adventures: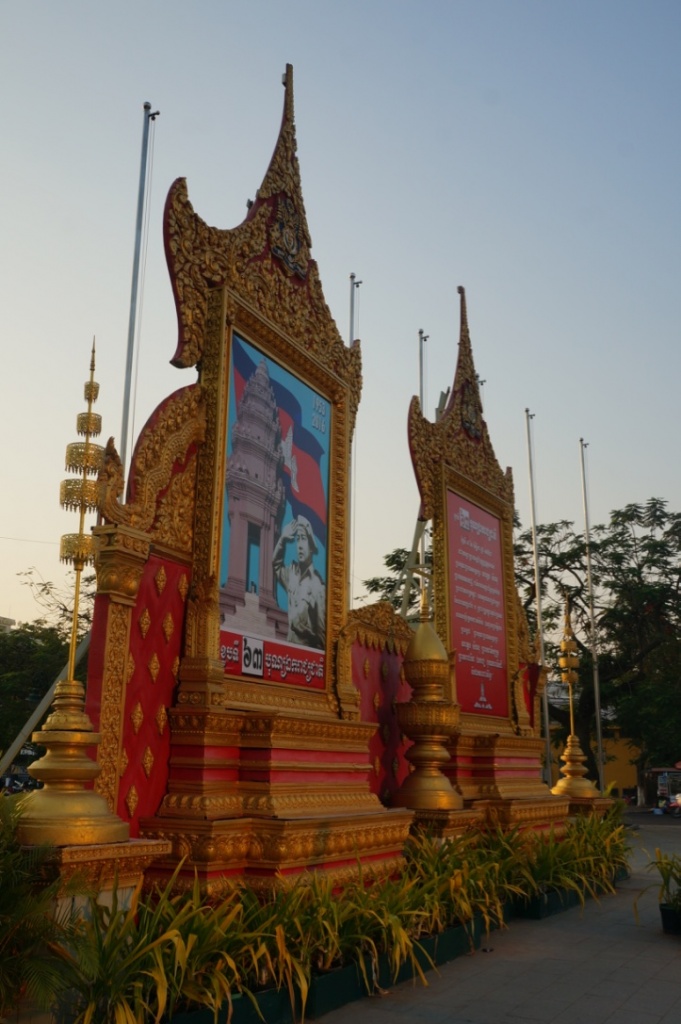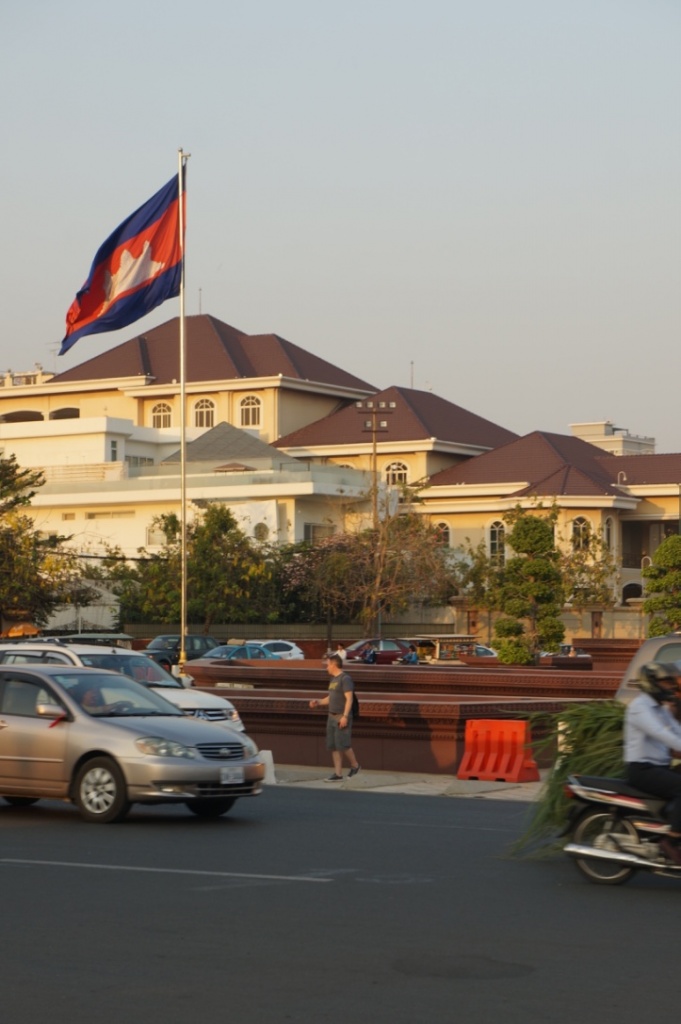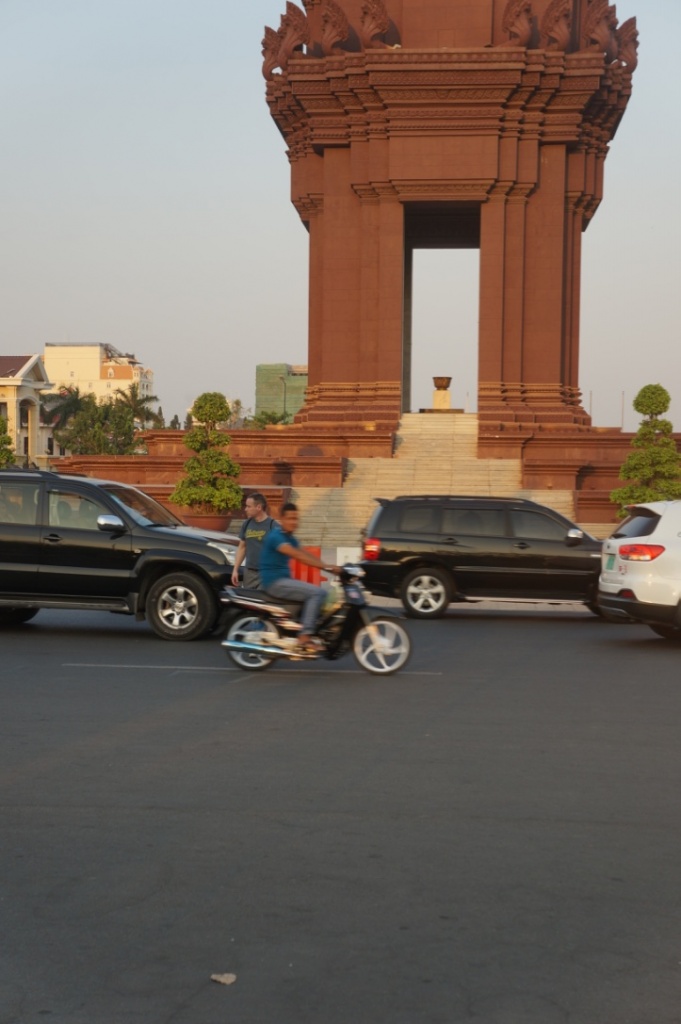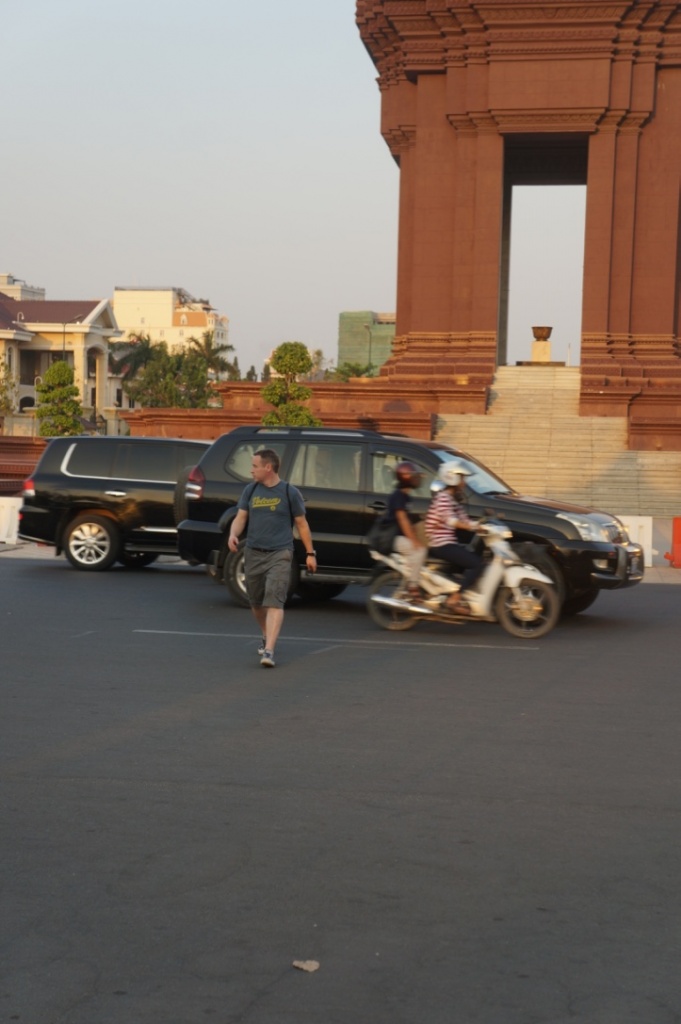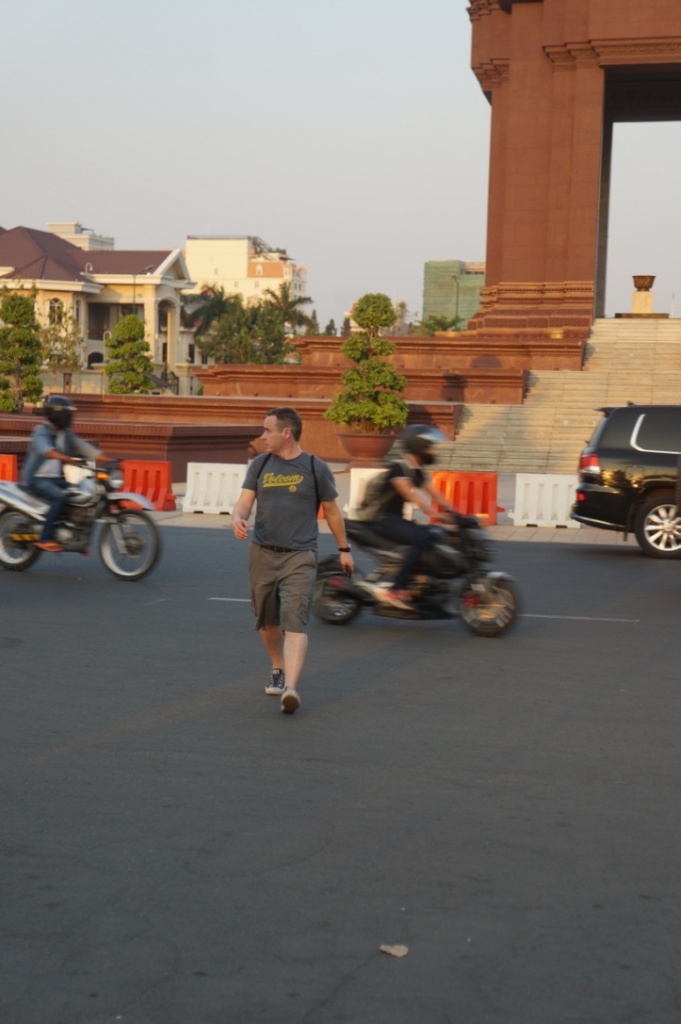 We rested again (the kids really wanted to use some wifi, because it's hard to snapchat back home because of the time difference and so our dinner time is perfectly lined up with before school time back home! LOL)
Rob found us an awesome little place for dinner – Mok Mony, which we got to take a Tuk Tuk to (even though it was literally a 2 min ride!)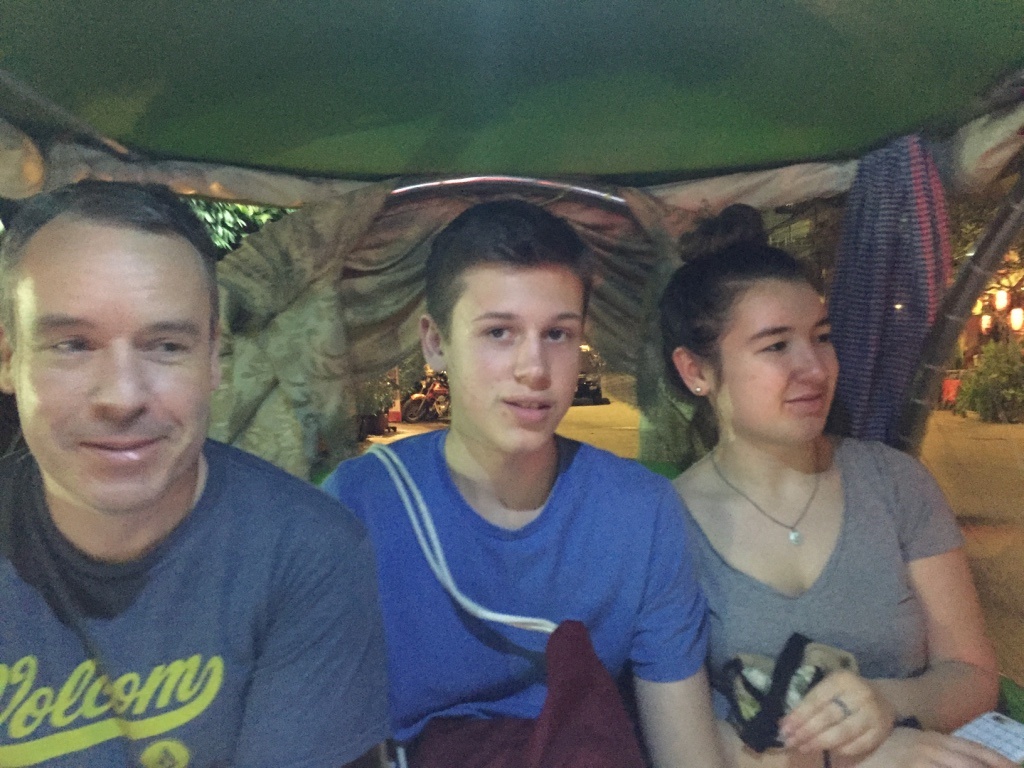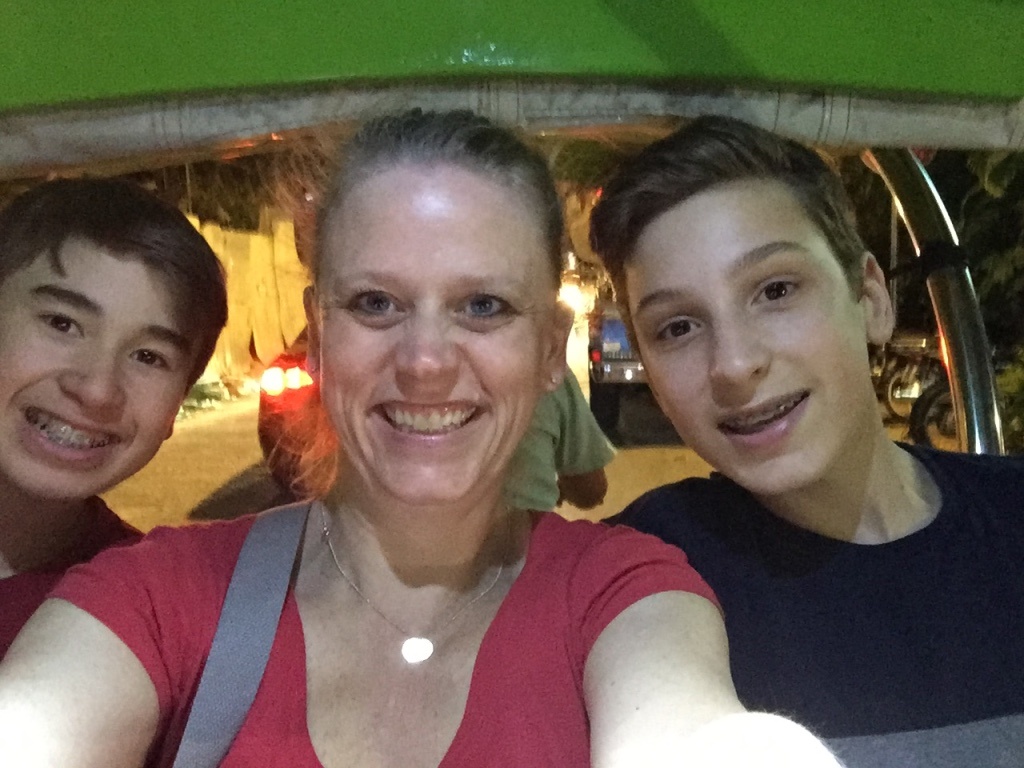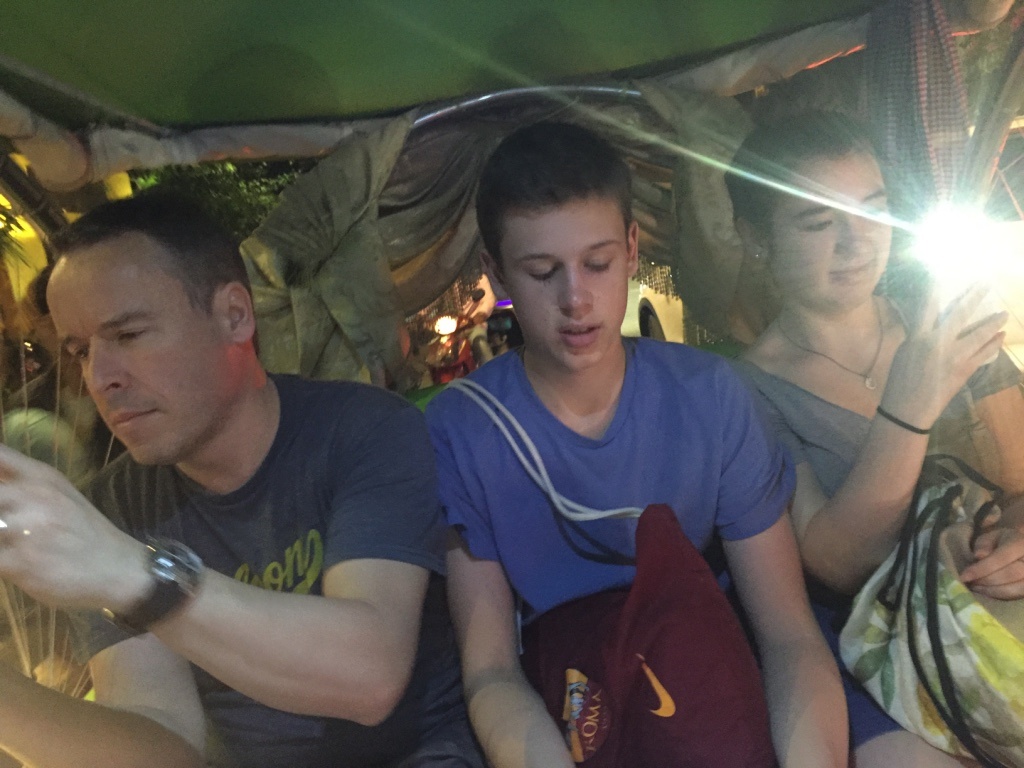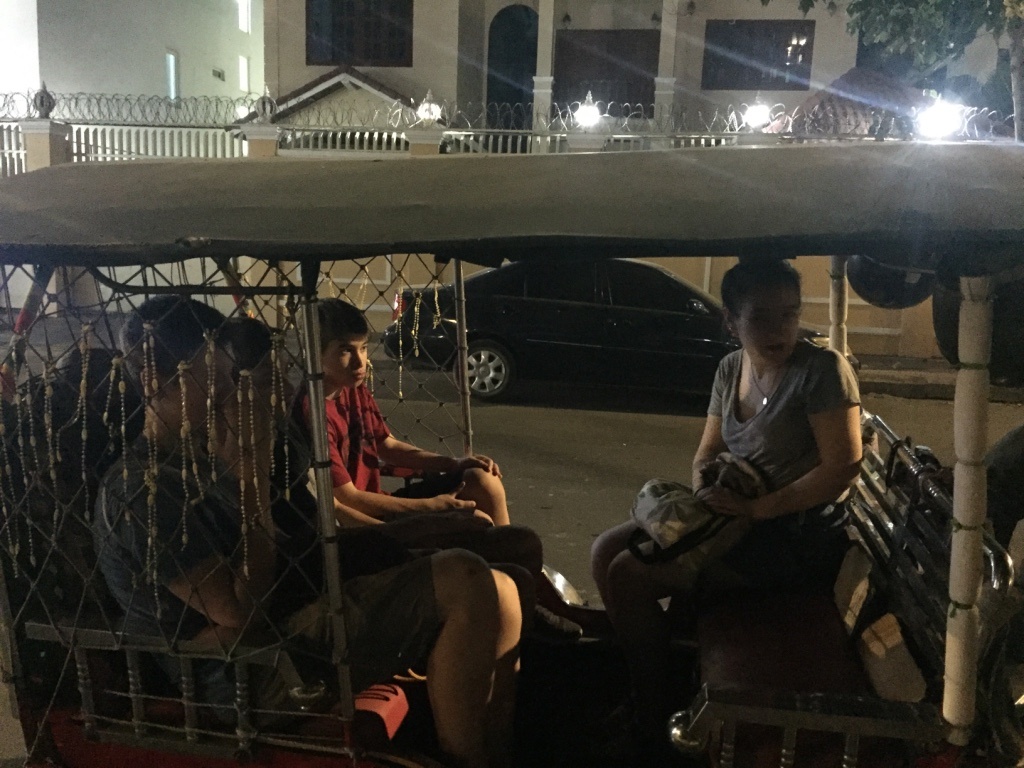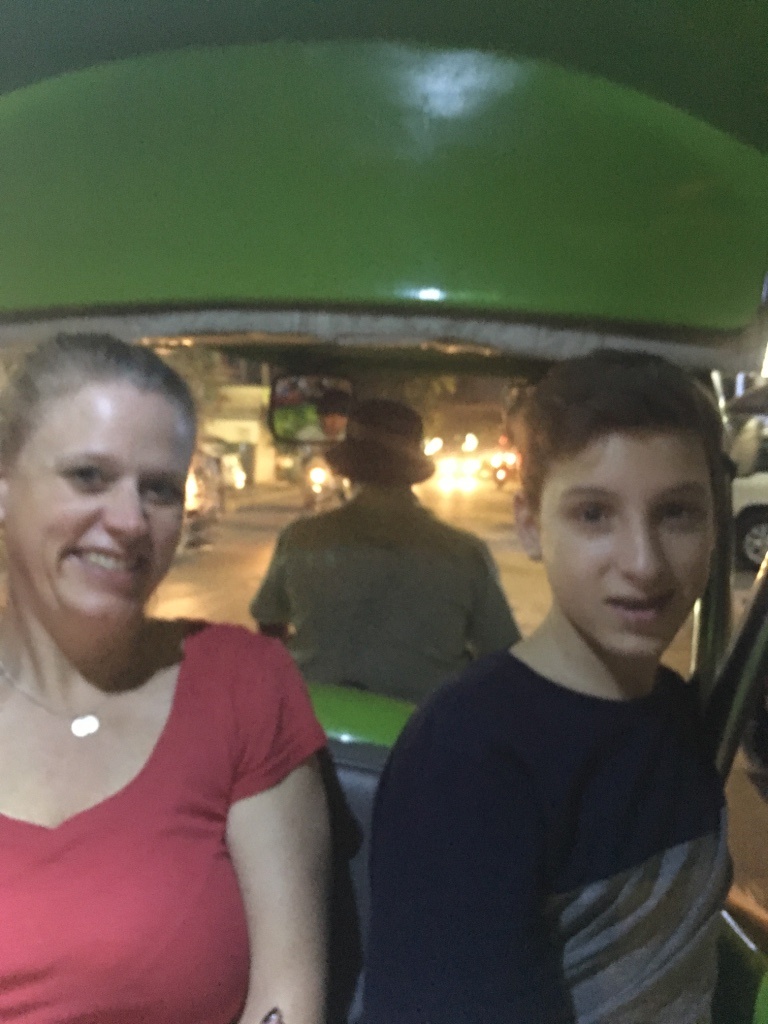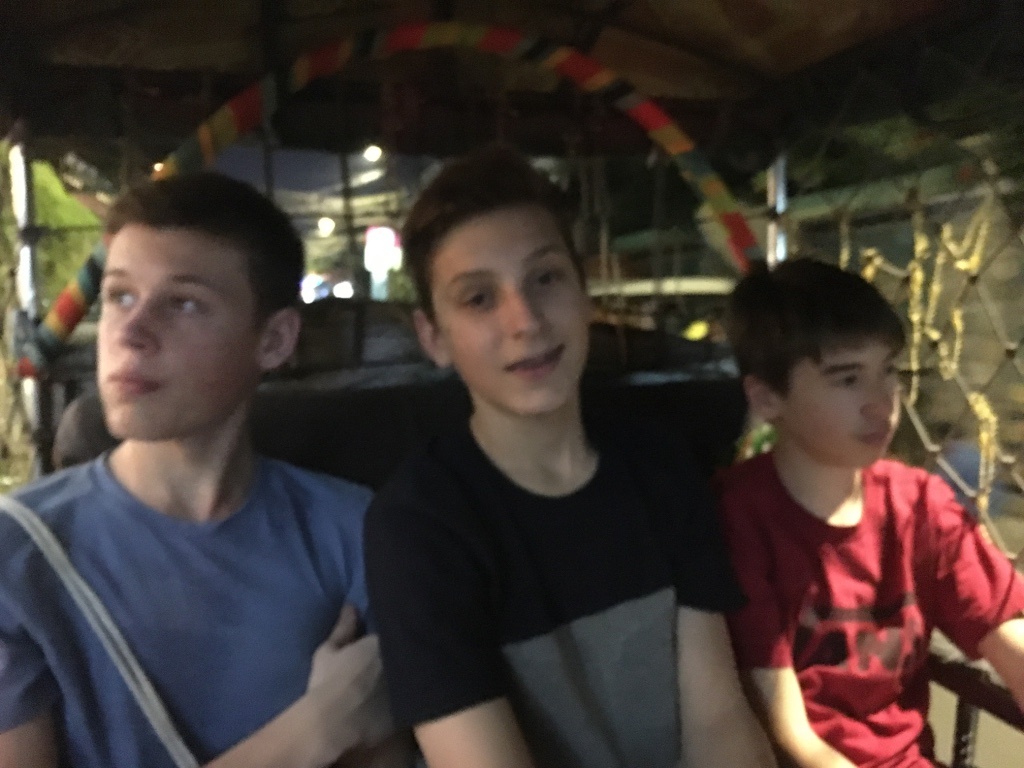 The owner was fantastic and suggested some great specialty dishes which were awesome! Beef rolled up in a kind of leaf we had tried earlier in the day (can't remember the name), curry, and fish with mangos. The boys also tried some frog – which they really liked the legs – but when Zach hit the chest and ribs, he became repulsed!  (I think Zach got a few pics which I will add later) We were all completely zonked and certainly hit a wall. We were all a bit snappy at each other and got annoyed that our Tuk Tuk driver got lost even though we are 2 min away! Ah well, part of the adventure!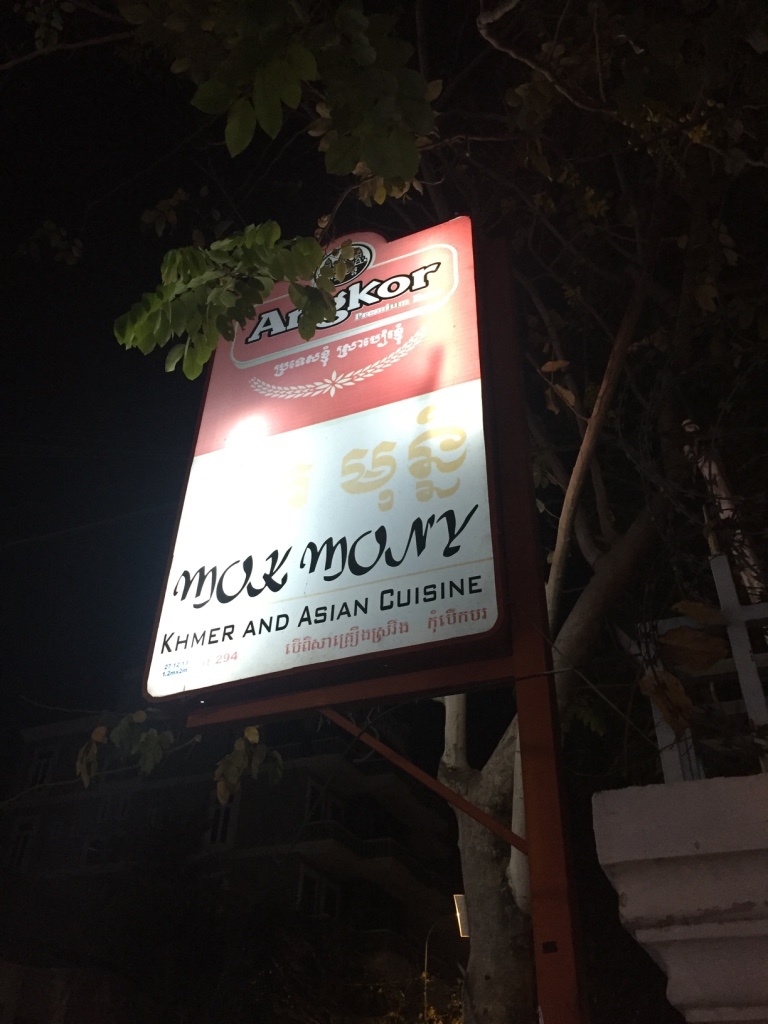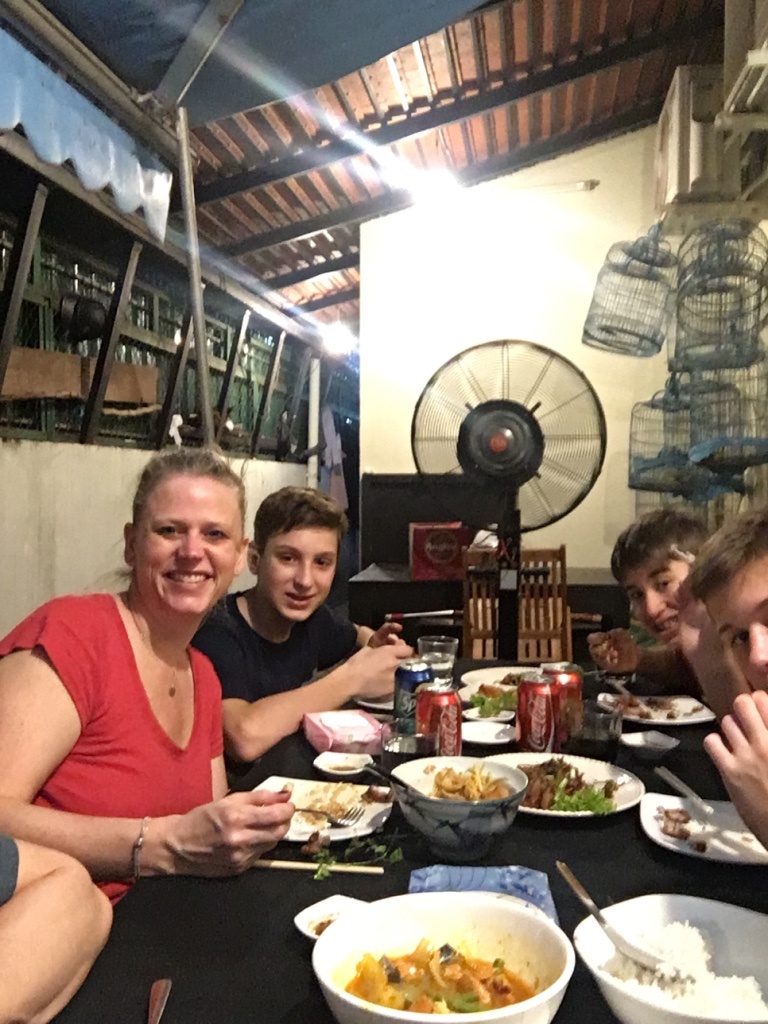 Next stop: driving to Siem Reap with some stops along the way!