Everybody loves Sam.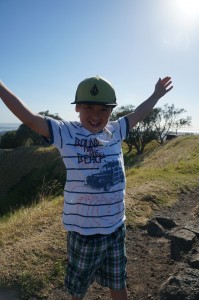 He has a magnetic personality. He is very expressive. He is the best story teller.
Every teacher he has tells us, "I love Sam". They compliment him on his leadership skills, but remind him he needs to be careful with where he leads his friends:) He has a bit of a devilish side.
Being the baby of 5 kids in BOTH his homes (he has two step brothers at his Mom's home too) he has grown up quickly. He can be extremely independent, but at the same time can sometimes get people to do a lot of stuff for him because of his cuteness and his "baby in the family" position.
The other morning we were getting ready to leave for school. I was packing up my stuff to head off to work after I walked Sam and Josh to school, and I told Sam to put his shoes on.
He went over to put them on, noticed that they had a double knot (which they always do) and immediately asked me to untie it for him. Busy doing my own thing, I glanced at the knot, then said to him "You are 8 buddy, I think you can undo this knot."
He did.
He put his shoes on.
When he was almost done tying them, I said to him:
"I want you to try to be a "can do" guy".
He looked at me quizzically.
"When you come across something you think you may not be able to do, I want you to try it. I want you to throw yourself into the task. I want you to give it your all. I want you to tell yourself over and over again, "I can do this" and then, I want you to do it. If after you have given it your best shot, and you still can't do it, then I want you to ask for help. Deal?"
"Deal."
As we walked to school we talked about how everyone has things they are scared of doing, or think they can't do, don't want to do, or maybe just don't feel like even trying. I shared with him how many times I have to talk my way through something, telling myself "I can do it."
And off to school he went.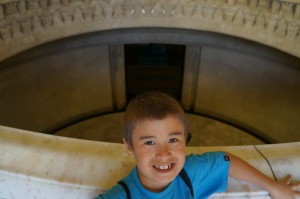 Then next morning, we were getting ready for school again.
Sam was putting on his shoes, again.
"Leah?" (One of Sam's famous traits is he says your name before almost every sentence he says. It is too darn cute) He continued, "You know you were right. I tried that thing and it works."
"What thing?"
"That "can do thing". I tried it yesterday. It really works. Every time I felt like I couldn't do something, I told myself "I can do this" and it worked! I could do it!"
He was so proud. He shared with me the things that he had been able to do. I shared with him how I had used "I can do" the day before too.
As much as he is the baby in the family and there are lots of helping hands around, and as much as sometimes it is easier and faster to just do things for him, I don't want him to fall into the "learned helplessness" trap. I want my kids to feel empowered, to feel they can tackle challenges, and to gain self esteem and confidence from knowing that they can do hard things.
Sam told me he was going to be a "Can do" guy:)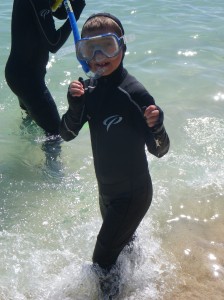 (Just as a side note, while Sam and I needed to have this "Can do" talk, some of my other guys need to have the "It's ok to ask for help" talk. Every child is so different. Some need to be pushed. Some need to be pulled. And  all will likely need one talk or another at different stages in their life. I need  those talks every once in a while too.)