I may be slow at posting, but my life has not slowed down!
A look some snaps since Christmas:
We took a mini ski trip post New Years. I'm not a HUGE fan of the cold weather, nor a HUGE fan of skiing, but I am a HUGE fan of spending time with my kiddos, and I tell you, there is nothing better than chatting on a chair lift overlooking a winter wonderland with the sun shining down on you. Ok, a beach may be better, but for winter, there is nothing better:)
We headed up north, and spent the first day skiing in temperatures I can't even talk about, they were so cold. But, the hills were sparse because there were very few families who were crazy enough to brave the cold. We had a great day, followed up with a great meal, checked into our ski in/ski out room (LOVE) and chilled. We had a quick soak in the hot tub too before loading up on hot chocolates and snuggled in bed.
The next day was warmer, so while we didn't freeze, the hills were busier, but we had an awesome day, ending off with some yummy Beaver tails (Canadian thing…) Such a great way to end the Christmas holidays.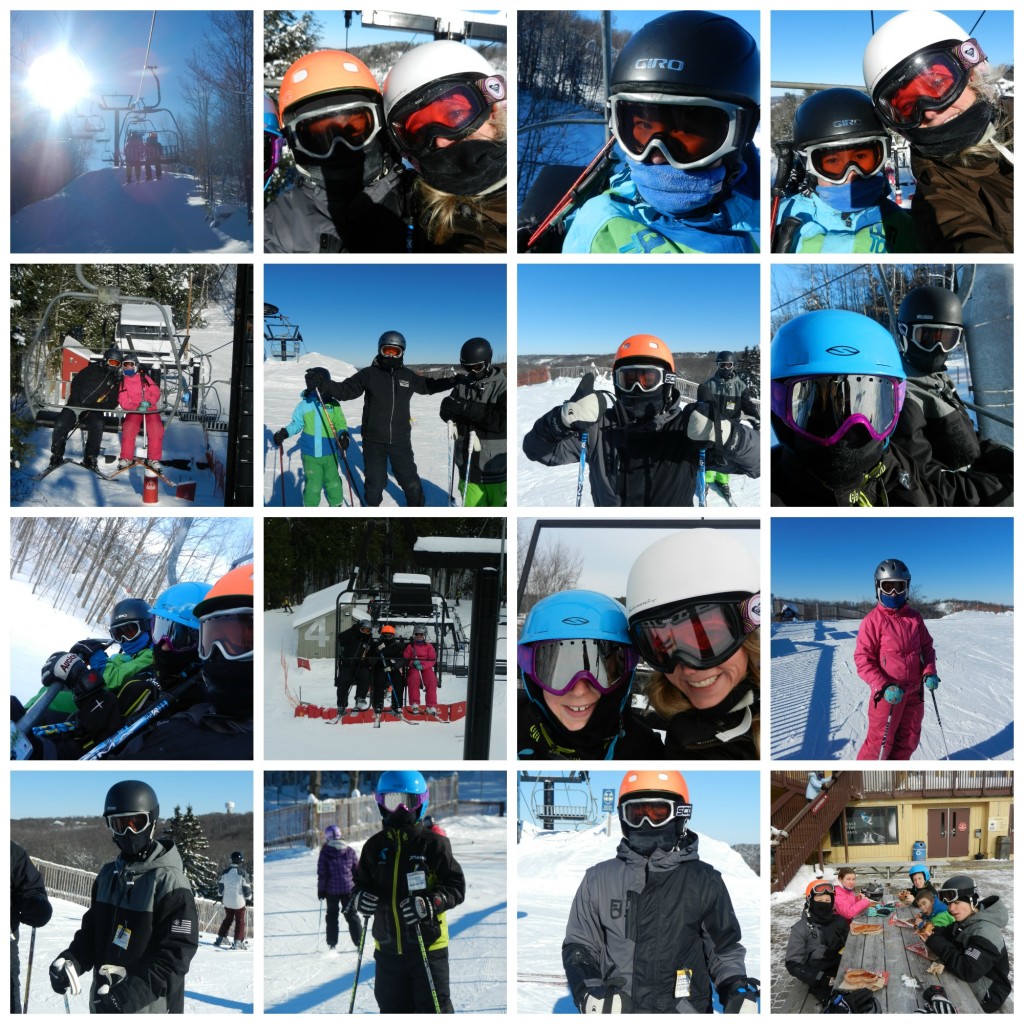 A few weeks later, Rob took the boys on their 1st annual boy's weekend. They decided to go to Detroit to take in the auto show, and a hockey game! He sent me a few pics, but apparently what happens on boy's weekends, stays on boy's weekends? Hmpf. Doesn't seem fair. But, they came back full of inside jokes and giggles. I got some stories too anyways!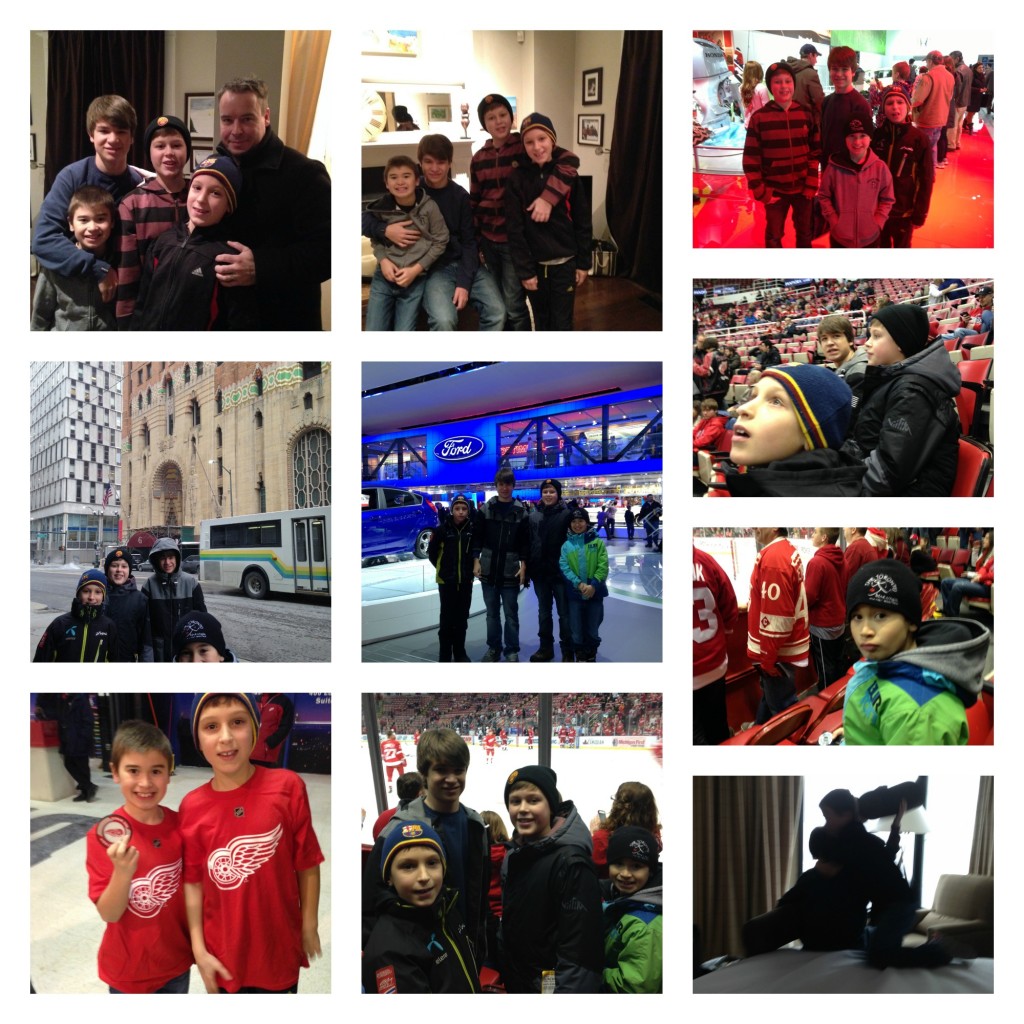 Meanwhile, back at the ranch….Zandra and I had a few things planned. We headed out to visit with Grammie (Rob's Mom) and went to a nice spa for a mani/pedi. We had a lovely lunch with her, and visit too.

We raced back home where Zandra had invited her friends over for dinner and a movie. She switched schools this year, so this was a whole new group of friends – lovely girls – and they enjoyed some homemade pizza, watching a movie, and all the other suff 12 year old girls do. I didn't end up taking any pics – I'm not sure what happened there??
Josh's b-day rolled around and we always appreciate a little special occasion in the dead of winter. He wanted mainly cash for his upcoming European adventure with his Dad, but he still looked forward to his candy poster and little gifts.
He opted to go to an "all you can eat buffet" – and it is always so fun watching him eat:) I also took him out alone for sushi for lunch on his actual birthday, since he had his party at night (and then headed over to his Dad's). He had a bunch of friends over and they played some hockey in the back, and then went for wings with his Dad. Following wings they all headed back here for some cake. Josh always challenges me with cakes – but I like the challenge for my boy:)
Valentine's is super special in our house too. We serve (yup – "serve" – it's their Valentine's dinner) the kids steak and poutine, and then they get chocolates, a little unique stuffie (I search for them year round to stay creative) and then they get "their photo album". Every year, I make an album for each child, highlighting the year with pictures of them (whenever we go anywhere, I am very conscious to get individual pictures of each child, so they will have it in their album!) I also do a little writeup, summarizing their school year, who their friends were, special events, rewards, celebrations. Rob and I each write them a letter too that goes in their album. The kids love them. On Valentine's (well, the day we celebrate it – whenever we have all the kids – we don't worry about the actual date:)) Zach woke up and said, "I'm so excited for tonight! I can't wait to get my album – it's the best part!!!" Ahh, makes it all worth it….

Rob and I have our traditional Valentine's celebration where we spend the night in a hotel downtown…that is coming up and I am so excited!!
My Mom came to town too this past weekend. She turned 75!! WOW! So we had a little shin dig for her with some of her siblings and their families. I love my Mom's family – so it is always so fun to get together!!! Special time to celebrate such a special occasion.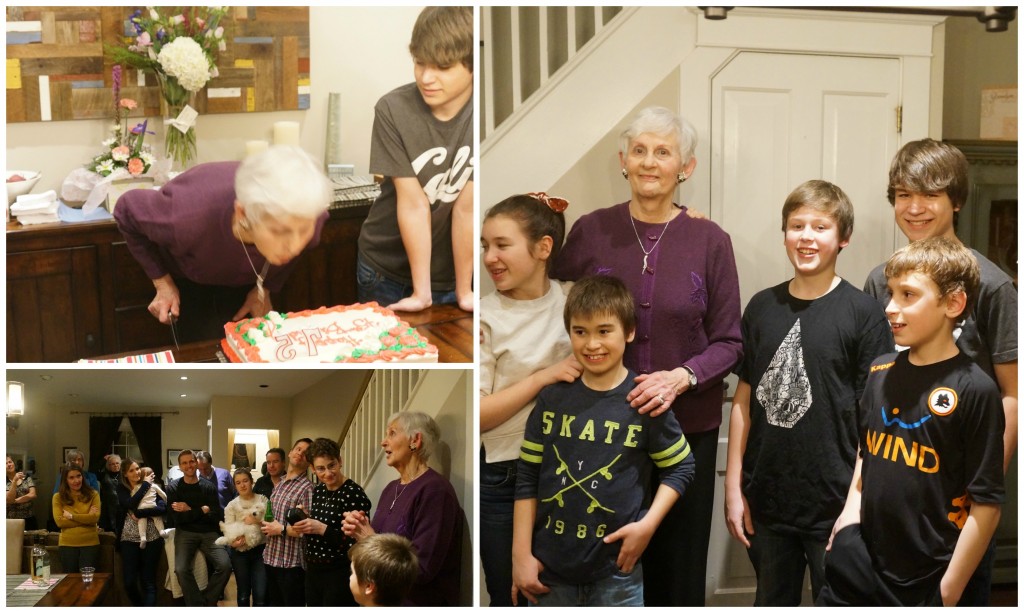 And that about has me all caught up…a few little extras: Zandra went to a fun skating activity, we did a little art day, Sam and I went on a special date (missing a pic of that too?!?!?!), lots of clearing ice, we finally got caught up on our family vacation pictures (each person draws a picture representing their fave part of a family vacation) and Reggie – well, he's still King in our house!