We made it to Munich!
Travelling with 1 "child" is pretty easy. We saw a young couple in the waiting area at our gate at the airport, with young babies – twins no less – about 8 months old and I felt for them. But I have done my time! Of course, they ended up sitting in front of us. There is a time, there is a season…all stages are just really good… I'm just appreciating this stage now to its maximum!
We hung out in a nice airport lounge and even bumped into our long time friend Shaun (a little family joke; Shaun is a little sheep Josh bought in New Zealand, and he photobombed so many of our pictures, that we now make it a point to travel with him and get him in a few. I secretly brought him and Josh and the kids only saw him on Instagram. Big plans for this fella!)
We were pretty excited on the flight to Brussels and so didn't get much sleep. We were completely zonked during our layover in Brussels, and by the time we were on our flight to Munich, I'm not sure any of us knew how we ended up on the plane – we just sort of sleepwalked on. Just too old to pull all nighters!
Unfortunately, we were missing a bag in Munich. Apparently it was left behind in Brussels; I have a sneaky suspicion that the baggage people were a bit too busy watching the soccer game with Belgium and missed our bag (well, it was Rob and Gabe's bag). Apparently it will be here by morning!
We freshened up, took a quick nap and headed out to explore beautiful Munich. While I have my guidebook, and we have a few "must sees", part of the fun and adventure in Europe is to just walk the streets!
So we did. We did go to Marienplatz (the oldest and main town centre), St Peter's Church, and got a bit lost but stumbled upon the Hofbrauhaus and Frauenkirche just as they were starting Sunday Mass.
We had had a nice Schnitzel sandwich for lunch on the train into the city from the airport, and Gabe had a craving for Italian, so we ended up finding the cutest little Italian restaurant on a side street. We feasted on some delicious pasta (salmon for Rob) and just relaxed and soaked it all in (while trying hard to stay awake!)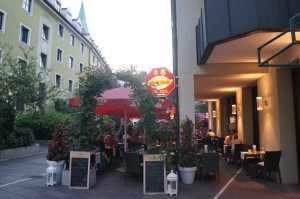 Can't believe we are finally here and so excited to be here! More exploring tomorrow!