When I was growing up, I loved the song "Africa" from Toto.
I dreamed of going to Africa one day and would sing the song all the time.
It's gonna take a lot to drag me away from you
There's nothing that a hundred men or more could ever do
I bless the rains down in Africa
Gonna take some time to do the things we never had
Although, I must admit the words of the song were a bit confusing to me (apparently the song is about the story of a man who comes to Africa and must make a decision about the girl who comes to see him. He is enamoured with the country, but must leave if he is going to be with her.)
Anyhow, the song always made me think of Africa and what it would be like to travel there.
Shortly after Rob and I were married, we sat down with the kids to come up with a couple of HUGE trips that we wanted to take with them when they were older (when the three older ones were teenagers — and while Gabe was still in high school.)
The idea of these big trips were always on my agenda since BEFORE I had kids, so when I married Rob, I let him know of my dreams and how he had to buy into those dreams no matter what:) He wasn't much of a traveller (and I don't think he really knew how much of a traveller I was), but he agreed to making these trips a priority. Which really translated into making some choices and sacrifices on some other things so that we could save over years to make these trips happen (and still save for other vacations every year. Ok – multiple vacations every year. Travel is seriously my top priority. And we have been blessed to be able to save for these luxuries. )
So, when we sat down with the kids 7 years ago, they ALL said a safari in Africa was a top trip.
Phew. I didn't have to try to convince any of them (although I'm not sure they ever really thought it would happen.)
Because you needed to be a bit older for safaris, we decided it would be the second "Trip of a Lifetime" we would do. (We did our first one to Fiji, New Zealand and Australia in 2013 which you can see back here).
And now?
I can't believe the time has come.
We are heading to South Africa…tonight!
Of course, there are always a few hurdles to overcome….
On Saturday, Josh injured his knee pretty badly playing soccer. By Saturday night, it was pretty angry looking, despite the icing and resting. By Sunday, we had to head to Sick Kids Hospital.
He was loving the attention, playing around in his wheelchair, chatting everyone up and being pretty goofy.
But the doctors were not impressed with the amount of swelling, the limited range of motion, and the non weight bearing. They did an X-ray to rule out a fracture, but were guessing there was a tear. (Josh loved this cute little Westie painting in the Xray department)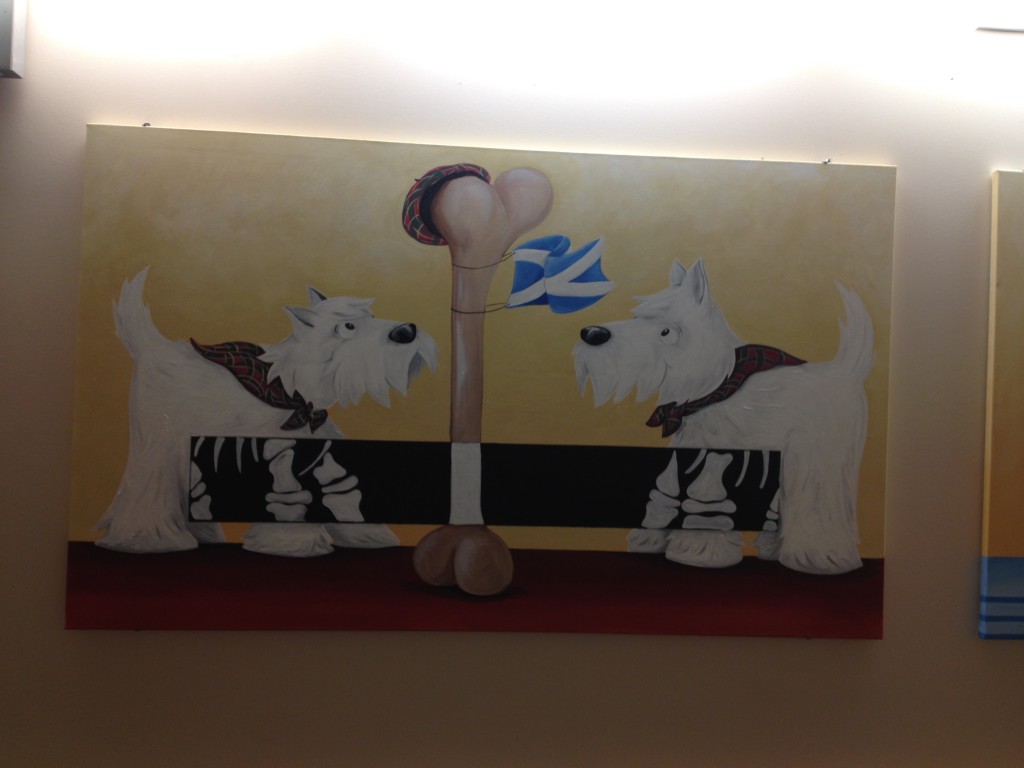 So a trip to South Africa, with two long flights (7 hour one and an 11 hour one)? Nope. Not going to happen. There was no way they would recommend this.
My heart sunk. Josh burst into tears and we both went into crisis mode. Rob, luckily takes completely over, and asks all the right questions and gets all the info that we need. I just kept asking him, "what are we going to do?"
(It's also hard talking to the doctors, trying to get the info from them as you feel so incredibly selfish asking about how you can still make your "trip" happen. I mean, people have real problems in this hospital. Not like mine. I do realize that and I am filled with gratitude for that)
But, the weight of your cross, doesn't lighten mine.
We asked the doctor what it would take to get Josh on a plane by Wednesday night. She said, "well, if MIRACULOUSLY the swelling went down to almost nothing, the pain subsided, his range of motion got to where he could easily bend to 90 degrees (he was about at 20) and he could weight bear, AND if you can get in to see the Orthopedic surgery team in the next couple of days (we have free health care – but the cost is long wait lists), then we might be able to see what is going on."
We were on it.
We iced 15 minutes on, 15 minutes off ("Mom! I think my leg is numb!!"). He took Advil. He lay motionless on the couch with his leg elevated. We called our homeopath friend and he got him started on arnica pellets and gel. Most importantly, we prayed. Then Rob asked a friend from church to come and help with giving Josh a blessing (there's a great little movie that explains our beliefs in the power of priesthood blessings; you can see it here).
Shortly after, the pain started subsiding, the swelling started going down, and his range of motion improved….
Yesterday, Rob called the clinic and they said to bring him in.
Miraculously (and I do mean miraculously), the doctor noted his knee had dramatically improved. His injury was minimal. He was good to go. We got the ok to fly.
So… here we go….
We will first land in London on a layover and spend the day touring there.
Next, we continue on to Johannesburg, where we will visit a bit, but mainly catch up on sleep.
Next we head off to Kruger National Park and are staying in 3 different private reserves and plan on enjoying every sunrise and sunset on the African plains spotting the big 5 (and giraffes and zebras that I am excited to see!)
We then head back to Johannesburg for another night before catching a flight to Cape Town where we plan on soaking up some history, some beauty and some sunshine and beaches.
We journey back home via London.
Of course, I will be posting as much as I possibly can to capture every moment and be able to relive it through words and pictures in years to come!
You can bet you know the first song on my Africa playlist (we always try to make a playlist of songs for our trips:)…
By the way, we land in Johannesburg on March 13. What a way to celebrate the 1 year mark of Rob's heart attack.
We are blessed beyond measure by small and big miracles. It sometimes scares me how blessed we are. SO blessed.