I remember when 40 seemed so old.
It wasn't that long ago actually. I think I thought 40 was old when I was in my early 30's. Amazing how "old' changes as we get older.
Of course turning 44 a couple of days ago made me take stock in how I think my life is fairing so far. What have I done so far? Whom have I helped? Have I focused on the right things? Do I have too many regrets? What do I wish I had done differently?
Of course, it's too late to redo things, so I started to think about my future and what I still want to do. For me, travel is a high priority; living internationally, serving and volunteering internationally and leisure travel. I also mentioned to Rob that I wanted to own a beach house by the time I'm 50. Zach was around when I said it, and he had the realization shortly after, "hey, 50's not so far for you. I was thinking that getting a beach house is such a long way away, but for you, it's only 6 years." Thanks, Zach. Family is of course top priority in any future plans I envision for myself too. Travel and family, combined, to me is the best.
So while the past may seem a little depressing, the future seems a little daunting and uncertain, I focused on the present and enjoyed my day.
I like to extend my birthday over the whole week:) When everyone has different schedules, it's hard to nail a celebration down to one time in particular. So, it started with a trip to my all time favourite restaurant for sushi and an incredible chocolate tart with Rob on our date night a few days earlier. (I've gotten out of taking pictures, but really need to start it up again).
It was followed by some arguments with some teenagers over plans that weekend, but then ended up with two different dinners out over the weekend with varying combinations of kids: Mexican and Indian. (I even snuck in an Italian lunch with my three highschoolers on their day off mid week; not officially for my birthday, but the timing was perfect.)
On my actual day, I had to get Zach out to his final season end games and team dinner 1.5 hours away. Although I will complain about the drive, it's pretty awesome to have your child your prisoner for that whole time with no wifi connection and only you to talk to.  That in itself was a gift, but I also got spoiled in the morning with some awesome gifts which included chocolate, foam bath, tootsie rolls, travel magazines, lip gloss, two coupons for lunches out ("when we are both free" one of them said….), some pretty awesome poems, pictures, collages and notes and the coolest little book (Famous Last Words) and an incredible painting of a tree – symbolic of some reading that I have been doing and sharing with Rob. Although I need to be a tiger Mom when it comes to birthdays and gifts, I don't mind. I love having to force everyone to think about birthdays, because, hey – you are celebrating the life of someone! (I also figure the "forcing" that I do now, will only benefit my children's future partners. I don't want to be raising lame-os who put no effort into celebrating someone's birthday. You' re welcome, future daughter and son in laws). I sure appreciated the messages, text, cards, calls and face times too that came throughout my "birthday week".
We finished off the day with an awesome cake and cuddles with a little and everyone heading to bed early (was that part of my birthday gifts too? It sure felt that way.)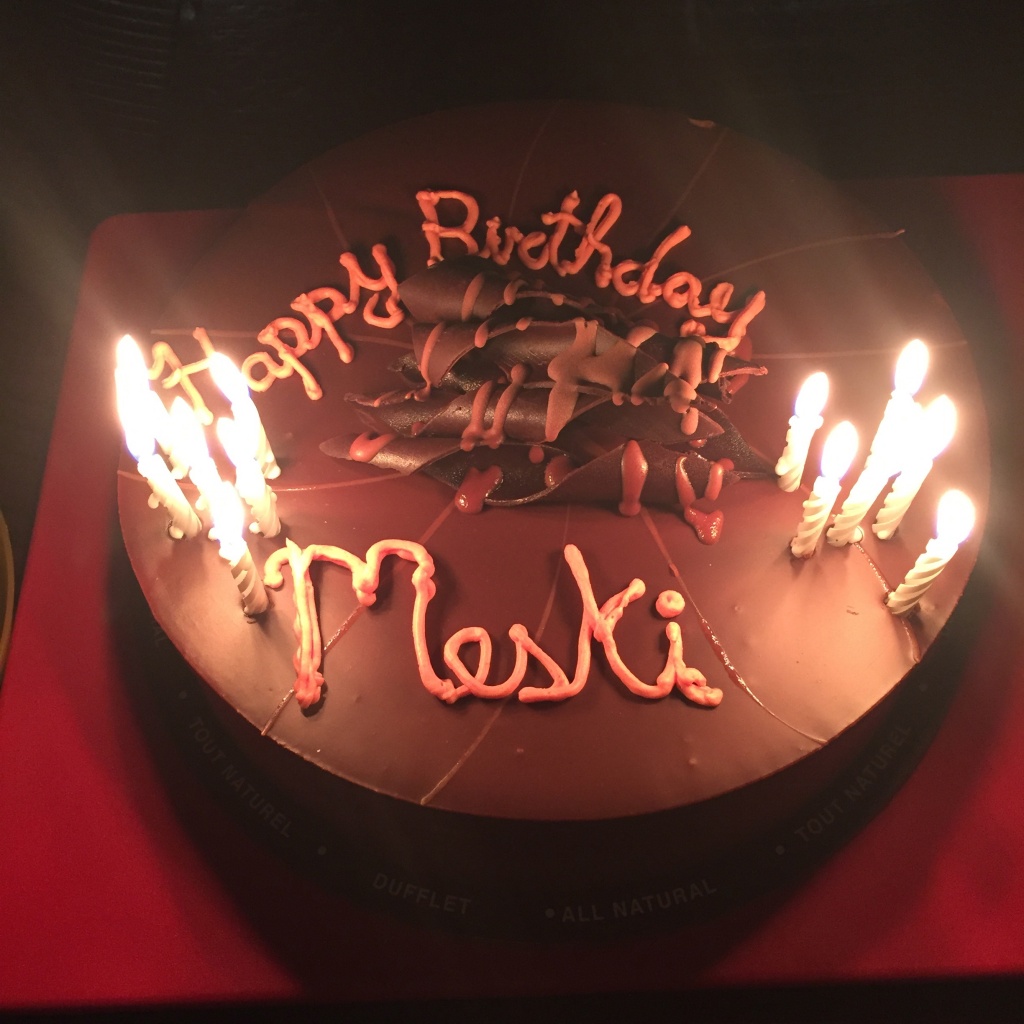 Now to really enjoy 44. I plan on living a long time (like both my grandmothers), so despite feeling a bit old, I figure I'm just hitting the halfway mark.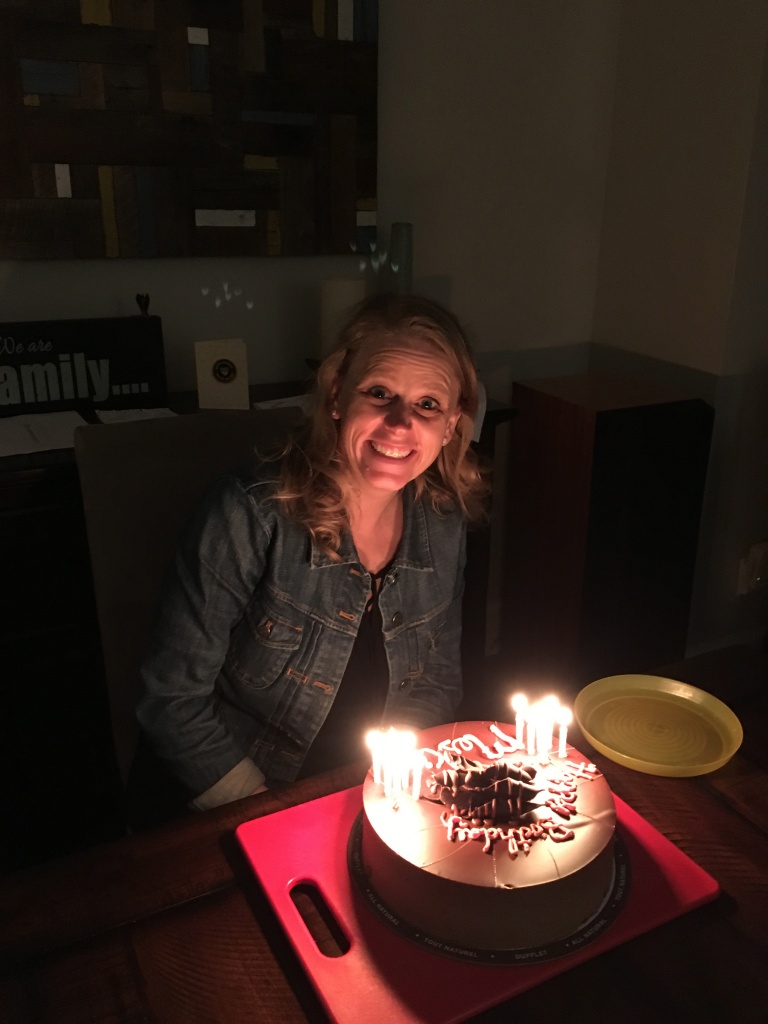 Cheesy smile and all…