Zach had to write an essay for English class and chose to write about his experience in Ecuador with HEFY. He had certain parameters to follow for his class, but I loved how it captured a different side of his experience and wanted to document it here. 
If you want to know more about his experience in Ecuador with HEFY, then you can read more here and here and then some sappy Mom stuff about him going and preparing him to go here and here
It was seriously the best experience for him and he came home telling all his siblings that they MUST go on an HEFY trip. Zandra is all signed up and ready to go to Dominican Republic in June 2018! We are super excited for her to have this adventure (and Josh and Sam are already starting to save and plan for their service trips too!)
Ok. Enough blah blah. Here's Zach: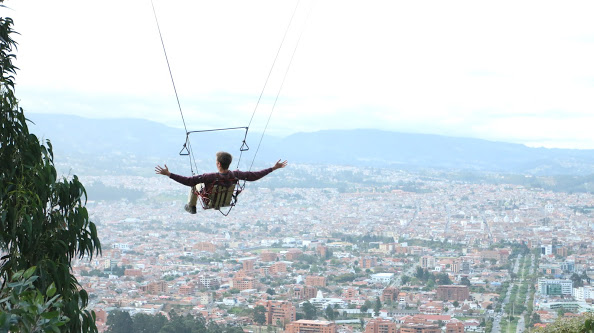 This past summer, I had the opportunity to participate in a humanitarian trip in Ecuador. My brother had the same opportunity previously but turned it down. I certainly wasn't going to let the chance slip by. My nerves were at ease through the process of signing up, fundraising and even the week leading up to the trip; but once the reality of leaving hit the night before, the nerves came like a storm. There was nothing I was planning to do on the trip that I had done before. That was certainly a reason to be nervous, despite my dad constantly saying to relax because everything was going to be ok.
The initial hurdle I faced was leaving Toronto early in the morning. I was meeting the rest of the group in Los Angeles and I had to fly alone for the first time in my life in order to get there. People talk about having butterflies in their stomach when they're nervous, but for me there was a whole conservation. Simply trying to keep my emotions down felt like one of the hardest things I had ever done; how could I travel alone?
I finally arrived in one of the busiest airports in North America, feeling confident, as I had been travelling alone for hours by this point. I learned that I could do things by myself and I was more independent than I thought. I felt as if I was on top of the world but the only way to go from the top is down; I got lost and eventually found two people from my group who I needed to approach.
I mustered up the courage to talk to them, after having quietly followed them from afar for a few terminals, which was hard for me as I am usually cautious with strangers. It actually went well and we soon became friends. I once again learned something new about myself: that I do have the confidence to talk to and meet new people.
Everyone on the trip was from the West Coast, except me. Everyone on the trip was American, except two other girls and me. I was different to all the others and yet I bonded with the 22 Americans and 2 girls from Calgary in our first destination of the trip, the Galapagos Islands. Who knew that embracing the Canadian culture could be so beneficial in making friends, eh?
After the relaxing part of the trip was over we headed to Cuenca on the mainland of Ecuador to get to work. Our project was to build part of an orphanage for disabled orphans. Physical labour is not one of my strengths and everything I did on the worksite was a new experience, so it was challenging for a "city boy" like me. Some of the work included: cementing, plastering, chipping and sanding. It took me a few days and a few angry Ecuadorians until I finally became comfortable with the construction I was doing. The worksite enabled me to learn so much about construction, none of which I would have ever been able to learn.
On weekends we did lots of activities, which included eating guinea pig and swimming in a freezing cold waterfall that was all crazy for me to do since I am not usually one to try new things. I am especially not the adventurous type so the "adrenaline junkie activities" freaked me out most.
The one activity in particular that scared me the most was a swinging chair, which swung over a cliff and overlooked the city. The thin branches, which the seat was tied to sagged with every person that sat down. The knots tied to the branches slid back and forth with every swing. This was not the type of swing that would pass any Canadian safety regulations, and yet I knew I needed to go on it. I needed to take a huge step out of my comfort zone. This was one of those things that I would regret not doing, even if I was scared. I sat in the seat, stomach twisting and turning with nerves, playing them off with laughter. Suddenly the lever was pulled. The nerves I had were gone as the wind rushed through my hair, city seemingly flying closer and closer. With falling through the air, I took a swing out of my comfort zone of land and it enabled me to see new views, and feel new rushes. I saw new horizons and it was amazing.
In the evenings of our workdays, we got to spend time with local teens. We went to their homes for visits, played sports and had a dance. The activities started off where the two groups were rather separate; "Gringos" (as they called us) on one side and locals on the other. The language and cultural difference had been a barrier between us. Using my new learned lesson from the swing, I decided I needed to yet again become the new found me and try to be more outgoing. My venture into an unknown language that I had never spoken showed the locals I was trying and, despite them saying that I sound like a little baby, it worked. We all ended the trip united and friends, one Ecuadorian even confessing his love to a girl in my group.
When I first heard we were working with orphans I pictured little kids who were abandoned as babies. This orphanage was extremely different and took everyone on the trip by surprise. It was an orphanage for people of all ages who were severely disabled. I had never worked with anyone like that in the personal manner I did. At first I was reserved and intimidated but eventually I got out of my normal self and into the service of my fellow beings. There was one guy in particular who really stuck with me. He loved doing push ups and would get us to do hundreds and hundreds with him. I started off standing and watching but then realized I wasn't learning or helping anyone by doing such; so once he gestured me to come join, I didn't hesitate. Two sore arms and an aching chest later, I realized how much my little actions meant to him and was really quite humbled. Spoon feeding each orphan, which again I was hesitant at the start to do, also made me realize how important service is.
Normally I am the kind of person to stay where I am comfortable and not take risks. On this trip I pushed myself outside of my comfort zone on numerous occasions and learned a lesson from it every single time. This trip gave me many unique experiences and taught me many important lessons. The most important lesson I left with is that I need to leave my comfort zone whenever and however I can, because that's when the most valuable life lessons are learned.
P.S. The blog title was his essay title and it is all his. I guess coming up with captions or memes for things like his edgymormon instagram account helps with school work too (If you don't follow edgymormon, check it out. It's quite hilarious. And a bit edgy:))